Google's Geoff Hinton on the Future of AI
Geoff Hinton is a true artificial intelligence lifer. Since receiving his Ph.D. in AI from the University of Edinburgh in 1978, Hinton has spent ample time teaching, researching, and innovating within the field. He is a pioneer of artificial neural networks, which with technological advancements have become not only functional, but vital for major tech companies. Hinton's company, DNNresearch, was acquired by Google in 2013 after delivering a significant improvement in object recognition accuracy in photos, though neural nets have application in speech recognition, language processing, and more.
With vast experience in the field and an executive position at one of tech's biggest and most important companies, Hinton is uniquely qualified to discuss the future of AI (as he did recently with Wired). The technology's recent rise to prominence has brought with it ethical, philosophical, and practical questions. Hinton believes that there "…should be something like a Geneva Convention banning [AI in lethal autonomous weapons], like there is for chemical weapons." An agreement would then function as a "sort of moral flag post" for nations around the world – whether nations chose to sign or not, people would know where they stand. Hinton was among those who expressed reservations to Google co-founder Sergey Brin about the company's Pentagon contract related to machine learning with drone imagery (which was completed but not renewed) – the company has since released guidelines on how to use AI, including a "…pledge not to use it in weapons."
Hinton expressed reservations about dictating how policy should function, calling himself "…an expert on trying to get the technology to work, not an expert on social policy." But he did say his technical expertise has led him to believe that it "…would be a complete disaster" if regulators forced people to explain the workings of their AI systems, equating it to "…forcing them to make up a story." Hinton says trust should instead be dictated by performance, with experiments identifying bias or danger.
He predicts machine learning systems will start functioning more like the human brain, using a new kind of computing system that "…[extracts] knowledge quickly using lots of connections." A UK company called Graphcore is designing a processor that draws weights from a neural net "…in cache on the processor, not in RAM, so they never have to be moved." Doing so means using less computing energy and increasing the flexibility of the neural net.
Hinton acknowledges the space is not without problems. Hinton is concerned that academic papers, especially those containing potentially revolutionary ideas, are being stymied in a review process dominated by two parties: experienced (but bogged down under paper reviews, or dismissive if they don't immediately understand an idea) academics, and junior reviewers who lack the understanding to properly engage with certain pieces. He is confident, however, that increased education – already in progress – will correct the "imbalance."
Hinton is equally assured that AI's recent ubiquity means fears of a potential 'AI winter' – a period where funding slows to a trickle because new milestones are not reached as quickly as anticipated – are unfounded, mentioning that the technology "…drives your cellphone. In the old AI winters, AI wasn't actually part of your everyday life. Now it is." AI is here to stay – how it improves and is used is being redefined daily.
The Investment and Financial Industry Faces the Same A.I.-Driven Evolution
Hedge funds and large institutional investors have been using Artificial Intelligence to analyze large data sets for investment opportunities, and they have also unleashed A.I. on charts to discover patterns and trends. Not only can the A.I. scan thousands of individual securities and cryptocurrencies for patterns and trends, and it generates trade ideas based on what it finds. Hedge funds have had a leg-up on the retail investor for some time now.
Not anymore. Tickeron has launched a new investment platform, and it is designed to give retail investors access to sophisticated AI for a multitude of functions:
Finding trends in the stock market
Back-testing statistics to see how different stock patterns generated trading results
Making Predictions for price movements in the future, with "A.I. Rank" and level of confidence in the trade.
And much more. No longer is AI just confined to the biggest hedge funds in the world. It can now be accessed by everyday investors. Learn how on Tickeron.com.
GOOGL sees its 50-day moving average cross bullishly above its 200-day moving average
The 50-day moving average for GOOGL moved above the 200-day moving average on May 03, 2023. This could be a long-term bullish signal for the stock as the stock shifts to an upward trend.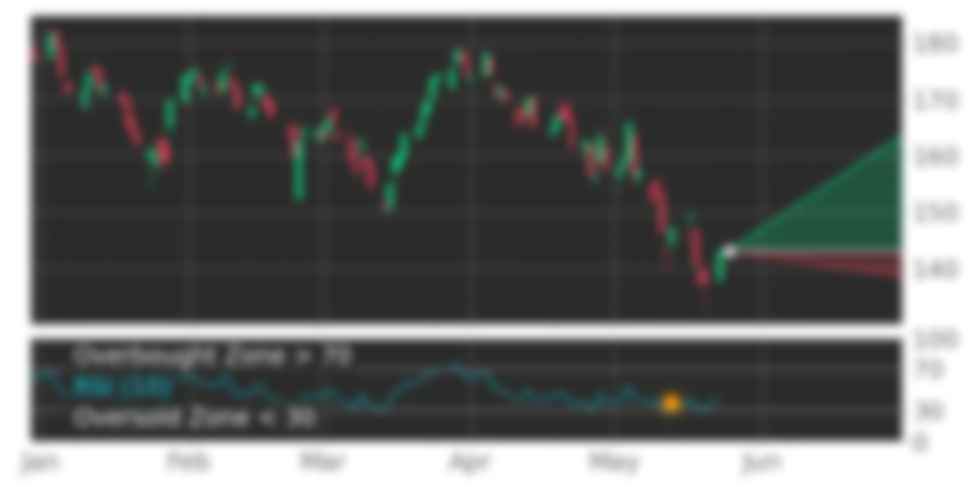 Technical Analysis (Indicators)
Bullish Trend Analysis
The Momentum Indicator moved above the 0 level on May 05, 2023. You may want to consider a long position or call options on GOOGL as a result. In of 89 past instances where the momentum indicator moved above 0, the stock continued to climb. The odds of a continued upward trend are .
The Moving Average Convergence Divergence (MACD) for GOOGL just turned positive on May 10, 2023. Looking at past instances where GOOGL's MACD turned positive, the stock continued to rise in of 51 cases over the following month. The odds of a continued upward trend are .
Following a 3-day Advance, the price is estimated to grow further. Considering data from situations where GOOGL advanced for three days, in of 342 cases, the price rose further within the following month. The odds of a continued upward trend are .
The Aroon Indicator entered an Uptrend today. In of 328 cases where GOOGL Aroon's Indicator entered an Uptrend, the price rose further within the following month. The odds of a continued Uptrend are .
Bearish Trend Analysis
The 10-day RSI Indicator for GOOGL moved out of overbought territory on May 30, 2023. This could be a bearish sign for the stock. Traders may want to consider selling the stock or buying put options. Tickeron's A.I.dvisor looked at 47 similar instances where the indicator moved out of overbought territory. In of the 47 cases, the stock moved lower in the following days. This puts the odds of a move lower at .
The Stochastic Oscillator entered the overbought zone. Expect a price pull-back in the foreseeable future.
Following a 3-day decline, the stock is projected to fall further. Considering past instances where GOOGL declined for three days, the price rose further in of 62 cases within the following month. The odds of a continued downward trend are .
GOOGL broke above its upper Bollinger Band on May 10, 2023. This could be a sign that the stock is set to drop as the stock moves back below the upper band and toward the middle band. You may want to consider selling the stock or exploring put options.
Fundamental Analysis (Ratings)
The Tickeron Price Growth Rating for this company is (best 1 - 100 worst), indicating outstanding price growth. GOOGL's price grows at a higher rate over the last 12 months as compared to S&P 500 index constituents.
The Tickeron Profit vs. Risk Rating rating for this company is (best 1 - 100 worst), indicating low risk on high returns. The average Profit vs. Risk Rating rating for the industry is 93, placing this stock better than average.
The Tickeron PE Growth Rating for this company is (best 1 - 100 worst), pointing to outstanding earnings growth. The PE Growth rating is based on a comparative analysis of stock PE ratio increase over the last 12 months compared against S&P 500 index constituents.
The Tickeron Seasonality Score of (best 1 - 100 worst) indicates that the company is fair valued in the industry. The Tickeron Seasonality score describes the variance of predictable price changes around the same period every calendar year. These changes can be tied to a specific month, quarter, holiday or vacation period, as well as a meteorological or growing season.
The Tickeron SMR rating for this company is (best 1 - 100 worst), indicating strong sales and a profitable business model. SMR (Sales, Margin, Return on Equity) rating is based on comparative analysis of weighted Sales, Income Margin and Return on Equity values compared against S&P 500 index constituents. The weighted SMR value is a proprietary formula developed by Tickeron and represents an overall profitability measure for a stock.
The Tickeron Valuation Rating of (best 1 - 100 worst) indicates that the company is slightly overvalued in the industry. This rating compares market capitalization estimated by our proprietary formula with the current market capitalization. This rating is based on the following metrics, as compared to industry averages: P/B Ratio (6.020) is normal, around the industry mean (21.616). P/E Ratio (27.473) is within average values for comparable stocks, (40.733). Projected Growth (PEG Ratio) (1.535) is also within normal values, averaging (3.138). Dividend Yield (0.000) settles around the average of (0.023) among similar stocks. P/S Ratio (5.659) is also within normal values, averaging (10.067).
Notable companies
The most notable companies in this group are Alphabet (NASDAQ:GOOG), Alphabet (NASDAQ:GOOGL), Meta Platforms (NASDAQ:META), Baidu (NASDAQ:BIDU), Spotify Technology SA (NYSE:SPOT), Pinterest (NYSE:PINS), Snap (NYSE:SNAP), Tencent Music Entertainment Group (NYSE:TME), Twilio (NYSE:TWLO), Zillow Group (NASDAQ:Z).
Industry description
Companies in this industry typically license software on a subscription basis and it is centrally hosted. Such products usually go by the names web-based software, on-demand software and hosted software. Cloud computing has emerged as a major force in this space, making it possible to save files to a remote database (without requiring them to be saved on local storage device); as long as a device has access to the web, it can access the data and the software programs to run it. This has in many cases facilitated cost efficiency, speed and security of data for businesses and consumers. Alphabet Inc., Facebook, Inc. and Yahoo! Inc. are some well-known names in the internet software/services industry.
Market Cap
The average market capitalization across the Internet Software/Services Industry is 44.79B. The market cap for tickers in the group ranges from 1.11K to 1.58T. GOOGL holds the highest valuation in this group at 1.58T. The lowest valued company is MSEZ at 1.11K.
High and low price notable news
The average weekly price growth across all stocks in the Internet Software/Services Industry was 0%. For the same Industry, the average monthly price growth was -0%, and the average quarterly price growth was 3%. DATI experienced the highest price growth at 33%, while GETY experienced the biggest fall at -22%.
Volume
The average weekly volume growth across all stocks in the Internet Software/Services Industry was -1%. For the same stocks of the Industry, the average monthly volume growth was -36% and the average quarterly volume growth was -17%
Fundamental Analysis Ratings
The average fundamental analysis ratings, where 1 is best and 100 is worst, are as follows
Valuation Rating: 45
P/E Growth Rating: 68
Price Growth Rating: 53
SMR Rating: 76
Profit Risk Rating: 93
Seasonality Score: 33 (-100 ... +100)