Google Trying to Break Out of Downward Trend Ahead of Earnings
No matter how hard I try, I can't seem to stop calling it Google. I know the company name is Alphabet (Nasdaq: GOOG) now, but I still have to call it Google. I wrote about Google last month and how important the $1,000 level seemed to be for the stock. It did drop below that key level for a few days at the end of December, but it has since bounced back. Now the stock could be facing resistance from a downward sloped trend line and earnings are right around the corner.
If we look at the daily chart for the last few months, the highs from August, October, December, and this week all connect very neatly. This trend line could act as resistance in the coming days as technicians take note.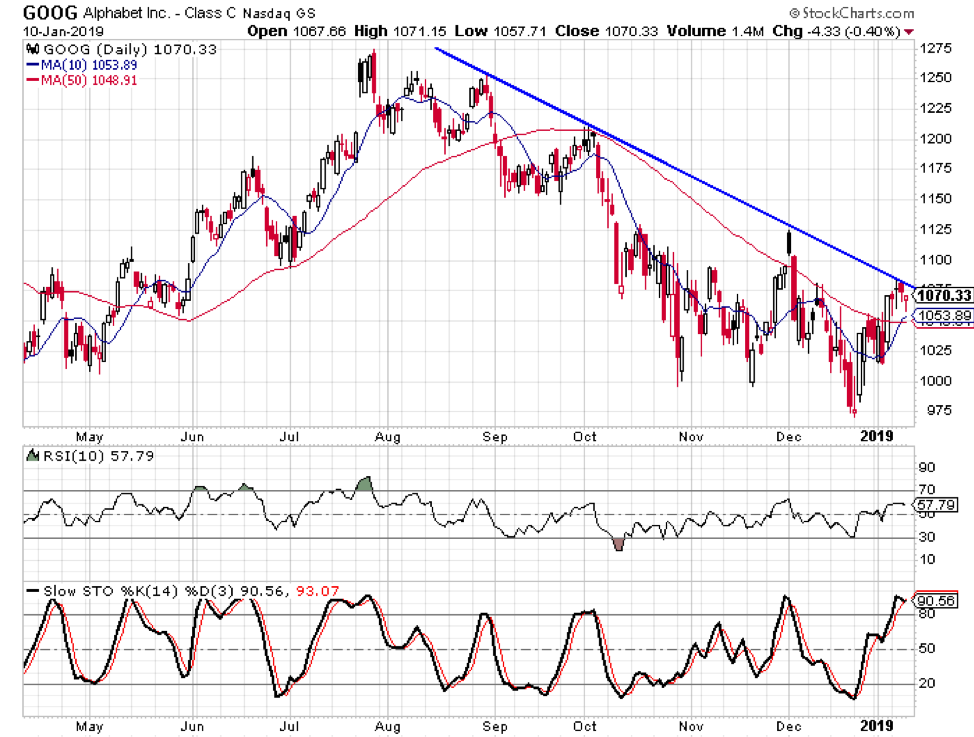 The other factor happening at these high points is that the daily stochastic readings have been at overbought levels and made bearish crossovers before turning lower.
The company is set to report earnings on January 30, but I doubt the stock will still be hanging around the trend line by that time. It could break out of the downward trend, or if the pattern holds it will turn lower over the next few weeks.

As far as the fundamentals, Google has some of the best fundamentals of any publicly traded stock. The company gets an EPS rating of an 87 from Investor's Business Daily and it gets an A in IBD's SMR rating system. The 87 EPS rating means the company's earnings have grown faster than 87% of companies while the A rating puts in the top 20% for sales growth, profit margin, and return on equity.
The company has been among the best in the fundamental ratings for quite some time now, but that didn't keep the stock from dropping almost 24% from the July high to the December low.