Guess? hits upper rail of channel and generates a bearish signal
Fashion and clothing company Guess? (NYSE: GES) has been struggling over the past year. Looking at Investor's Business Daily's ratings' system, the stock gets a composite score of only 16. The EPS rating is well below average at 29 and the Relative Price Strength is even worse at 18.

Over the last four months, a downward sloped trend channel has formed and the stock is hitting the upper rail of the channel at this time. We see that the upper rail connects the highs from March and May while the lower rail connects the lows from March, April, and June.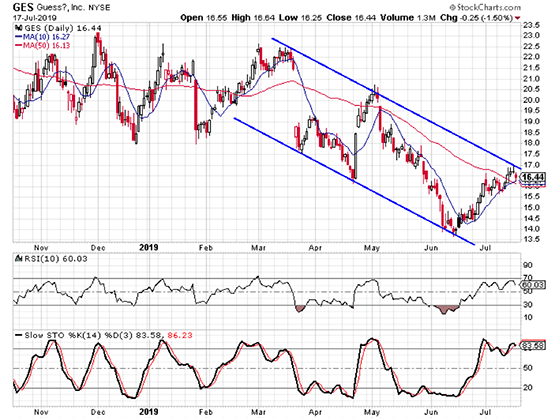 We see also that the stochastic readings are in overbought territory and just performed a bearish crossover on July 17. The Tickeron Trend Prediction Engine also generated a bearish signal on the same date. The signal shows a confidence level of 76% and it calls for a decline of at least 4% within the next month. Past predictions on Guess? have been successful 82% of the time.
Looking at the fundamentals for Guess? we see that the earnings declined by 9% in the most recent quarter and are expected to decline by 19.4% in the next report. The management efficiency measurements are also below average. The return on equity is only 9.2% and the profit margin is very low at 4.2%.