Healthcare sector ETF (XLV) trending lower since November
The overall market recovered from the selling that hit in December and that led the S&P 500 to a new all-time high on May 1. But not all stocks and sectors have recovered fully from the December selloff. One sector that has yet to recover fully is the healthcare sector. The Healthcare Select Sector SPDR (NYSE: XLV) peaked just above $90 back in November and it has yet to get back to that point.

In fact, if you connect the high from November with the highs from March and April, you can see the downward sloped trend line the ETF has formed. The fund moved above the trend line on June 11, but it was unable to close the above-said trend line.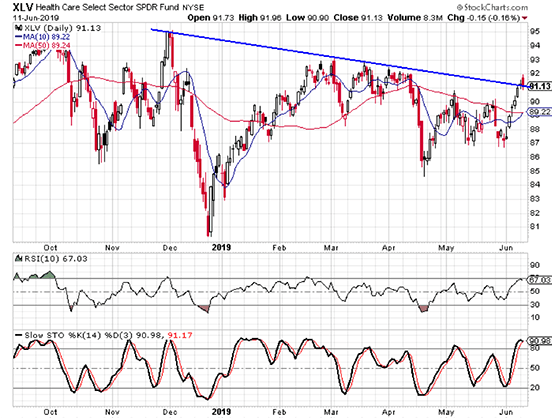 We see that the 10-day RSI and the daily stochastic readings both hit overbought readings in the past few days before turning lower. The stochastic readings made a bearish crossover on June 11 and in the recent past, such events were not a good sign for the fund.
The Tickeron Trend Prediction Engine is also showing that the XLV may have a hard time in the coming days. The tool generated a bearish signal for the XLV on June 10 and the signal showed a confidence level of 70%. For the prediction to be successful, the fund will need to drop at least 4% over the next month. Past predictions on the XLV have been successful 84% of the time.