Hibbett Sports (HIBB, $52.50) Q1 earnings missed Zacks Consensus Estimate
Hibbett Sports posted first quarter earnings that fell short of Zacks Consensus expectations. Revenue, however, topped estimates despite a year-over-year decline.
The sports apparel company's adjusted earnings came in at $2.89 per share for the quarter, below Zacks Consensus Estimate of $3.29. The EPS is -42% lower than the year-ago quarter's $5.00.
Net sales plunged -16.3% year over year to $424 million for the quarter, but exceeded Zacks Consensus Estimate of $406 million.
Comparable store sales (comps) decreased +18.9%, while in-store comps fell -22% .
E-commerce sales climbed +4.1% for the quarter under review. It  soared + 116.9% on a two-year basis.
The gross profit margin contracted 440 basis points (bps) to 37% due to high store occupancy, increasing average product costs, and higher freight and transportation costs. Operating margin contracted -970 bps to 12% for the quarter.
Hibbett updated its FY 2023 earnings toutlook to  $9.75-$10.50 per share, and its FY23 forecast to $9.75-10.50 a share.
HIBB sees MACD Histogram just turned negative
HIBB saw its Moving Average Convergence Divergence Histogram (MACD) turn negative on May 19, 2023. This is a bearish signal that suggests the stock could decline going forward. Tickeron's A.I.dvisor looked at 52 instances where the indicator turned negative. In of the 52 cases the stock moved lower in the days that followed. This puts the odds of a downward move at .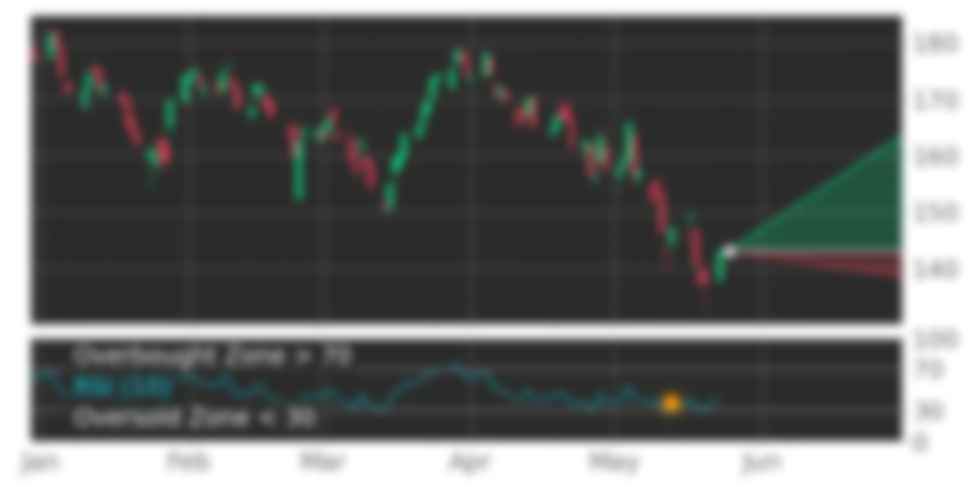 Technical Analysis (Indicators)
Bearish Trend Analysis
The 50-day moving average for HIBB moved below the 200-day moving average on May 08, 2023. This could be a long-term bearish signal for the stock as the stock shifts to an downward trend.
Following a 3-day decline, the stock is projected to fall further. Considering past instances where HIBB declined for three days, the price rose further in of 62 cases within the following month. The odds of a continued downward trend are .
The Aroon Indicator for HIBB entered a downward trend on May 26, 2023. This could indicate a strong downward move is ahead for the stock. Traders may want to consider selling the stock or buying put options.
Bullish Trend Analysis
The RSI Indicator shows that the ticker has stayed in the oversold zone for 5 days. The price of this ticker is presumed to bounce back soon, since the longer the ticker stays in the oversold zone, the more promptly an Uptrend is expected.
HIBB may jump back above the lower band and head toward the middle band. Traders may consider buying the stock or exploring call options.
Fundamental Analysis (Ratings)
The Tickeron Valuation Rating of (best 1 - 100 worst) indicates that the company is slightly undervalued in the industry. This rating compares market capitalization estimated by our proprietary formula with the current market capitalization. This rating is based on the following metrics, as compared to industry averages: P/B Ratio (1.328) is normal, around the industry mean (3.471). P/E Ratio (4.073) is within average values for comparable stocks, (111.843). Projected Growth (PEG Ratio) (0.000) is also within normal values, averaging (4.392). Dividend Yield (0.025) settles around the average of (0.041) among similar stocks. P/S Ratio (0.305) is also within normal values, averaging (1.690).
The Tickeron SMR rating for this company is (best 1 - 100 worst), indicating very strong sales and a profitable business model. SMR (Sales, Margin, Return on Equity) rating is based on comparative analysis of weighted Sales, Income Margin and Return on Equity values compared against S&P 500 index constituents. The weighted SMR value is a proprietary formula developed by Tickeron and represents an overall profitability measure for a stock.
The Tickeron PE Growth Rating for this company is (best 1 - 100 worst), pointing to average earnings growth. The PE Growth rating is based on a comparative analysis of stock PE ratio increase over the last 12 months compared against S&P 500 index constituents.
The Tickeron Profit vs. Risk Rating rating for this company is (best 1 - 100 worst), indicating that the returns do not compensate for the risks. HIBB's unstable profits reported over time resulted in significant Drawdowns within these last five years. A stable profit reduces stock drawdown and volatility. The average Profit vs. Risk Rating rating for the industry is 81, placing this stock better than average.
The Tickeron Price Growth Rating for this company is (best 1 - 100 worst), indicating slightly worse than average price growth. HIBB's price grows at a lower rate over the last 12 months as compared to S&P 500 index constituents.
Notable companies
The most notable companies in this group are TJX Companies (NYSE:TJX), lululemon athletica (NASDAQ:LULU), Gap (The) (NYSE:GPS), Foot Locker (NYSE:FL), Abercrombie & Fitch Co (NYSE:ANF), Guess (NYSE:GES), Stitch Fix (NASDAQ:SFIX).
Industry description
Companies in the apparel and/or footwear retail industry sell clothing, accessories and footwear, for different age groups and genders. The industry's product categories could range from basics, such as underwear, to luxury items. Some retailers source items from wholesalers or an apparel brand to sell in their stores; some others are licensed to make and market their own retail goods under particular brands. Several companies outsource production of clothing to developing/emerging economies where labor costs are relatively inexpensive. Apparel retail is often influenced by fashion trends, and many companies feel the need to adapt to what's "in vogue" to retain customers and attract new ones. A major disruption in this industry has been the burgeoning trend in digital shopping – to compete with rapidly growing e-commerce, even traditional retail players are upping the ante on their online platforms. Much of the products' performance in apparel/footwear retail is cyclical, i.e., economic boom times encourage consumer spending, while recessions induce thriftiness among people. Some large-cap U.S. apparel/footwear retail companies include TJX Companies Inc., Ross Stores, Inc., Lululemon Athletica Inc. and Burlington Stores, Inc.
Market Cap
The average market capitalization across the Apparel/Footwear Retail Industry is 10.09B. The market cap for tickers in the group ranges from 256K to 104.3B. IDEXY holds the highest valuation in this group at 104.3B. The lowest valued company is DESTQ at 256K.
High and low price notable news
The average weekly price growth across all stocks in the Apparel/Footwear Retail Industry was -3%. For the same Industry, the average monthly price growth was -5%, and the average quarterly price growth was -7%. ANF experienced the highest price growth at 31%, while GCO experienced the biggest fall at -36%.
Volume
The average weekly volume growth across all stocks in the Apparel/Footwear Retail Industry was -19%. For the same stocks of the Industry, the average monthly volume growth was 137% and the average quarterly volume growth was 167%
Fundamental Analysis Ratings
The average fundamental analysis ratings, where 1 is best and 100 is worst, are as follows
Valuation Rating: 51
P/E Growth Rating: 46
Price Growth Rating: 65
SMR Rating: 57
Profit Risk Rating: 80
Seasonality Score: 20 (-100 ... +100)