High probability bearish signal on Cronos Group (CRON)
Cronos Group (Nasdaq: CRON) is a rather unique company. It is considered a healthcare company as far as its sector designation, but it considers itself to be an investment firm that invests in medical marijuana companies. Cannabis investing has been a prominent storyline over the last few years and that has helped the stock move up sharply in the last two years.

Despite the rally, the stock has been trending lower in the last four and a half months. A trend channel has formed that defines the cycles within the overall trend. This channel is different in the way that I drew it because it was the lower rail that stood out to me first. I connected the lows from February, March, April, and May to form the lower rail. I then drew a parallel line and used the high from March as the starting point. What we see on the chart below is that the stock just hit the upper rail of the channel and then turned lower.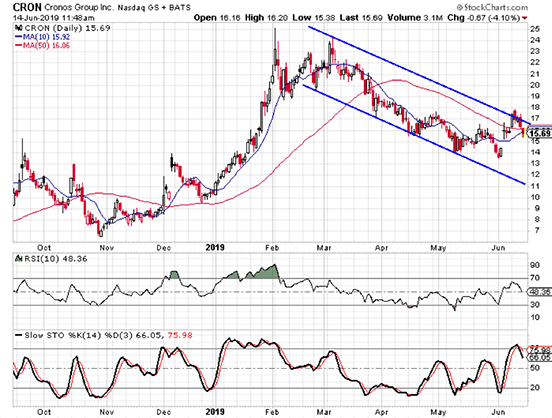 We see that the stock was overbought based on the daily stochastic readings, but the indicators turned lower and made a bearish crossover on June 13.
The Tickeron Trend Prediction Engine generated a bearish signal on the same day as the stochastics crossover. The signal showed a confidence level of 89% and past predictions on the stock have been successful 88% of the time. The signal calls for a drop of at least 4% over the next month.