On January 17, Tickeron's Artificial Intelligence (Pattern Search Engine) confirmed a "Broadening Bottom Pattern" for Bitcoin. The AI made a prediction was bold and difficult to believe, given Bitcoin's powerful rise over the last year.
Tickeron's Artificial Intelligence was predicting a -40.53% crash.
At the time of the prediction, Bitcoin (BTC.X) was trading at a little over $11,000, but according to the AI's forecast, it believed with 88.78% confidence that the price was set to plunge below $6,000.
What happened next is astonishing:
●  BTC.X 'breakout price' set by AI on January 17: $11,491 (reached on January 18)
●  BTC.X price on February 5: $6,914
On a price basis, that marks a 39% decline, meaning the AI's forecast was remarkably close to being on target. To note, the AI never makes any predictions with certainty, but calling for this Bitcoin crash is a significant indicator of the AI's potential.
Here's how the prediction was displayed at the time of inception. You can see the breakout price, target price, and an image of the "Broadening Bottom Pattern" in the chart: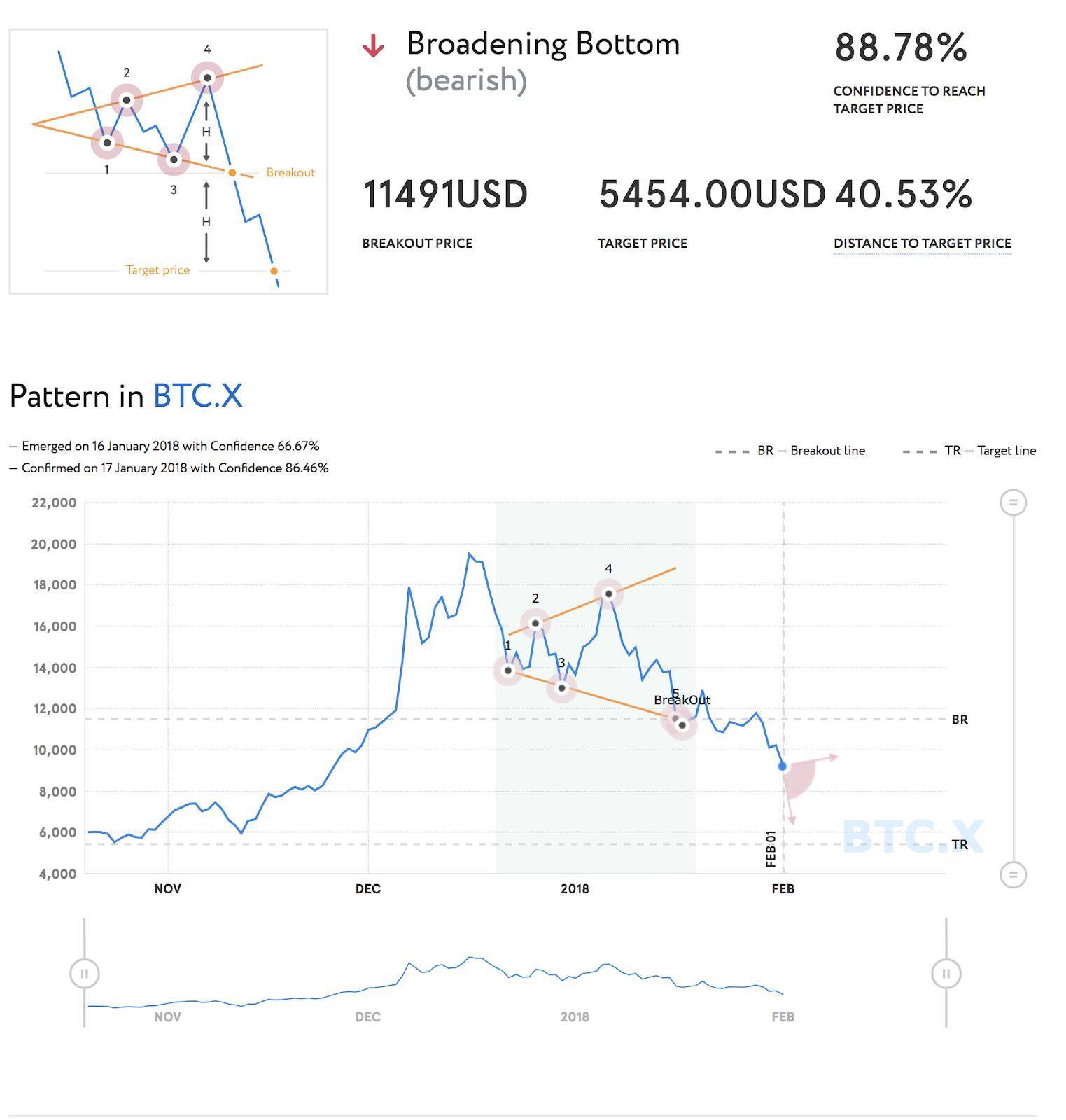 For investors who are new to pattern trading, a Broadening Bottom pattern forms when a security's price progressively makes higher highs (2 and 4 in the Bitcoin chart) and lower lows (1, 3, 5), creating two widening trend lines. The price is expected to move up or down past the pattern depending on which line is broken first — in this case, the lower boundary.

For investors who are subscribed to Tickeron's AI-powered Pattern Search Engine and received an alert of this Broadening Bottom pattern for Bitcoin, there could have been a few trading options. One option might have been to sell Bitcoin and buy it back at a lower price — assuming the trader believed the declines would be significant but also temporary. Another possibility would have been to purchase a put option on Bitcoin at the time of the AI's prediction when the price was still high.
Start a Free Trial Using Tickeron's Pattern Search Engine
If you've never seen algorithms and AI that can discover patterns in the cryptocurrency and stock market before, perhaps it's because it has never been available to retail investors in this format. Tickeron's idea is to provide retail investors with technology and tools to enable trading with massive amounts of data and analysis. The end result is arming retail investors with a high-powered, virtual research assistant: Tickeron's Artificial Intelligence.
Start your free trial here: Pattern Search Engine
To note: the information in this post does not constitute investment advice, and Tickeron has no recommendation for Bitcoin or any other cryptocurrency. Investing in cryptocurrencies involves risk of total loss.