Google's parent company, Alphabet (Nasdaq: GOOGL), has been trending lower over the last four months and the downtrend has brought the stock down to the $1,000 level. When we look at the weekly chart, we get an idea of how important it is that the stock remains above the round-number support area.
Back in mid-2017, the stock was rising pretty rapidly in the second quarter, but ran in to some resistance at the $1,000 mark in late May and again in July.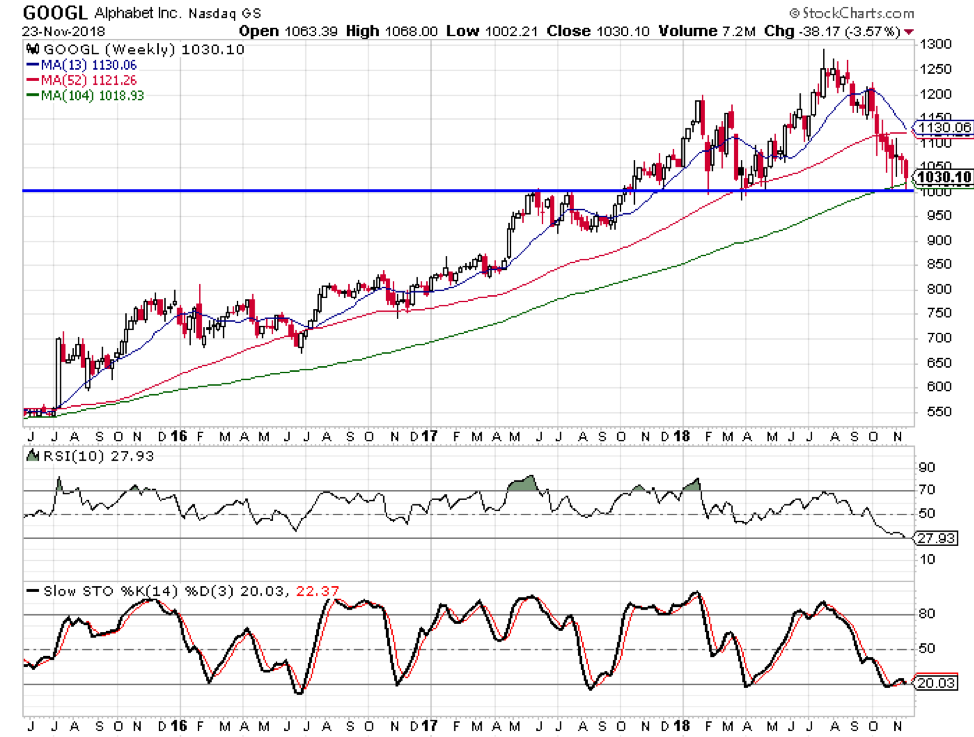 Once the stock broke through the level, it rallied up to the $1,200 mark before pulling back to the $1,000 level back in late March, hovering there for a few months. The stock then rallied all the way up to an all-time high of $1,291.44 in July.
It is also interesting that the 104-week moving average is part of the story at this time. The last time the stock was flirting with that trendline was at the beginning of 2015, when it was using the $500 level as support.
The way I see it, it is crucial that Google remain above the $1,000 mark for several reasons.

First, from a technical perspective, the next minor layer of support for the stock is in the $920 area, but after that it is all the way down to $800 for the next support level.
The second problem for Google is the amount of bullish sentiment toward the stock. There are 43 analysts following the stock and 38 have it rated as a "buy," while the other five have it rated as a "hold." The short interest ratio is a paltry 0.78.
If the stock breaks through the support at $1,000, the number of investors and analysts that could flip sides could cause an accelerated move to the downside.