How to Start Investing in Bitcoin
Bitcoin is beginning to enter the popular consciousness in a big way – financial publications, traditional news sites, discussion boards, and others are giving increasing coverage to the latest in cryptocurrency. With so many terms and varieties flying around, it is difficult to know how to start investing. Lucky for you, we've created an easy-to-use guide for investing in bitcoin!
Buy Some Bitcoin
There are a surprising number of cryptocurrencies in existence, with more being popping up all the time. A beginning investor interested in purchasing two of the most recognizable cryptocurrencies – Bitcoin (BTC) or Ethereum (ETH) – might consider opening an account on Coinbase or Coinhouse. These are two of the most prominent, secure services to buy coins, and will allow customers to purchase with euros or US dollars.
Coinbase requires ID verification to create an account, which can take a few days or even weeks, but it allows users to instantly buy coins in limited amounts (around €750), with a four percent transaction fee. They offer insurance protection for digital currency stored on their servers (though they store the vast majority of currency offline), and have a recurring buy feature for scheduling purchases. Customers can purchase larger amounts via wire transfer, but coin delivery takes upwards of one week.
Coinhouse lets customers instantly purchase larger amounts, via credit card – useful in a climate of ever-rising prices. Their transaction fee, however, is six to ten percent, depending upon volume and payment method. They require multiple ID checks and limit customers to between €200 to €5000 in purchases per day upon initial verification "depending on the type and quality of the documents provided". 
Additional services exist to securely purchase coins with a credit card – Kraken, Gemini, Bitstamp, and CoinMama are some of the most popular options.
Buy Additional Coin Varieties
Bitcoin and Ethereum are the most popular cryptocurrencies, but some investors crave higher stakes. Coin exchanges like Bittrex and Binance offer places to trade bitcoin and ether, though some people have found Bittrex to be unreliable (in fairness, the instance linked to here was ultimately resolved). Both exchanges work similarly – deposit coins in your account, and exchange this amount against other promising coins, like Dash, Litecoin, Ubiq, and more (Bittrex supports over 190 different cryptocurrencies). Each service emphasizes confidentiality and proper compliance, as well as strong security measures for traders.
Track your Investments
Blockfolio is a useful app for keeping track of your crypto portfolio. It offers several handy tools in one platform – the ability to track coins across several markets, alerts on different markets, and the option to create personalized alerts (for example, notifying users if rates go down so they can purchase more of a particular coin). Blockfolio's news reader keeps traders informed, with up-to-date information from multiple popular crypto news sources, and their charts and market details give plenty of detailed information in a single place.
Store Your Coins
Storing coins on websites is not recommended – sites are susceptible to hackers and other external factors, and despite most touting extensive security measures, it is not necessarily worth the risk. Digital wallets are more secure, with paper wallets being the best-protected storage method. MyEtherWallet and BitcoinPaperWallet offer tools to create your own wallets, but do not lose your password under any circumstances – you will not be able to recover your wallet without it! You can store encrypted files on computers and hard drives (an offline computer is best, for maximum security), and it is useful to write pertinent information down on a piece of paper to store in multiple places as well. Be advised that some less-popular coins do not have proper wallet storage and will require transfer fees to trade – in these instances, it may be worth the risk to store on an exchange like Bittrex or Binance.
Know What to Buy
Multiple resources exist to help you avoid rookie investing mistakes. CoinMarketCap is useful for tracking market cap, which is a better indicator of a coin's trajectory than price – the larger a coin's market cap relative to similar coins, the greater the likelihood that its price will go down. YouTube channels like DataDash, CryptoBobby, Coinmastery, and IvanOnTech update experienced traders and neophytes alike, while Twitter accounts from major traders and crypto gurus like Ian Balina and John McAfee (plus news aggregator sites, like CoinMonsta) also keep investors informed. It is exceedingly important to learn as much as possible about various cryptocurrencies before investing, and equally important to stay up-to-date – markets can be volatile, and having the most information possible allows investors to insulate themselves from risk as much as possible.
Tickeron has also developed a Pattern Search Engine that can help technical traders track pattern formations for various cryptocurrencies. The search engine is powered by Artificial Intelligence, and not only scans charts for patterns and trends but also provides investors with trade ideas and target prices based on hard data and statistics.
Master your trading skills without risking real money. Tickeron offers unlimited free paper trades to test your trade ideas and test Tickeron tools in action!
BTC.X in downward trend: price dove below 50-day moving average on May 07, 2023
BTC.X moved below its 50-day moving average on May 07, 2023 date and that indicates a change from an upward trend to a downward trend. In of 41 similar past instances, the stock price decreased further within the following month. The odds of a continued downward trend are .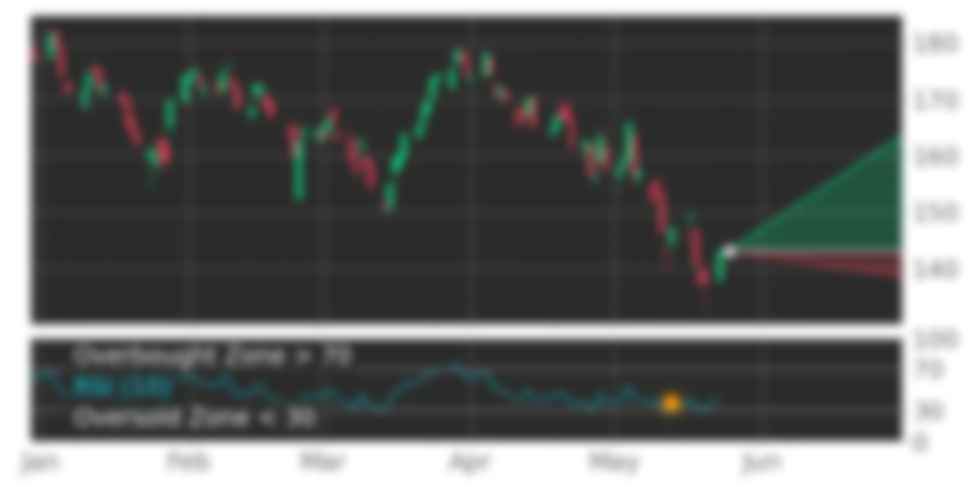 Technical Analysis (Indicators)
Bearish Trend Analysis
The Stochastic Oscillator may be shifting from an upward trend to a downward trend. In of 89 cases where BTC.X's Stochastic Oscillator exited the overbought zone, the price fell further within the following month. The odds of a continued downward trend are .
The Momentum Indicator moved below the 0 level on June 05, 2023. You may want to consider selling the stock, shorting the stock, or exploring put options on BTC.X as a result. In of 127 cases where the Momentum Indicator fell below 0, the stock fell further within the subsequent month. The odds of a continued downward trend are .
The Moving Average Convergence Divergence Histogram (MACD) for BTC.X turned negative on June 05, 2023. This could be a sign that the stock is set to turn lower in the coming weeks. Traders may want to sell the stock or buy put options. Tickeron's A.I.dvisor looked at 60 similar instances when the indicator turned negative. In of the 60 cases the stock turned lower in the days that followed. This puts the odds of success at .
The 10-day moving average for BTC.X crossed bearishly below the 50-day moving average on May 10, 2023. This indicates that the trend has shifted lower and could be considered a sell signal. In of 21 past instances when the 10-day crossed below the 50-day, the stock continued to move higher over the following month. The odds of a continued downward trend are .
Following a 3-day decline, the stock is projected to fall further. Considering past instances where BTC.X declined for three days, the price rose further in of 62 cases within the following month. The odds of a continued downward trend are .
The Aroon Indicator for BTC.X entered a downward trend on May 19, 2023. This could indicate a strong downward move is ahead for the stock. Traders may want to consider selling the stock or buying put options.
Bullish Trend Analysis
Following a 3-day Advance, the price is estimated to grow further. Considering data from situations where BTC.X advanced for three days, in of 447 cases, the price rose further within the following month. The odds of a continued upward trend are .
BTC.X may jump back above the lower band and head toward the middle band. Traders may consider buying the stock or exploring call options.
Fundamental Analysis (Ratings)
Market Cap
The average market capitalization across the group is 499.59B. The market cap for tickers in the group ranges from 499.59B to 499.59B. BTC.X holds the highest valuation in this group at 499.59B. The lowest valued company is BTC.X at 499.59B.
High and low price notable news
The average weekly price growth across all stocks in the group was -7%. For the same group, the average monthly price growth was -11%, and the average quarterly price growth was 53%. BTC.X experienced the highest price growth at -7%, while BTC.X experienced the biggest fall at -7%.
Volume
The average weekly volume growth across all stocks in the group was 42%. For the same stocks of the group, the average monthly volume growth was 35% and the average quarterly volume growth was 9%
Fundamental Analysis Ratings
The average fundamental analysis ratings, where 1 is best and 100 is worst, are as follows
Valuation Rating:
P/E Growth Rating:
Price Growth Rating:
SMR Rating:
Profit Risk Rating:
Seasonality Score: (-100 ... +100)