International Game Technology (IGT) Caught in a Downwardly-Sloped Channel
Casino game manufacturer International Game Technology (NYSE: IGT) has been caught in a downwardly-sloped trend channel over the last six months. The stock has just cycled up to the upper rail of the channel. What remains to be seen is whether the stock can break out of the cycle.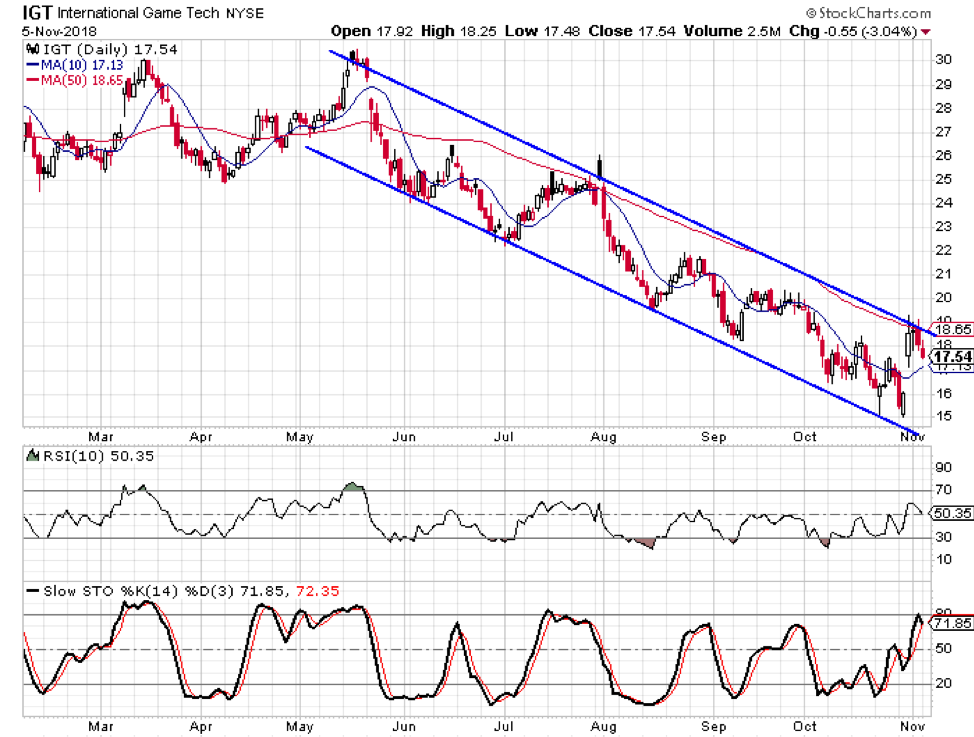 You can see on the chart that the channel started at the beginning of May and the stock has lost half of its value from the high point to the low point. The upper rail of the cycle is in the same area as the 50-day moving average and that means the stock has two layers of resistance to break through.
Something else to take note of is how the daily stochastic readings have only reached overbought levels in two instances over the last six months. Both times were when the stock was at the top of the channel.
In addition to the technical pattern that has been guiding the stock lower, the fundamentals are pretty poor. The company has seen earnings decline by an average of 26% per year over the last three years. The most recent report shows that earnings declined by 23% on a year over year basis.
Sales have been growing slowly in recent years with the average annual rate being 2% in the last three years. The recent earnings report showed sales declined by 5% on a year over year basis.
Something that is surprising about IGT is that the sentiment toward the stock is still pretty bullish. The short interest ratio is at 3.64 which is somewhat of a neutral reading, but lower than I would expect it to be on a stock that has dropped the way it has. There are six analysts following the stock and four of the six have the stock rated as a "buy" and the other two have it rated as a "hold".