Internet platform operator Farfetch Limited (FTCH) hits upper rail of channel, bearish signal
Since going public last September, Farfetch Limited (NYSE: FTCH) has been all over the place in terms of its stock price. It fell almost immediately after going public, but that was also just ahead of the big selloff in the fourth quarter. The stock did rally sharply from mid-February through early March, but it has since been trending lower.
A trend channel has formed on the stock since it peaked in March and the stock has just hit what I have drawn as the upper rail. I say that because I drew the channel by drawing the lower rail first and then drew the parallel upper rail to start at the March high.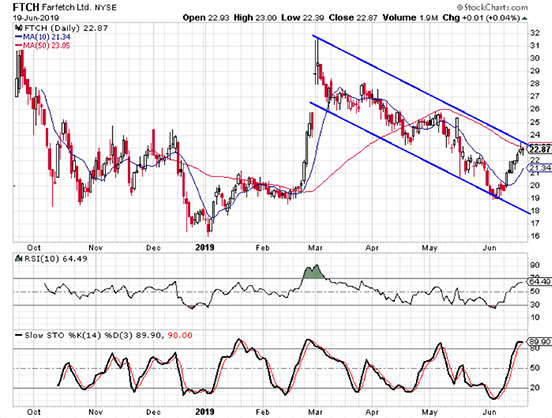 The upper rail is just above the stock's 50-day moving average and the stock has had trouble moving above the trend line since mid-April. The stochastic readings are in overbought territory and made a bearish crossover on June 19. We see that a similar crossover in May came just ahead of a cycle lower.
The Tickeron Trend Prediction Engine generated a bearish signal for Farfetch on June 18 and the signal showed a very high confidence level at 90%. Unfortunately, there have only been two signals generated on the stock so far, but both of them have been successful. The signal calls for a decline of at least 4% within the next month.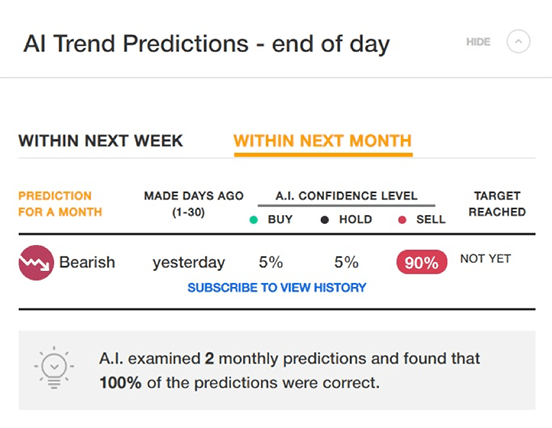 Farfetch's fundamentals are a bit of a concern as well. The company has lost money in all three quarterly reports since going public and therefore doesn't have a return on equity. The current profit margin is -29%. Analysts are predicting that the company will lose money for the current year and for next year.