Introducing the Ultimate Market Maverick: 90% Annual Income and 67% Accurate Forecasts with Our New Robot!
This AI Robot is built exclusively for day traders who embrace the art of manual trading and prioritize independent signal selection. With a track record of consistent trading predictions, it empowers traders to make informed choices that align with their individual preferences.
Day Trader, Popular Stocks: Price Action Trading Strategy (TA&FA)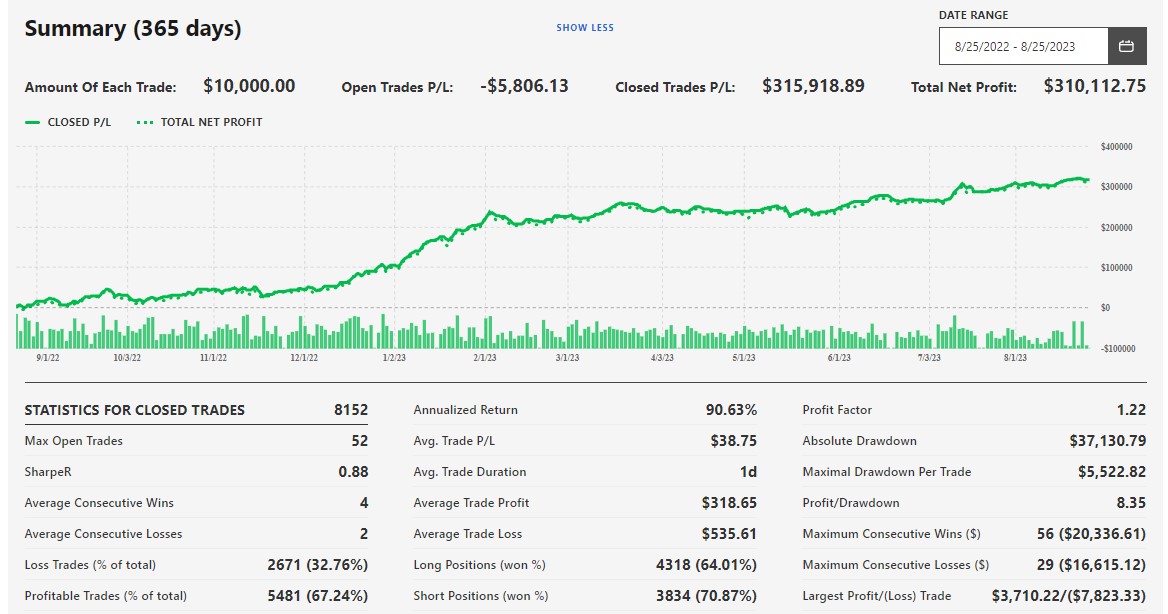 This specialized robot centers its focus on identifying potent short-term price impulses, aiming for swift and efficient profit extraction. With an average trade duration of one day, it enables effective capital utilization and prevents prolonged entanglements in trades.
The algorithm operates on a distinct, intricate approach that identifies potent price impulses across varying market conditions, considering volatility and historical price patterns. Upon pinpointing the situation with the highest probability of sustained price movement, the analysis shifts to the next phase: identifying the ideal entry point utilizing a proprietary set of indicators that evaluate both medium-term and short-term trends.
After opening a trade, two different approaches are used for long and short positions. For long positions, a fixed take profit of 3.25% is established, coupled with a short-term trailing stop. Conversely, short positions adhere to a fixed take profit of 2.5% and a short-term trailing stop.
In our trading endeavors, we opt for the most liquid and actively traded stocks within the dynamic US stock market. This judicious selection streamlines trade execution at desired entry points, alleviating concerns about spreads and liquidity. Additionally, our decision-making is informed by fundamental indicators, steering us clear of shares associated with subpar business quality, and consequently, minimizing exposure to potential risks like bankruptcy or delisting.
Click to view full description and closed trades for free!
Notable companies
The most notable companies in this group are Morgan Stanley (NYSE:MS), Goldman Sachs Group (NYSE:GS), Charles Schwab Corp (The) (NYSE:SCHW), CME Group (NASDAQ:CME).
Industry description
These banks specialize in underwriting (helping companies with debt financing or equity issuances), IPOs, facilitating mergers and other corporate reorganizations and acting as a broker or financial advisor for institutions. They might also trade securities on their own accounts. Investment banks potentially thrive on expanding its network of clients, since that could help them increase profits. Goldman Sachs, Morgan Stanley and CME Group Inc are some of the largest investment banking companies.
Market Cap
The average market capitalization across the Investment Banks/Brokers Industry is 9.66B. The market cap for tickers in the group ranges from 13 to 928.5B. PKRSF holds the highest valuation in this group at 928.5B. The lowest valued company is BFCH at 13.
High and low price notable news
The average weekly price growth across all stocks in the Investment Banks/Brokers Industry was -2%. For the same Industry, the average monthly price growth was -1%, and the average quarterly price growth was 162%. BULT experienced the highest price growth at 43%, while LNTO experienced the biggest fall at -74%.
Volume
The average weekly volume growth across all stocks in the Investment Banks/Brokers Industry was -18%. For the same stocks of the Industry, the average monthly volume growth was -10% and the average quarterly volume growth was -39%
Fundamental Analysis Ratings
The average fundamental analysis ratings, where 1 is best and 100 is worst, are as follows
Valuation Rating: 54
P/E Growth Rating: 63
Price Growth Rating: 51
SMR Rating: 69
Profit Risk Rating: 76
Seasonality Score: -15 (-100 ... +100)