Investor's Business Daily, CNBC, Jim Cramer, Seeking Alpha, Barron's – there are literally hundreds of places to get 'ideas' for trading stocks, ETFs, mutual funds, and to some degree, Forex.
But how is an investor supposed to make sense of it all? If you get an idea for a stock trade and then decide to do some more research on it before buying or selling, where do you go?
Short answer: there aren't very many easy-to-use, data-rich platforms where an investor can get fundamentals, technical trading analysis, buy/sell/hold recommendations, and A.I.-powered trade ideas all in one place.

But that's about to change.
Tickeron is about to reveal what could perhaps be the world's most powerful and unique "Screener" that can help you instantly filter through stocks, ETFs, mutual funds, forex, and even cryptocurrencies with a few clicks.
The algorithms do all the work. It's the equivalent of having a virtual research assistant, powered by A.I.

How It Works
Let's say you're interested in stocks, and you want to look for Mid-Caps with P/E ratios under 15x, that also have a "Buy" recommendation from Tickeron's Artificial Intelligence. You can do that easily!

Tickeron's A.I. will screen thousands of stocks instantly to get your results.
There are so many more filters/screens you can play with to find whatever you're looking for. In the example below, I've asked the A.I. to screen for "Sell" rating stocks in the Consumer Services, Energy Minerals, Retail Trade, Finance, Communications, and Health Services sectors. The A.I. produced 22 results.

If you're just looking for more general information and want to see the "Top 20" performers by category or over a period of time, you can also do that easily. Let's say you wanted to see the Top 20 Technology ETFs over the past year. Simply click on ETFs, then Top 20, then click Technology, and the screener will instantaneously generate results.
But the best part of all of the Screener capabilities is what the user can do with the Artificial Intelligence Advisor, or A.I.dvisor..
Once you've gotten the results of your screen, the A.I will list the stocks, ETFs, mutual funds, or currencies, and will give you the option to see trading patterns it has discovered for each result! In other words, you can go straight from a screen to a trading idea. All powered by A.I.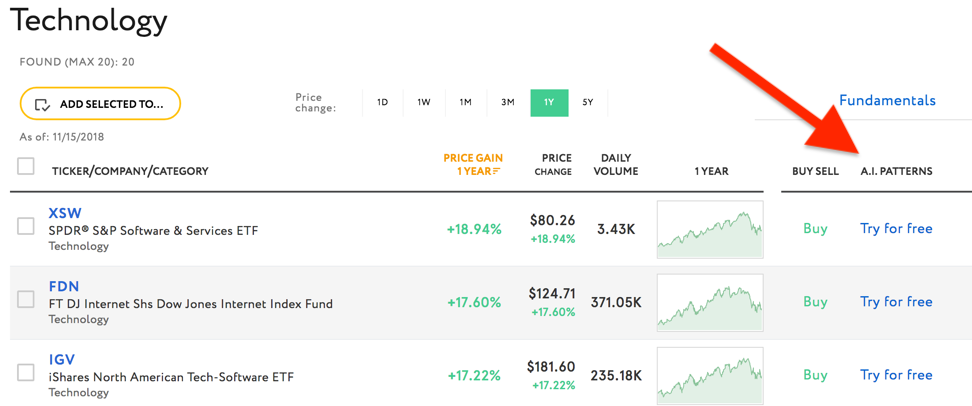 Over the past couple of years, Tickeron's engineers have been building these algorithms and A.I. trained to take commands from the user (you) to find and filter thousands of stocks, ETFs, mutual funds, and Forex.
Hedge funds and institutional investors are using these kinds of tools regularly. Why can't you?
Get the tools you need to help you trade smarter and faster. Try them out today on tickeron.com.