Monday's big drop in the overall market spooked investors and has given me mixed feelings too.
First, the chart for the SPDR S&P 500 ETF (NYSE: SPY) has a possible inverse head and shoulders pattern forming and that is a bullish factor. Unfortunately, a personal market indicator that I developed in 2009 just gave the strongest bearish reading so far in 2018.
Let's look at the chart of the SPY first.
We see that the ETF dropped to the 270 level in early October and then bounced to the 281 level. This would be the left shoulder and the left side of the neck. The SPY then dropped to the 260 level and that would form the head of the pattern. It then jumped to the 281 level again to form the right side of the neck and has now fallen for three straight sessions and could possibly form the right shoulder in the next few days.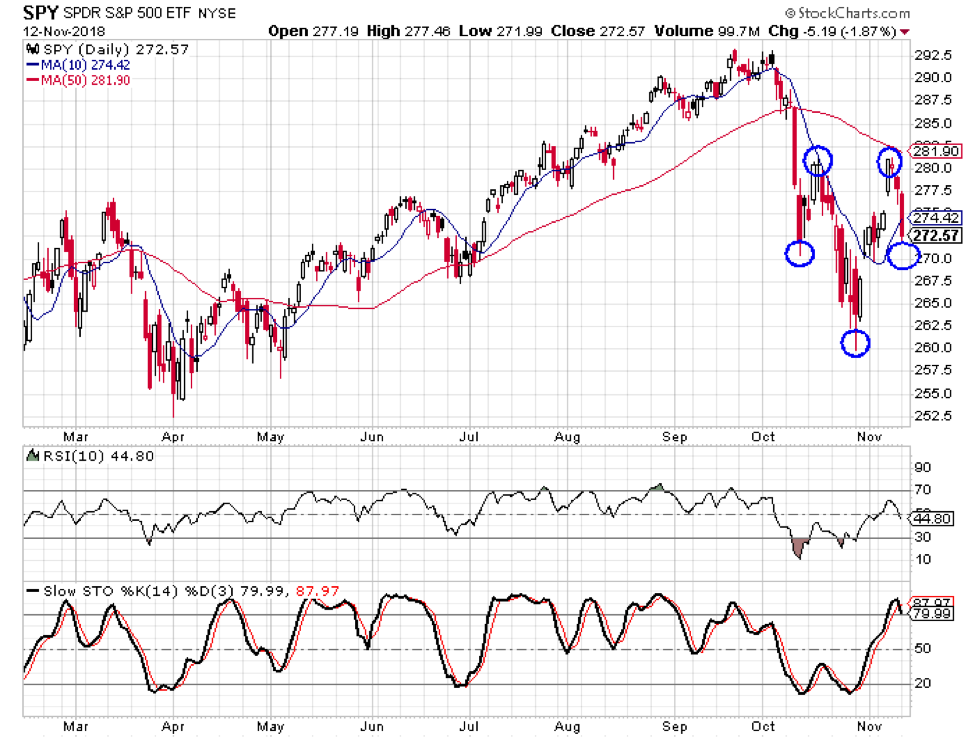 For the pattern to be completed we would need to see the fund bottom in the 270 area again and then rally above the 281 area.
There are a couple of factors that make me question whether or not it can complete the formation, but the most notable is how the daily stochastic readings just made a bearish crossover out of overbought territory.

The second factor is what I mentioned earlier—an indicator that I developed almost 10 years ago. I call it the market barometer and it came about from some scans I have run every night for ten years now. The scans produce a bullish and bearish list for me each night and then the total results of those lists are included in the barometer. The scans look at a number of technical factors including the RSI, the stochastic readings, volume, etc.
Without giving away too much proprietary information, the barometer's reading last night was -107 and that is the worst reading it has produced this year. The two lowest readings prior to last night came on January 25 and April 20.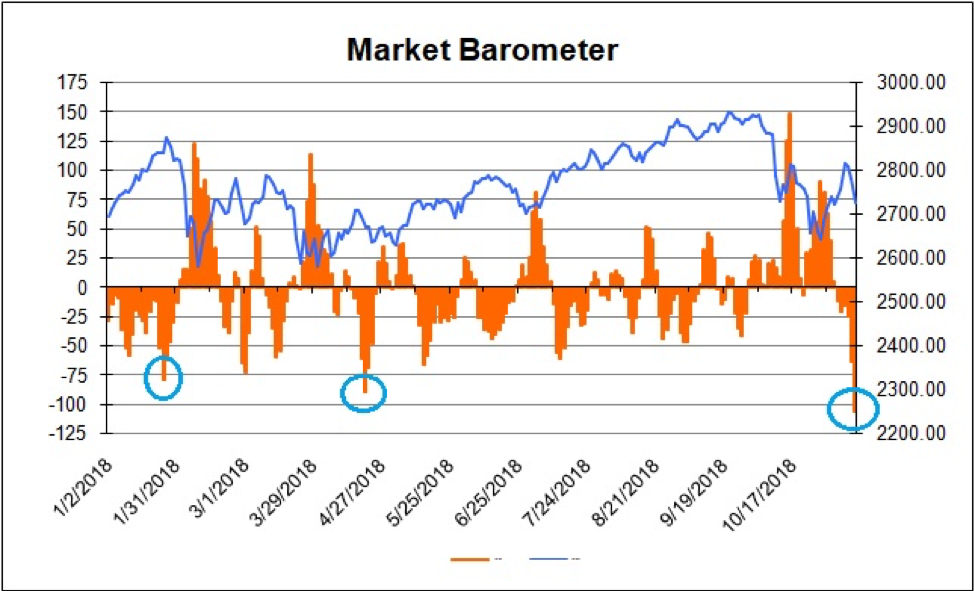 The blue line in the chart is the S&P 500 and the orange bars represent the barometer readings. The two lowest readings that I mentioned above are circled in blue with yesterday's reading also circled.
Those readings in January and April both came just as the S&P was getting ready for a pretty sizable drop.
This is why I say I have mixed feelings about the overall market right now. On the one hand, you have a possible bullish pattern developing, but on the other hand an indicator I developed is telling me that the market is getting ready to head lower again.