Long Bond ETF gets bullish signal ahead of Fed meeting
Long Bond ETF gets bullish signal ahead of Fed meeting
Treasury prices have been trending higher and yields have been trending lower for the better part of eight months now. After the Fed meeting in December, the Open Market Committee raised the Fed Funds target rate, but the Fed has been more dovish in its commentary since then. This has led to a rally in treasuries that is one of the strongest in history.
While the Fed only directly controls the Fed Funds rate, its actions have an effect on the entire spectrum of treasury issues. The 30-year bonds have been rallying just as much as other maturities and the iShares 20+ Year Treasury Bond ETF (Nasdaq: TLT) has moved from the $110 area to a recent high of over $134. Over the last five months, a trend channel has formed on the TLT and the fund has moved toward the lower rail in recent weeks.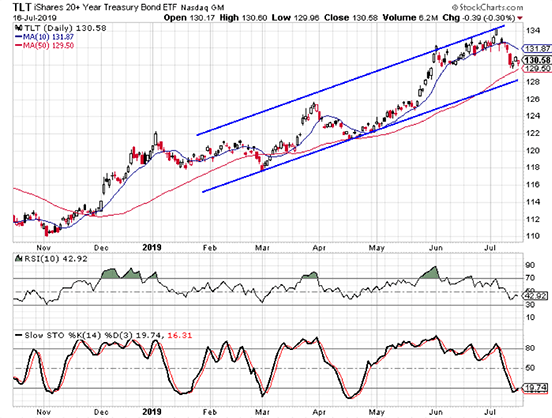 The small pullback was enough to move the daily overbought/oversold indicators out of overbought territory and it moved the daily stochastic readings in to oversold territory earlier this week. The indicators made a bullish crossover on July 16.
In addition to the potential bullish signal from the stochastic readings, the Tickeron Trend Prediction Engine generated a bullish signal for the TLT on July 14. The signal showed a confidence level of 89% and it calls for a rally of at least 4% within the next month. Past predictions on the TLT have been successful 74% of the time.