Nektar Therapeutics hits downward sloped trend line and gets bearish signal
Nektar Therapeutics hits downward sloped trend line and gets bearish signal
Nektar Therapeutics (Nasdaq: NKTR) is a biopharmaceutical company that drugs for cancer, autoimmune diseases, and chronic pain. The company's fundamental indicators are all over the place, but the stock has been trending lower since September.
If we connect the closing high from September with intraday high from February, it creates a trend line that the stock just hit in the last few days. We see the trend line on the daily chart, but what we don't see on the daily chart is that the high from September was in close proximity to a gap in the chart from 2018. That gap was in the $70 area.
We also see that the daily stochastic readings and the 10-day RSI had reached overbought levels in the last few days before they turned lower on Friday and Monday.

The Tickeron AI Trend Prediction tool generated a bearish signal on the stock on May 10. The signal only showed a confidence level of 59%, but the past signals on Nektar have been successful 90% of the time. This prediction calls for a 2.5% decline in the next week.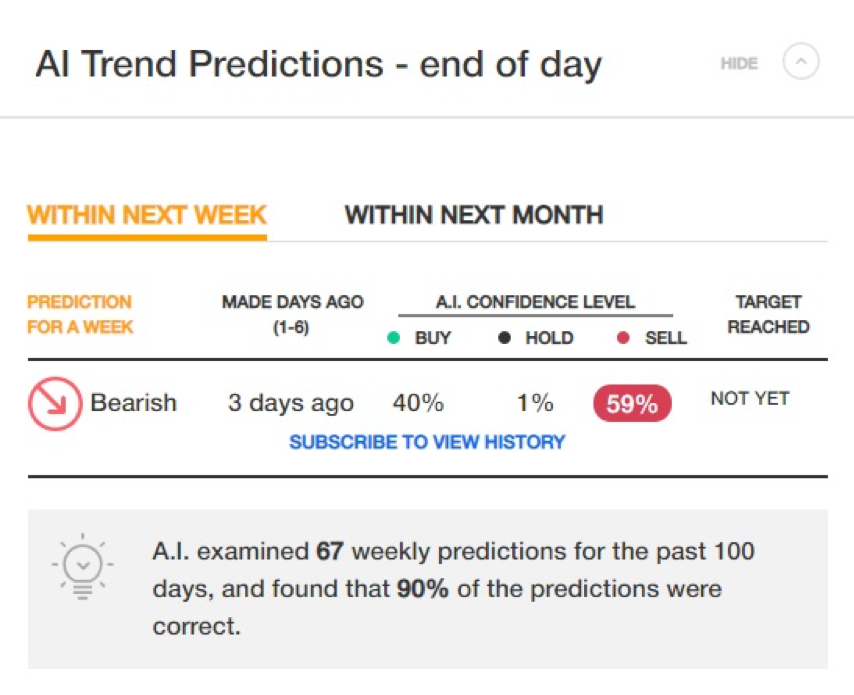 I mentioned earlier that Nektar's fundamentals are over the place. Earnings have been flat over the last three years and fell by 13% in the most recent quarterly report. Sales have increased by a rate of 128% per year over the last three years, but fell by 26% in the most recent quarter. The ROE is at 75.5% and the profit margin is at 57.2%. Both of those figures are well above average.