NextEra Energy Close to Lower Rail of Upwardly-Sloped Channel
The utilities sector has been one of the last bastions of hope in the recent market slide and it finally gave a little in the past week. One utility stock that has held up and even gained ground in the last few months is NextEra Energy (NYSE: NEE).
The stock has formed a trend channel over the last six months with the lower rail connecting lows from June, September, and November. The parallel upper rail connects highs from August, November, and December.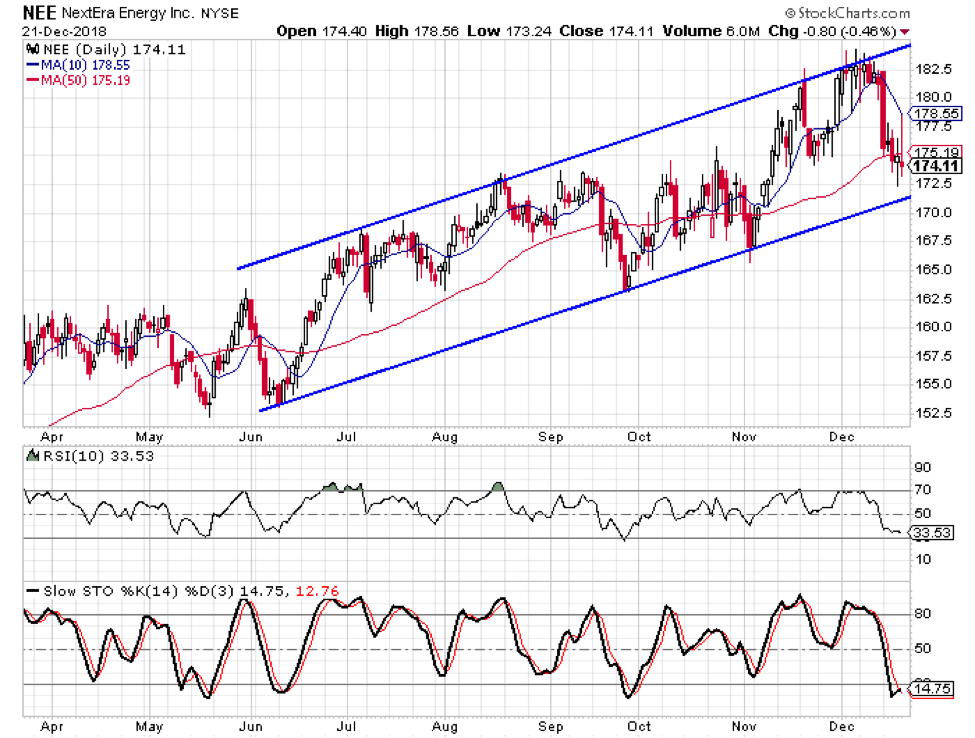 With the utilities sector finally seeing some selling pressure last week, NextEra dipped down in to oversold territory based on the daily stochastic readings. This is the first time the indicators have been in oversold territory since the end of September and only the second time in the last six months.
NextEra has mixed fundamentals readings. The earnings have grown nicely in recent years. The average annual growth rate over the last three years has been 9% and analysts expect earnings to grow by 16% this year.

Sales have not been as strong as earnings and have in fact declined in the last three years at a pace 0f 1% per year. Sales fell by 8% in the most recent quarter.
The company does have an above average profit margin at 24.8% and the ROE is at 12.1%.
Given the overall picture for NextEra and given the current market environment, the stock looks like a possible safe haven.