Oil companies, especially exploration companies, have rallied sharply since the end of October. The SPDR S&P Oil & Gas Exploration & Production ETF (XOP) rallied 89.7% from the October low to last week's high. The huge rally has put the ETF in overbought territory based on the 10-day RSI and daily stochastic indicators.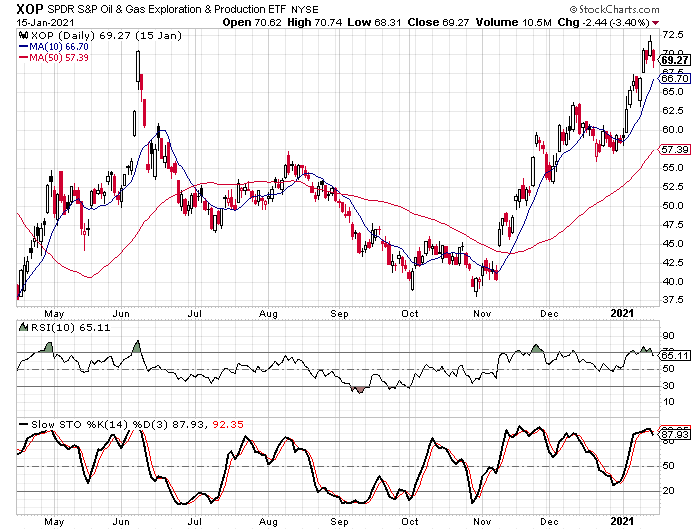 The ETF came to my attention on Friday when I ran a scan of stocks that were overbought and had seen their daily stochastic indicators make bearish crossovers. The XOP was on the list along with 10 individual companies. I ran these 10 companies through the Tickeron Screener and there were two companies that jumped out at me for getting bearish signals with pretty high confidence levels.
Cabot Oil & Gas (COG) and EQT Corp. (EQT) were the two companies with bearish signals and both received bearish signals on January 15. The signal for EQT showed a confidence level of 76% and Cabot's signal showed a confidence level of 75%. These signals call for declines of at least 4% over the next month.

Looking at the fundamental analysis indicators, both companies have more negative marks than positives, but EQT has five negative scores and only one positive score. Cabot has four negative scores and three positive scores. Both companies get poor ratings from the Valuation Ratings, the Profit vs. Risk Ratings, the SMR Ratings, and the Seasonality Scores. The only area where they both score well is the Outlook Ratings.
The stocks score much better on the technical side. EQT has three bullish signals and two bearish signals while Cabot has four bullish signals and one bearish signal. Both companies got bearish signals from the Bollinger Bands and both have been overbought for numerous days on the stochastic indicators and the RSI indicator. Both companies get have received bullish signals from the MACD, the Momentum Indicator, and the Moving Average indicator.
Oil prices have been considerably more volatile recently and the energy sector has followed suit. Over the last few months the energy sector has been the top performing sector on a number of days, but it has also been the worst performer on a number of days. Obviously with the upward trajectory of the stocks over the last few months, there have been more big upward moves than downward ones.
For a complete comparison between Cabot and EQT see the Tickeron analysis below. The analysis shows how these two companies score compared to one another, and it also looks at the industry as a whole.