Perkinelmer Just Hit Two Key Support Levels
Medical equipment manufacturer Perkinelmer (NYSE: PKI) has pulled back in the past few months, following the rest of the market. However, there could be good news for investors of Perkinelmer as the stock hit two key support levels in the last week.
We see on the daily chart that the stock dropped down to its 104-week moving average at its low last week, but then bounced sharply from there. The stock did the same thing back in early 2017 before jumping approximately 40% in the next six months.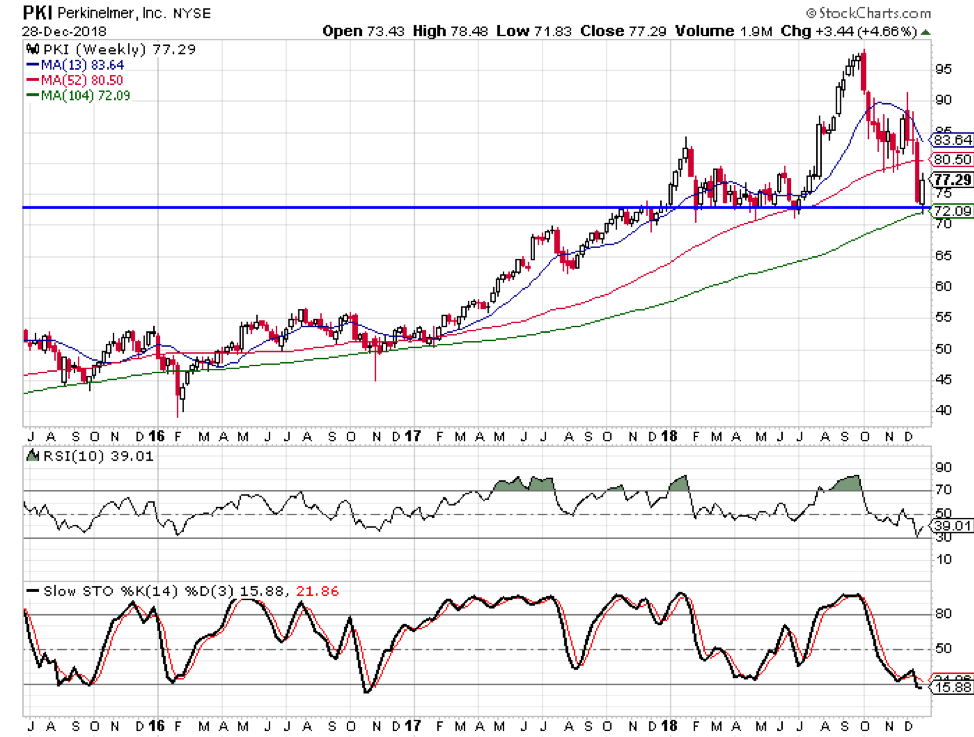 The second support level that jumped out at me was the $72.50 area. We see that the stock struggled to get above that price in late 2017 before breaking through in early 2018. The stock then moved sideways from February through June, but it never closed a week below the $72.50 level during that stretch. I look for that price area to serve as strong support and look for the stock to bounce in the coming months.
In addition to the technical support, Perkinelmer has strong fundamental indicators as well. The company has seen earnings grow by 13% per year over the last three years. In the most recent quarterly report earnings grew by 23% while sales grew by 22%.
Even with the technical support and strong fundamentals, investors and analysts aren't very bullish on the stock. There are 14 analysts following the stock and only five of them rank the stock as a "buy". This leaves room for upgrades that can help propel the stock higher.