Poor fundamentals and a bearish signal for Abercrombie & Fitch as it faces resistance
Poor fundamentals and a bearish signal for Abercrombie & Fitch as it faces resistance
Fashion retailer Abercrombie & Fitch (NYSE: ANF) fell sharply when it announced first-quarter earnings back in May. The company lowered its outlook for Q2 and that spooked investors that had been gaining in optimism. Here it is two months later and the stock has rallied back from the loss that occurred after earnings.
The company has been struggling for the last few years and the earnings and sales results have been relatively flat. The earnings have been flat over the last three years and they are expected to be down 18% for 2019. Sales have grown at a paltry 2% average over the last three years and they were flat in the first quarter.

The company's return on equity is only 6.5% and the profit margin is low as well at 3.6%. Both of these figures are well below average.
The Tickeron Trend Prediction Engine generated a bearish signal for Abercrombie on July 17 and that signal calls for a decline of at least 4% within the next month. The signal showed a confidence level of 77% and past predictions on the stock have been successful 90% of the time.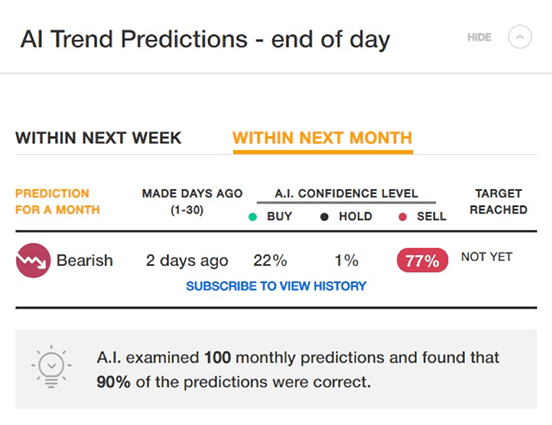 The timing of the signal from the prediction engine is interesting when you look at the daily chart of the stock. We see that the stock has rallied over 20% from its June low, but now it is approaching the 50-day moving average as well as the $19.50 area. This area acted as support back in February and then it marked the top of the gap lower in May. This area could act as a resistance along with the 50-day.