Possible Double-Bottom Pattern for ArcelorMittal
Luxembourg-based steel manufacturer ArcelorMittal (NYSE: MT) has struggled in 2018 and the stock is down just over 23% on a year to date basis. While that isn't terrible given how many stocks in the materials sector have struggled, but there could be something in the chart that is a good sign for Arcelor.
Looking at the daily chart, we see that the stock hit a low at $23.80 back on October 26. The stock bounced from there, but then slipped again over the last few weeks. However, the stock hit a low of $23.83 on November 13 and that could be a double-bottom pattern for the stock.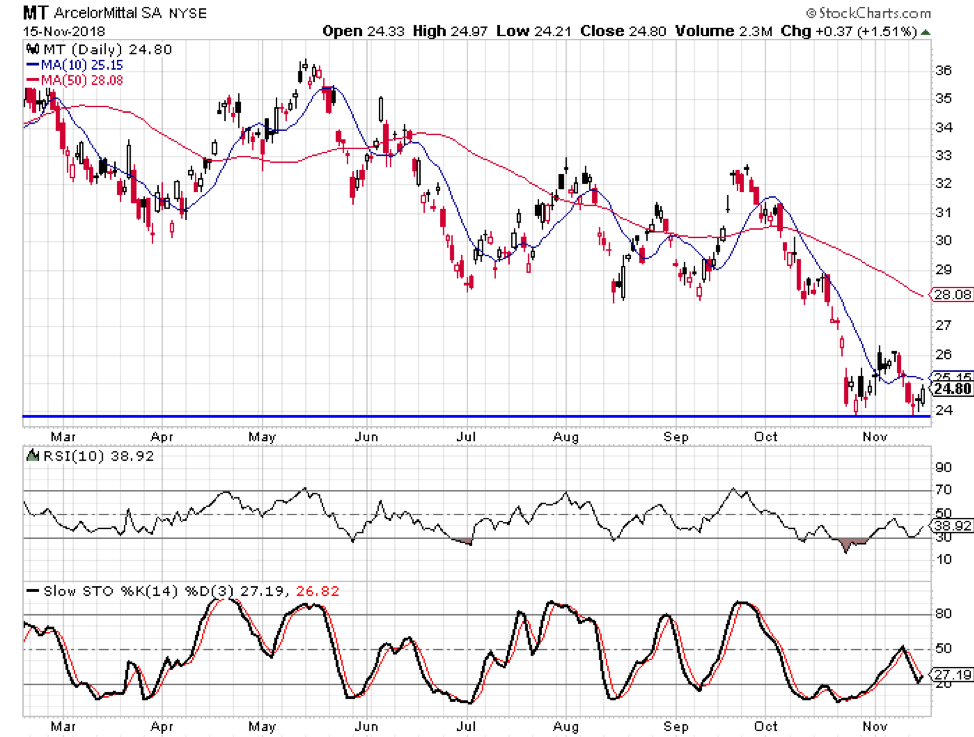 For the pattern to be completed, the stock will need to rise above the high between the two lows. In the case of Arcelor, it will need to move above $26.34. There is still resistance looming overhead at the $28 level, but that is 12.9% above yesterday's closing price.
Arcelor's fundamental measurements are all over the place. Earnings have grown by 271% per year over the last three years, but the most recent quarter showed an earnings decline of 25%.

The return on equity is 13.3%, the profit margin is 6.6%, and the operating margin is 9.7%. All of those figures are average to below average.
The fundamentals and the long-term technical picture might not allow the stock to jump too much, but the short-term technical picture suggests that we could see a decent bounce.