Possible Double-Top for American Homes 4 Rent After Double-Bottom
Real Estate Investment Trust American Homes 4 Rent (NYSE: AMH) has a very interesting looking chart at this point in time. The stock looks like it put in a double-bottom down in the $19.50 area. The stock dropped down there in early November then bounced up to the $20.75 area. It then dropped back down to the $19.50 area and rallied once again. When it broke above the $20.75 area it was confirmation of the double-bottom pattern. Unfortunately we could also be looking at a double-top pattern.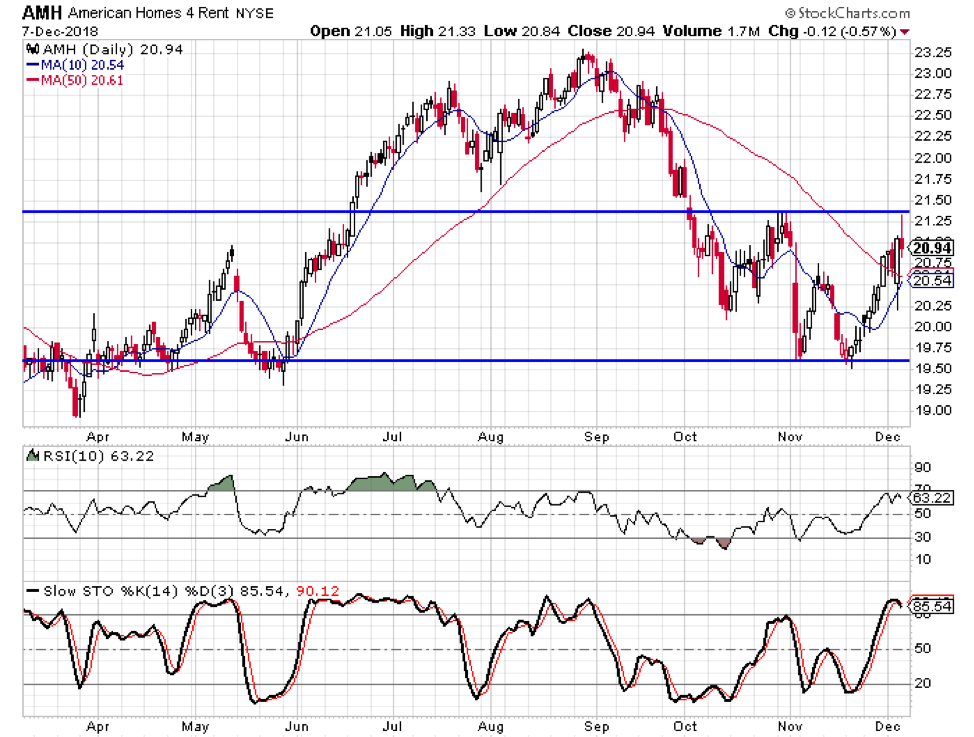 The way the stock stalled in the $21.40 area in late October catches your attention and now it has bounced back up to the area again and stalled there on Friday. We also see that the stochastic readings are in overbought territory and made a bearish crossover on Friday.
The company's fundamental indicators are average at best and that isn't going to help the company break above resistance. The earnings have been stagnant over the last three years. The return on equity is only 1.7% and the profit margin is only 8%.

One area where the fundamental indicator is above average is in the sales growth. The company has averaged sales growth of 20% per year over the last three years and they were up 13% in the most recent quarter.
The sentiment toward American Homes 4 Rent could also be a problem as investors and analysts appear to be skewed to the optimistic side. The short interest ratio is a paltry 1.36 and nine out of 15 analysts rate the stock as a "buy".