Regional Bank ETF (KRE) hits downward sloped trend line and generates bearish signal
Regional Bank ETF (KRE) hits downward sloped trend line and generates bearish signal
The SPDR S&P Regional Banking ETF (NYSE: KRE) could be facing a rough stretch over the next month or so—at least based on several indications. The ETF has been trending lower over the past year and hasn't bounced back the way the overall market has. The fund peaked at $64.32 last June, dropped below $60 in September, and it hasn't been back above $57 since last October.
The highs from last June and August connect to create a downward sloped trend line and the fund is just below that line right now. In addition to the trend line being just overhead, the 104-week moving average is in the same vicinity. The 104-week may sound a little unorthodox, but it represents two year's worth of prices.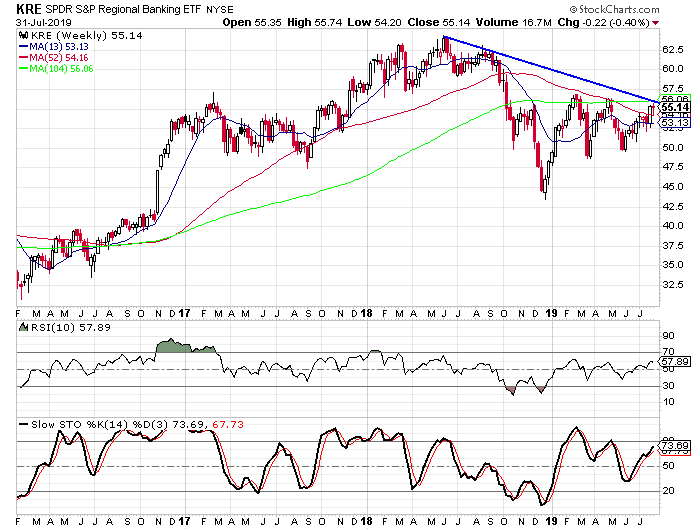 Tickeron's technical analysis overview shows that the KRE moved above its upper Bollinger Band on July 26. In 34 of 37 previous cases, when the fund broke above its upper band it moved lower over the following month. That is an incredibly high success rate.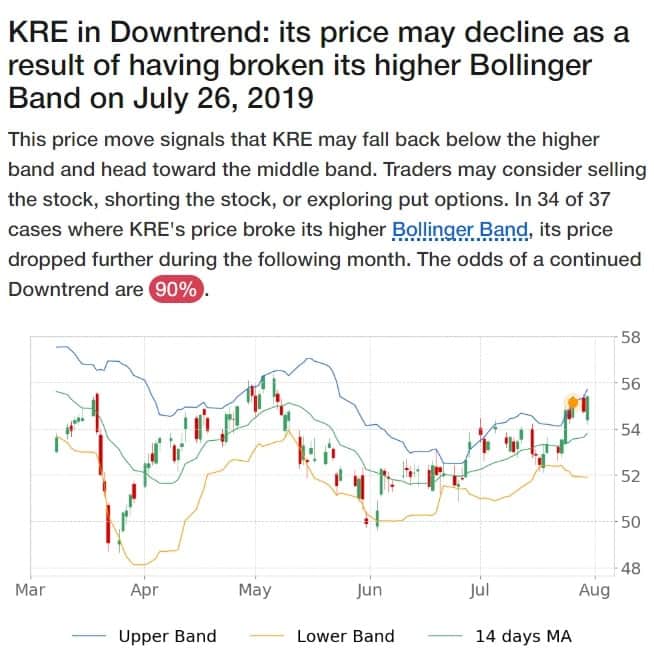 From a fundamental perspective, bank stocks could be negatively impacted by the Fed cutting rates on July 31. Historically when the Fed enters into a rate-cutting cycle, banks don't perform as well. When rates get lowered, the spread shrinks between what banks charge on loans and what they pay on deposits. This cuts into the profit margins and operating margins.