Royal Dutch Shell A Shares hit lower rail of trend channel and Tickeron's Overview is bullish
Royal Dutch Shell A Shares hit lower rail of trend channel and Tickeron's Overview is bullish
Oil stocks have bounced around a little in recent months, but for the most part the overall trend has been to the upside. Tensions in the Middle East have increased and that has certainly had an impact on the price of oil. One stock that has been trending higher in somewhat of a pattern is Royal Dutch Shell Class A Shares (NYSE: RDS/A).
If you look at the daily chart below you will see that a trend channel has formed over the last four months. The lower rail connects the low from March with the lows from early and late May. The upper rail connects the highs from March, April, and June. The stock just hit the lower rail of the channel and looks ready to bounce once again.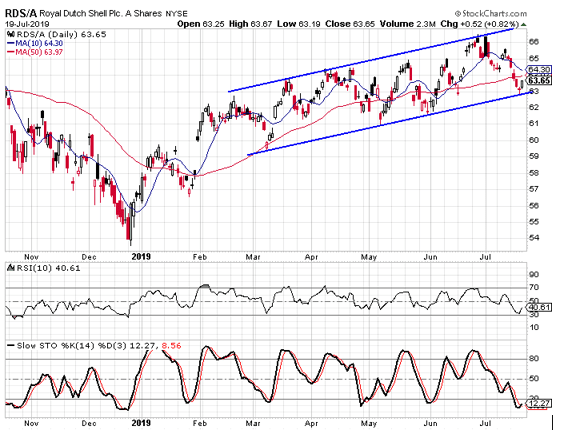 The daily stochastic readings are in oversold territory and they just made a bullish crossover on July 19. We see that the indicators also made bullish crossovers at the previously mentioned lows in March and May.
The Tickeron technical analysis overview shows several bullish factors that could help the stock maintain the overall trend. The 50-day moving average is above the 200-day and the 10-day is above the 50-day.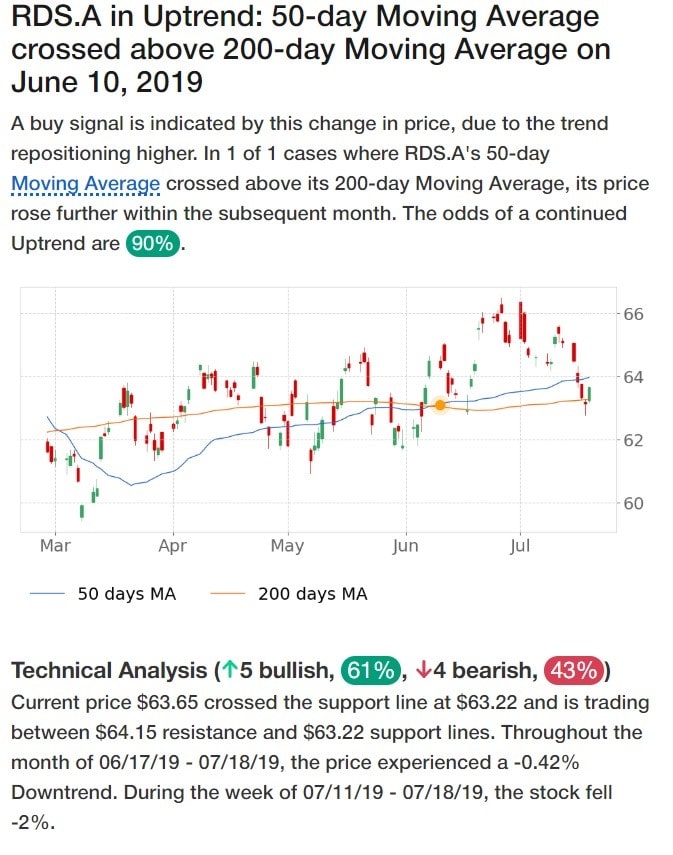 The fundamentals for Royal Dutch Shell are mixed. Earnings were flat in the most recent quarterly report and they are only expected to grow by 6% for 2019. Sales have increased by 22% per year for the last three years, but they were down 6% in the most recent quarter.
The management efficiency measurements are a little below average with a return on equity of 10.9% and a profit margin of 8.5%.