Schlumberger facing potential resistance ahead of earnings
Schlumberger facing potential resistance ahead of earnings
Oil service provider Schlumberger (NYSE: SLB) is scheduled to release its second-quarter earnings results on July 19 and analysts expect the company to report earnings of $0.35 per share. The company earned $0.43 in the second quarter of 2018, meaning analysts expect an 18.6% decline in earnings on a year over year basis.
Schlumberger has been struggling for the last few years and the EPS have declined by an average of 3% per year over the last three years. Earnings were down by 21% in the first quarter compared to the first quarter of 2018.

In addition to the poor earnings results, the company's management efficiency measurements are subpar. The ROE is 6.2% and the profit margin is 8.4%. Both of those figures are below average.
If the fundamentals weren't enough, the technical picture is also pointing toward a rough period for Schlumberger. Looking at the weekly chart we see that the stock has been trending lower for the last year and a half and a trend line has formed that connects the highs from that period. The stock is closing in on the trend line now, but it is overbought on the daily chart.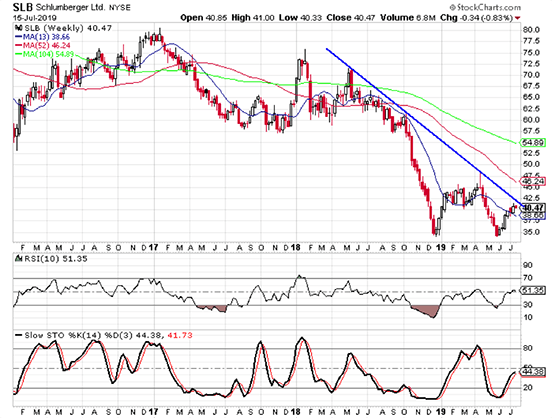 In addition to the possible resistance looming just overhead, the Tickeron Trend Prediction Engine generated a bearish signal for Schlumberger on July 11. The signal shows a confidence level of 70% and it calls for a drop of at least 4% within the next month. Past predictions on Schlumberger have been successful 76% of the time.