During the rally in equities from the March low, another asset class has been performing extremely well and it has done so with far less fanfare. Silver has jumped 71.5% over the last four months while gold has turned an impressive gain of 23%.
The silver industry is part of the overall precious metals industry. The companies are engaged in exploring and mining for metals that are considered to be rare and/or have a high economic value. Popular precious metals include gold, platinum and silver. All three of these metals are largely used in jewelry, art and coinage along with having some industrial uses as well.
To be honest, I hadn't noticed silver's big rally until I looked at Tickeron screener's group trend this morning. I was sorting through the groups by performance over various time periods, looking for investment ideas. When I clicked on the top performers for the past week, silver stocks were the top performing group with a gain of 13.9%.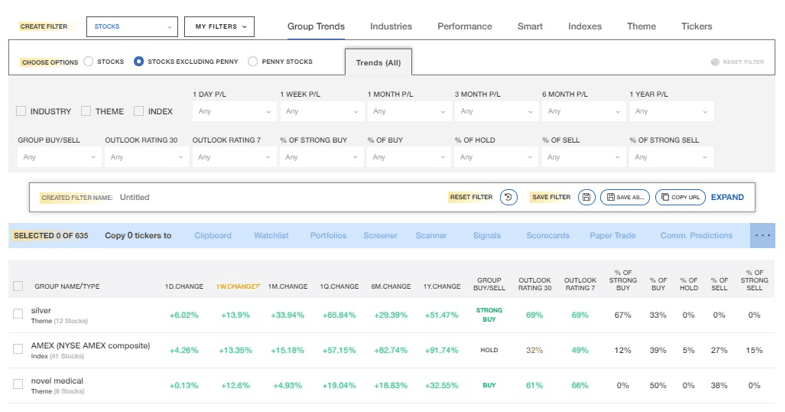 I proceeded to click on the group to look at the different indicators for the 12 stocks in the group. I looked at the top eight stocks based on market cap and the Tickeron scorecard shows six "strong buy" ratings and two "buy" ratings. I took note that the stocks appear to be moving higher based primarily on the technical indicators more than anything.
If we look at the two columns for fundamental analysis and technical analysis, we see that the only stock that has more positive fundamental signs than negative ones is Southern Copper (SCCO). The company has two positive signs and zero negative signs.
Conversely, Wheaton Precious Metals (WPM) has four negative signals and zero positive signals. First Majestic Silver (AG) and Compania de Minas Buenaventura (BVN) each have three negative fundamental signals and zero positive signals.
If we look at the technical analysis column, we see quite the opposite is true—every single company on the list has more positive signals than negative signals. Rio Tinto (RIO) has three positive signals and zero negative technical signals. Six of the eight stocks have one negative signal and for all six it is the Bollinger Bands that are generating the bearish signal.
Because of the big rally, many silver stocks are overbought at this time. Six of the eight stocks on our list are in overbought territory based on the stochastic indicators. There are also six that are overbought based on the RSI readings. While that might seem like a problem, we all know that overbought stocks can become more overbought.
I have been analyzing investments for over 25 years now and that includes precious metals. One thing I've learned when it comes to analyzing the metals is to watch the sentiment toward them. More specifically I have learned to watch the Commitment of Traders (COT) reports. The COT reports are released by the Commodity Futures Trading Commission each Friday.
The COT reports break investors down in to three categories—large speculators, small speculators, and commercial hedgers. The reports show how many contracts each group is net long or net short. I find it more beneficial to watch the large speculators as they have the power to move the market more than small speculators. Commercial hedgers are miners and companies that use silver in manufacturing processes. As such they tend to be net short contracts.
Looking at the COT chart for silver over the last three years, I noticed what seemed like an important level. The red ovals at the bottom of the chart mark the times in the last three years where large speculators were net long at least 60K contracts. Each instance seemed to mark a high in silver prices.
At this time, large speculators are net long 43,869 contracts. What this suggests to me is that silver still has some room to move up before we see what I would consider excessive bullish sentiment. If the large speculator group reaches a point where they are net long over 60K contracts—that is when I would worry about a pullback in silver prices.