You may have heard the term "sin stock" at some point over the years, but do you really know which companies are considered sin stocks? Traditionally the term is applied to companies that operate in industries such as alcohol, tobacco, and gambling. There is a long-held belief that these stocks tend to do well no matter what the economy is doing. The reasoning behind that belief is based on how demand for the products is pretty consistent and may even increase during stressful economic times.
While browsing through charts recently I found two sin stocks that can't seem to break out of the downward trends they have been in for the last four years or so. Altria (MO) and Molson Coors Brewing (TAP) have both seen their stocks trend lower in recent years, but the companies have decent fundamental indicators.
If we look at the weekly chart for Altria we see that the stock has been trending lower since the second quarter of 2017 and from its peak through its low, the stock lost over half of its value. There is also a trend channel that has formed that defines the cycles within the overall downward trend.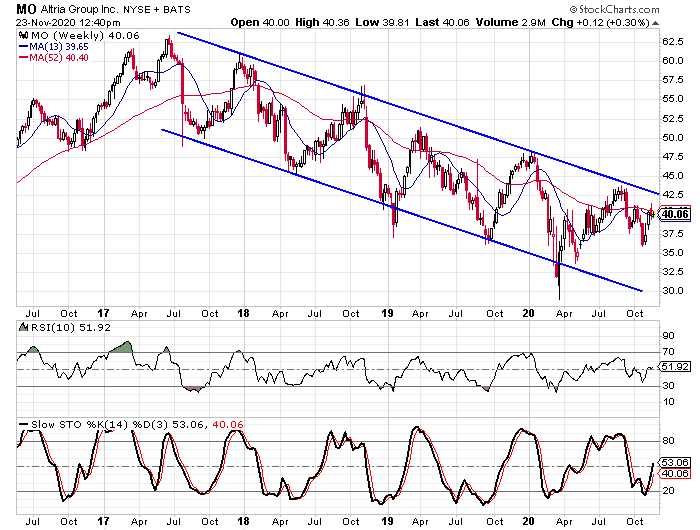 Looking at the weekly chart for Molson Coors, we see that the stock peaked just above $100 back in the fourth quarter of 2016. Just last month the stock was trading below $33. We also see a downwardly sloped trend channel forming for the brewer. One difference between the charts is that Molson Coors is in overbought territory based on the 10-week RSI and the weekly stochastic indicators.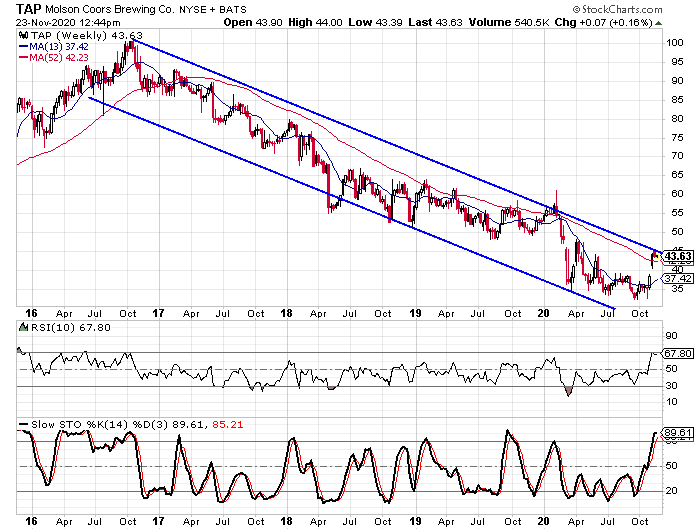 Given the downward trends the stocks have been in, you might think the two would rate very poorly when it comes to the fundamentals. But that isn't the case at all. Tickeron's fundamental screener shows that Altria does really well with five positive readings and only one negative reading. Molson Coors shows two positive ratings and two negative with three neutral readings.
Both companies get positive readings from the Valuation Rating and from the Seasonality Score. Both companies also get negative ratings in the Profit vs. Risk category—both scoring a 100, the worst possible score. Altria gets additional positive readings in the Outlook Rating, SMR Rating, and P/E Growth Rating. The P/E Growth Rating for Molson Coors is the other bearish reading.
The full analysis from Tickeron shows how the stocks stack up against one another as well as how they compare to other stocks in general.