SmileDirectClub (SDC, $5.12) misses Q2 expectations
Shares of SmileDirectClub  dropped on Tuesday, followed by second quarter results that came in lower than expected by analysts.
The teledentistry company's second-quarter net loss of -14 cents a share was wider than the -12 cents a share anticipated by analysts surveyed by FactSet. Revenue came in at $174.2 million, compared to $198.5 million expected by analysts polled by FactSet.
For the year, the company projects a revenue range of $750 million to $800 million. FactSet's poll reveals analysts' expectation of $783.4 million.
SDC in -7.90% downward trend, falling for three consecutive days on May 25, 2023
Moving lower for three straight days is viewed as a bearish sign. Keep an eye on this stock for future declines. Considering data from situations where SDC declined for three days, in of 270 cases, the price declined further within the following month. The odds of a continued downward trend are .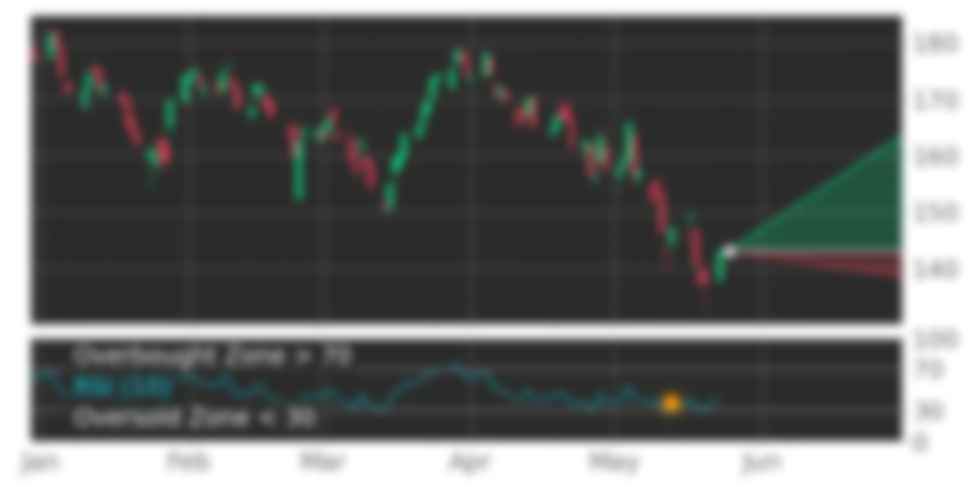 Technical Analysis (Indicators)
Bearish Trend Analysis
The Momentum Indicator moved below the 0 level on May 11, 2023. You may want to consider selling the stock, shorting the stock, or exploring put options on SDC as a result. In of 60 cases where the Momentum Indicator fell below 0, the stock fell further within the subsequent month. The odds of a continued downward trend are .
The Moving Average Convergence Divergence Histogram (MACD) for SDC turned negative on May 16, 2023. This could be a sign that the stock is set to turn lower in the coming weeks. Traders may want to sell the stock or buy put options. Tickeron's A.I.dvisor looked at 30 similar instances when the indicator turned negative. In of the 30 cases the stock turned lower in the days that followed. This puts the odds of success at .
SDC moved below its 50-day moving average on May 11, 2023 date and that indicates a change from an upward trend to a downward trend.
Bullish Trend Analysis
The Stochastic Oscillator shows that the ticker has stayed in the oversold zone for 9 days. The price of this ticker is presumed to bounce back soon, since the longer the ticker stays in the oversold zone, the more promptly an upward trend is expected.
Following a +1 3-day Advance, the price is estimated to grow further. Considering data from situations where SDC advanced for three days, in of 171 cases, the price rose further within the following month. The odds of a continued upward trend are .
SDC may jump back above the lower band and head toward the middle band. Traders may consider buying the stock or exploring call options.
Fundamental Analysis (Ratings)
The Tickeron Valuation Rating of (best 1 - 100 worst) indicates that the company is slightly undervalued in the industry. This rating compares market capitalization estimated by our proprietary formula with the current market capitalization. This rating is based on the following metrics, as compared to industry averages: P/B Ratio (0.470) is normal, around the industry mean (25.053). P/E Ratio (0.000) is within average values for comparable stocks, (141.686). Projected Growth (PEG Ratio) (0.000) is also within normal values, averaging (5.616). Dividend Yield (0.000) settles around the average of (0.019) among similar stocks. P/S Ratio (0.313) is also within normal values, averaging (52.556).
The Tickeron Price Growth Rating for this company is (best 1 - 100 worst), indicating slightly worse than average price growth. SDC's price grows at a lower rate over the last 12 months as compared to S&P 500 index constituents.
The Tickeron SMR rating for this company is (best 1 - 100 worst), indicating weak sales and an unprofitable business model. SMR (Sales, Margin, Return on Equity) rating is based on comparative analysis of weighted Sales, Income Margin and Return on Equity values compared against S&P 500 index constituents. The weighted SMR value is a proprietary formula developed by Tickeron and represents an overall profitability measure for a stock.
The Tickeron PE Growth Rating for this company is (best 1 - 100 worst), pointing to worse than average earnings growth. The PE Growth rating is based on a comparative analysis of stock PE ratio increase over the last 12 months compared against S&P 500 index constituents.
The Tickeron Profit vs. Risk Rating rating for this company is (best 1 - 100 worst), indicating that the returns do not compensate for the risks. SDC's unstable profits reported over time resulted in significant Drawdowns within these last five years. A stable profit reduces stock drawdown and volatility. The average Profit vs. Risk Rating rating for the industry is 85, placing this stock worse than average.
Notable companies
The most notable companies in this group are Abbott Laboratories (NYSE:ABT), Medtronic plc (NYSE:MDT), Intuitive Surgical (NASDAQ:ISRG), Boston Scientific Corp (NYSE:BSX), Edwards Lifesciences Corp (NYSE:EW), IQVIA Holdings (NYSE:IQV), Illumina (NASDAQ:ILMN), Align Technology (NASDAQ:ALGN), Exact Sciences Corp (NASDAQ:EXAS), Guardant Health (NASDAQ:GH).
Industry description
Medical specialties are companies that make equipment used by the health care industry. Equipment manufactured and distributed by these companies include dialysis machines, blood analysis equipment, surgical equipment, dental instruments, and diagnostic tools, among other items. Large companies typically aim to produce and distribute high-quality products across a broad market spectrum. Smaller firms are more likely to specialize in a particular market segment. Due to the industry's close association with medical treatments, they typically have low sensitivity to macroeconomic fluctuations. Within this industry, Abbott Laboratories, Medtronic Plc and Thermo Fisher Scientific Inc. are some of the companies with multi-billion market capitalizations in the U.S. stock markets.
Market Cap
The average market capitalization across the Medical Specialties Industry is 6.35B. The market cap for tickers in the group ranges from 27 to 3.82T. MKYSF holds the highest valuation in this group at 3.82T. The lowest valued company is FOGCF at 27.
High and low price notable news
The average weekly price growth across all stocks in the Medical Specialties Industry was -1%. For the same Industry, the average monthly price growth was 1%, and the average quarterly price growth was 221%. LHDXQ experienced the highest price growth at 121%, while TTOO experienced the biggest fall at -61%.
Volume
The average weekly volume growth across all stocks in the Medical Specialties Industry was 26%. For the same stocks of the Industry, the average monthly volume growth was -7% and the average quarterly volume growth was -93%
Fundamental Analysis Ratings
The average fundamental analysis ratings, where 1 is best and 100 is worst, are as follows
Valuation Rating: 50
P/E Growth Rating: 69
Price Growth Rating: 56
SMR Rating: 83
Profit Risk Rating: 85
Seasonality Score: 14 (-100 ... +100)