Tandem Diabetes Care (TNDM) Struggling to Move Back Above $38
Tandem Diabetes Care (TNDM) Struggling to Move Back Above $38
Medical device company Tandem Diabetes Care (Nasdaq: TNDM) had an incredible run for the first eight and a half months of 2018. The stock jumped from $2.36 at the start of the year to a high of $52.55 in September. That is a gain of over 2,100%.
After hitting that all-time high in September, the stock has retreated slightly and it dipped down to a low of $26.40 in November. After dropping down to the November low, the stock has made several attempts to move back up, but it seems to be hitting resistance in the $38 area. The stock has moved above that price, but it hasn't been able to close a day above it on three different attempts.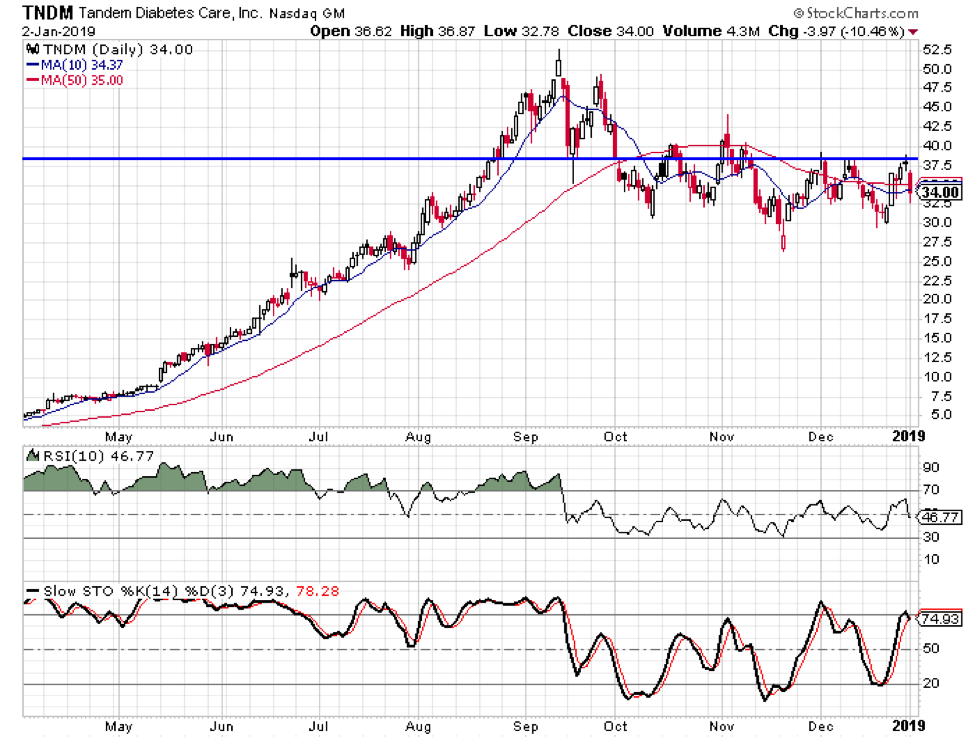 You can see on the chart the three attempts in just over a month and now the stock is overbought based on the daily stochastic readings. The stochastic readings also just made a bearish crossover on Wednesday.

Something that could be holding the stock back at this point is its fundamental indicators. The company has yet to turn a profit and it is currently operating at a profit margin of -67.9%.
Biotech and pharma companies are different in how they are valued by investors, but at some point the company has to start making money in order to justify the stock price. I'm not sure what that point is, but it seems like investors may have gotten ahead of themselves with Tandem when they ran it up so high last year.