Teladoc Health trending lower and the fundamentals are poor
Teladoc Health (NYSE: TDOC) is somewhat of a hybrid company, caught between technology and healthcare. The company is considered a software company, but it provides on-demand healthcare services—an interesting mix of attributes. Regardless of what the company does, the stock has been in a downward trend for the last seven months. 
The decline started last October and it saw the stock drop from over $85 a share to $42.50 in December. The stock rallied back in January and February, but then turned lower again in March. If we connect the high closing prices from September and February we get a downward sloped trend line and the stock has rallied up to that line in recent weeks.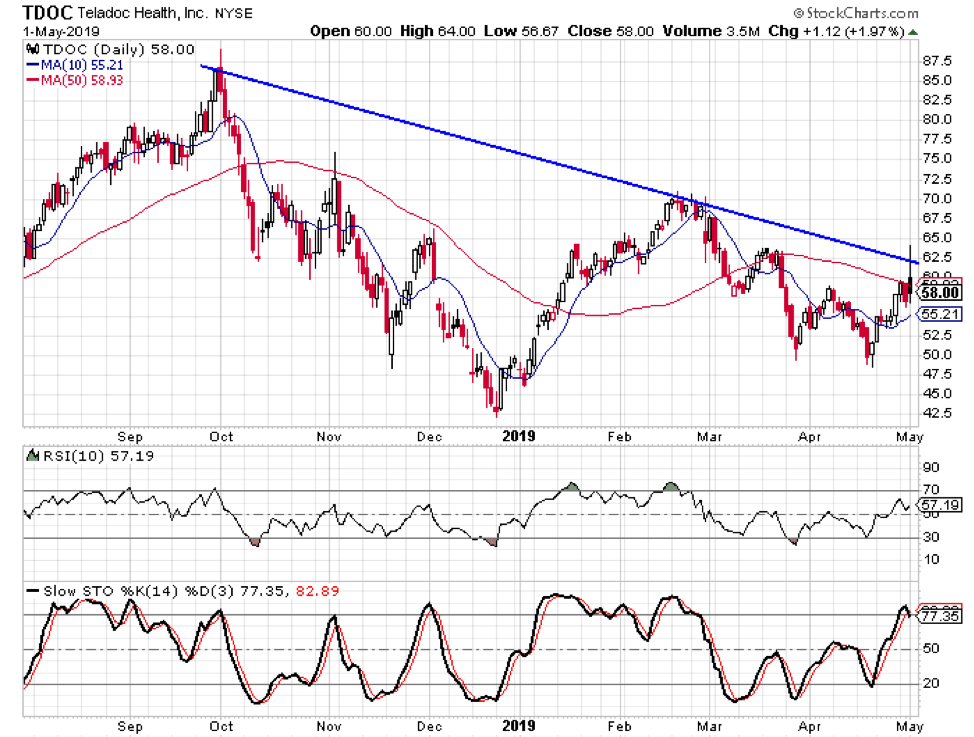 In addition to the trend line, we see that the stock is struggling to move back above its 50-day moving average. It moved above it on May 1, but it couldn't maintain the momentum in to the close. We also see that the daily stochastic readings are in overbought territory and made a bearish crossover on May 1. 
Teladoc's fundamentals are below average, at least in terms of its earnings growth and management efficiency measurements. The company saw earnings decline by 10% in its fourth quarter report and earnings have been flat over the last three years. The company is set to report again on May 6. 
Because the company has been losing money, the return on equity is currently -12.35% and the profit margin is -23.2%.
The Tickeron AI Prediction tool generated a bearish signal on Teladoc on April 30 and that signal calls for a decline of at least 4% over the next month. The signal showed a confidence level of 66% while previous predictions for the stock have been successful 64% of the time.