Finding investment trade ideas in the market today is like mining for gold in the 1850s. Maybe, just maybe you find a creek bed with a few gold nuggets that no one else knows about. But you better act fast, because word travels so fast that's only a matter of minutes before other miners show up to fight for the treasure -- and also to ruin the opportunity.
That's what it's like finding unique, profitable trade ideas in today's market. If you get a trade idea from today's financial newspaper, for instance, guess what: everyone else probably saw the same trade idea too. By the time you make the trade, it's too late. 
With trading, it's crucial not only to have a unique idea but also to be first. 
This is what gives hedge funds and big institutions a leg up. They have the technology and the tools to find patterns and trade ideas in the market in nanoseconds, using Artificial Intelligence and algorithms. Retail investors are left reading the newspaper. 
But not anymore. Tickeron is rolling out A.I.-driven tools that retail investors can now access to find unique, real-time trade ideas backed by data and statistics. 
Here's how it works. First, traders can click easily click on "Best Trade Ideas" right from the top of Tickeron's home page. 
From this page, you can apply filters that meet what it is you're after. Whether you want to trade a specific security type like stocks or cryptocurrencies, or whether you're feeling bullish or bearish that day, you can customize the types of trade ideas you want the A.I. to deliver.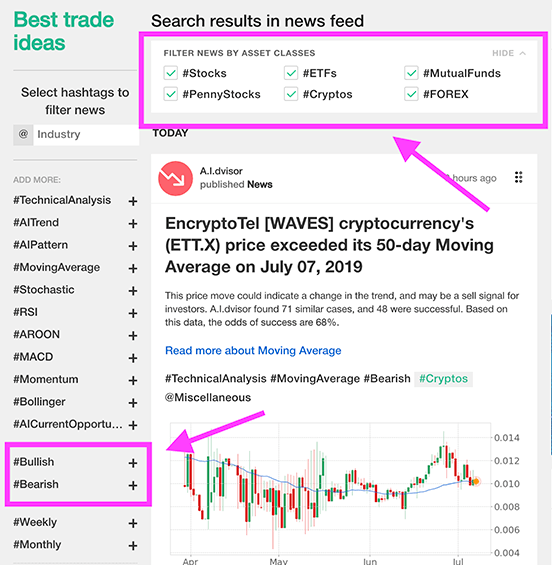 Let's give you some actual trade idea examples -- pulled directly from tickeron.com -- to show you what the A.I.-generated ideas look like. 
In the image below, I've filtered for Penny Stocks (what can I say, I like risk!) and asked the A.I. to look for Moving Average trade ideas that are Bearish. Within seconds, Tickeron's A.I. (known as A.I.dvisor) generated the trade idea in the image below, alerting me that Delta Technology Holdings' 50-day Moving Average now exceeds its 200-day Moving Average -- a solid sell signal.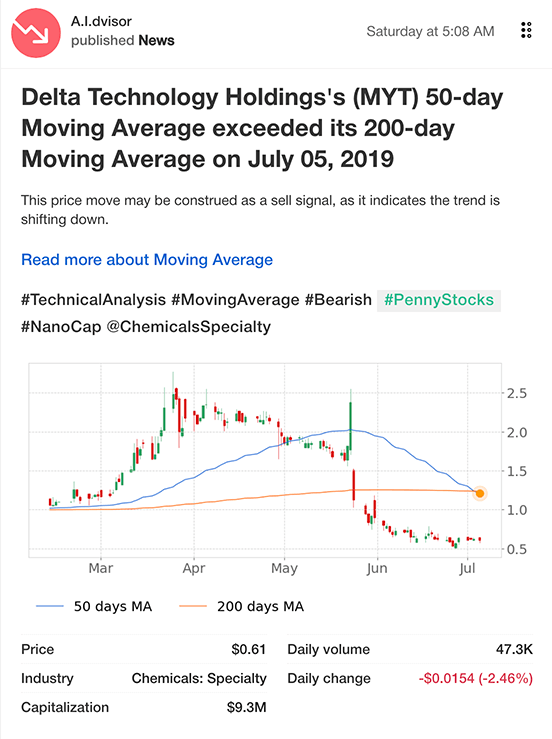 Here's another trade idea discovered simply from clicking around the options and filters on the site. The trade idea was generated by Tickeron's "A.I. Trend Prediction" tool, which looks for price trends across various categories of securities. The discovery below shows that the stock of Cogent Communications Holdings (ticker: CCOI) entered a monthly bullish trend, and the A.I. is actually predicting a 4% increase in the stock price within the next month! To make the case even stronger, the A.I. backtests previous instances when this stock has entered an uptrend similar to its current one. The result: the A.I. thinks there is an 84% chance the stock will continue trending higher to the target price.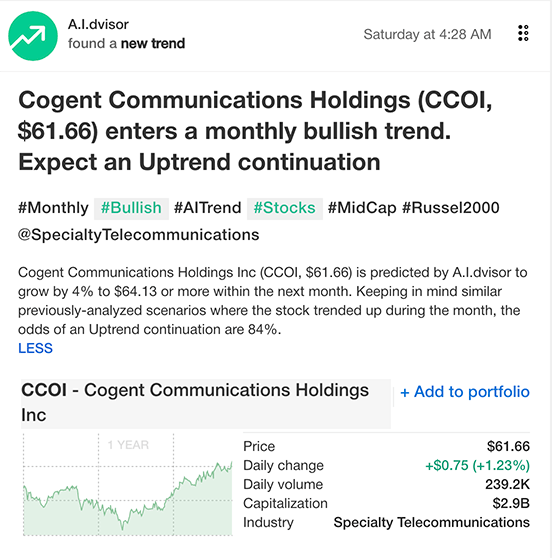 Bottom Line for Traders
The examples above are just a handful of the hundreds and hundreds of unique trade ideas that other traders probably can't find in real-time. With A.I.dvisor, traders can ditch the financial newspapers and find real-time technical trading ideas driven by Artificial Intelligence. Hedge Funds aren't the only ones with a leg-up anymore. Now, with Tickeron's innovative tools, everyday retail traders can use advanced technology to find trade ideas, too.