Three Falling Peaks on Teva Pharmaceuticals
Teva Pharmaceuticals (NYSE: TEVA) has outperformed the vast majority of stocks over the past year. According to Investor Business Daily's Relative Strength rating, Teva's stock price has appreciated more than 94% of the stocks in its database over the past year. Unfortunately for shareholders, there is a pattern on the chart that suggests that the stock is ready to fall sharply in the coming month or so.
The pattern is known as a Three Falling Peaks pattern and it is highlighted with the three blue circles on the chart below. In this case, the three peaks have also formed the upper rail of a trend channel with the lows over the last three months connecting as well.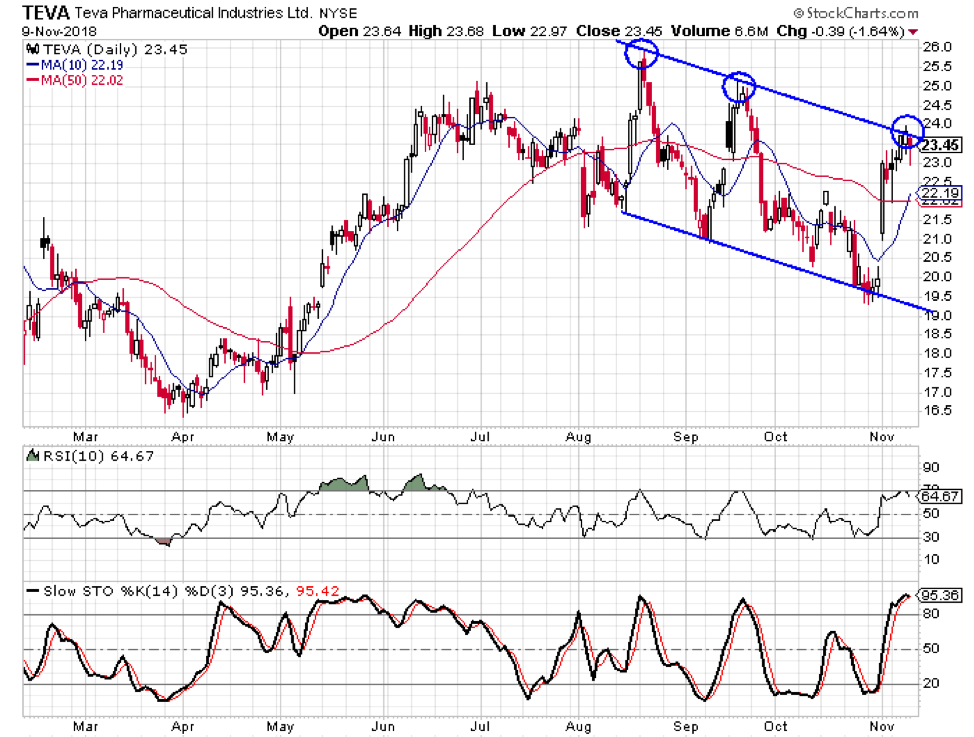 The stock dropped over 19% in three weeks from the August high to the September low and from the September high to the first October low. If the pattern plays out the same way and drops over 19% again, the stock would be under $19.50 this time around.
The fundamentals for Teva are also a factor as the company has lagged in its earnings and sales growth. The company gets a 22 on IBD's EPS rating and that means that 78% of the companies in its database have experienced better earnings growth. The SMR rating for Teva is a D and that is below average as well.
Teva reported third-quarter earnings on November 2 and that report showed an earnings decline of 32% over last year and a sales drop of 19% from the same quarter of 2017.