Signals from Pattern Search Engine
Tickeron is bringing high-powered Artificial Intelligence (A.I.) technology to the retail investment community that, in our opinion, rivals the technology and approach used at major Wall Street firms. The Ph. D founders of Tickeron have spent several years researching and building an Artificial Intelligence-based search engine that allows active investors to perform thousands of hours of research and pattern searches...in just minutes.
A security pattern traces distinct movements of security prices that, once recognized, helps investors make informed trading decisions. Patterns are identified by their key geometrical elements, formed by changing security prices.
Every day Artificial Intelligence analyses 39 patterns for 8000 stocks, 3000 ETFs, most popular Crypto & Forex pairs and presents trading ideas with backtest and statistic results.
BUY signal for WTFCM (Wedge Falling)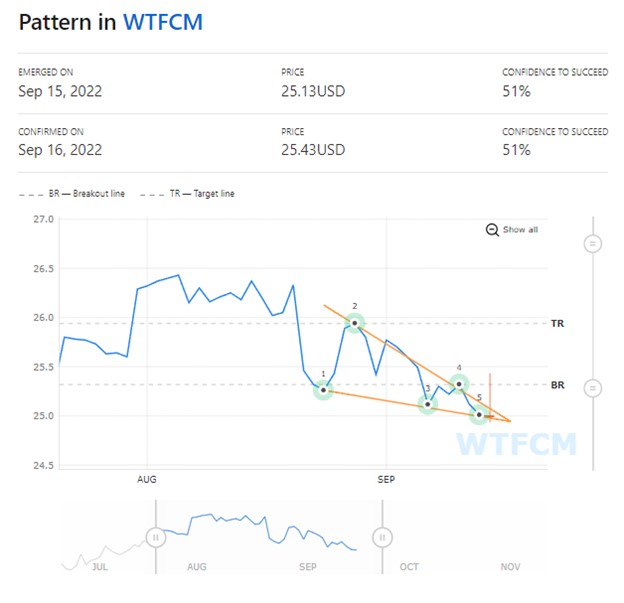 The Wedge Falling pattern forms when the price of a security appears to be spiraling downward, and two down-­sloping lines are created with the price hitting lower lows (1, 3, 5) and lower highs (2, 4). The two pattern lines intersect to form a narrow triangle. Unlike Descending Triangle patterns, however, both lines need to have a distinct downward slope, with the top line having a steeper decline.
This pattern is commonly associated with directionless markets since the contraction (narrowing) of the market range signals that neither bulls nor bears are in control. However, there is a distinct possibility that market participants will either pour in or sell out, and the price can move up or down with big volumes (leading up to the breakout).
Trade Idea:
BUY near the Breakout (Entry) price – $25.32
SELL at the Target (Exit) price – $25.94
Signals from Trend Prediction Engine
Trend trading is a strategy based on the technical analysis of changing market prices. The trend trader enters into a long position when a stock is trending upward and uses the short position when a stock is trending downward.

Tickeron's End-of-Day Trend Prediction Engine will instantly generate AI-driven projections on whether a stock is going up or down for the next week or month. The algorithm looks at past price changes and generates unique insights into future fluctuations. TPE analyzes trends for stocks, penny stocks, ETFs, mutual funds, cryptocurrencies, and Forex. To make this tool more convenient, it's best to customize it by adjusting the confidence level, price range, asset classes, and many others. You can also set up notifications for emails or push notifications.

  BUY signals for IBN, NU, TCBI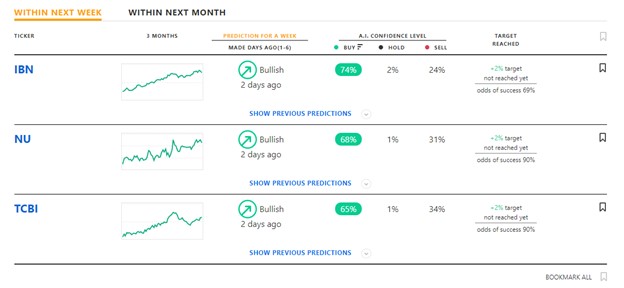 BUY  at the opening of the Stock Market on Monday if the opening price has gone up by no more than 0.5% of the closing price of Friday.

SELL after the price has risen by 2% from the closing price on Friday, or at the end of the trading week if the target is not reached.
Signals from Buy/Sell Analytical System
Buy/Sell recommendations is a complex analytical system consisting of several blocks:
TA score - signals from several technical indicators (MACD, RSI, Stochastic, etc.) are processed using neural networks.

FA score - complex fundamental analysis based on quantitative comparative ratings (Valuation, P/E Growth, SMR etc.)

Buy / Sell rating system - processes the aggregate score results and generates a trading signal.
BUY signal for PNC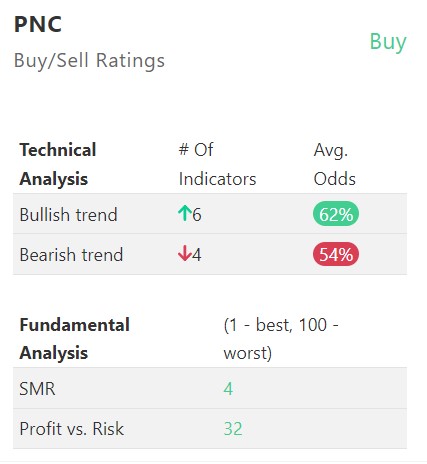 Trade idea:
Step 1. BUY PNC at the current market price.
Step 2. Set up alerts for PNC from Buy/Sell Analytical System.
Step 3. SELL PNC after receiving the "SELL" recommendation.