Trending lower, 50-day looming as resistance, and a bearish signal for Mylan
Generic drug manufacturer Mylan (Nasdaq: MYL) has been trending lower for the last year and a half. The company has struggled and the stock reflects that. We see on the daily chart how a trend channel has formed that defines the overall trend in the past year.

Normally I point out when a stock is hitting the upper rail of a downward sloping channel, but in the case of Mylan, it is only at the midpoint of the channel. Because the stock fell so sharply in May, the stock is in overbought territory and yet is in the middle of the channel.
We see that the 50-day moving average is just over head and that resistance could be the catalyst for the next move down. The daily stochastic readings are in overbought territory and made a bearish crossover on July 8.
The Tickeron Trend Prediction Engine generated a bearish signal on Mylan on July 5 with a confidence level of 85%. The signal calls for a decline of at least 4% within the next month and previous predictions on the stock have been successful 79% of the time.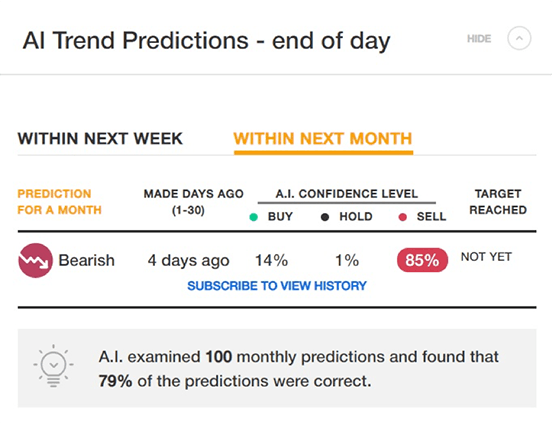 Mylan's fundamental readings show that earnings have been flat over the last three years and declined by 15% in the most recent quarter. Analysts expect earnings to decline by 6% in 2019. Sales have grown by only 5% per year over the last three years and they declined by 7% in the most recent quarter.