Social media giant Twitter (NYSE: TWTR) has been trending higher since December with the stock gaining over 40% from its low to its high. If we connect the lows from December, March, and June, we get a nice upwardly sloped trend line and the stock just hit that line on October 3. We can also connect the highs from the April/May timeframe with the high from September to create a trend channel.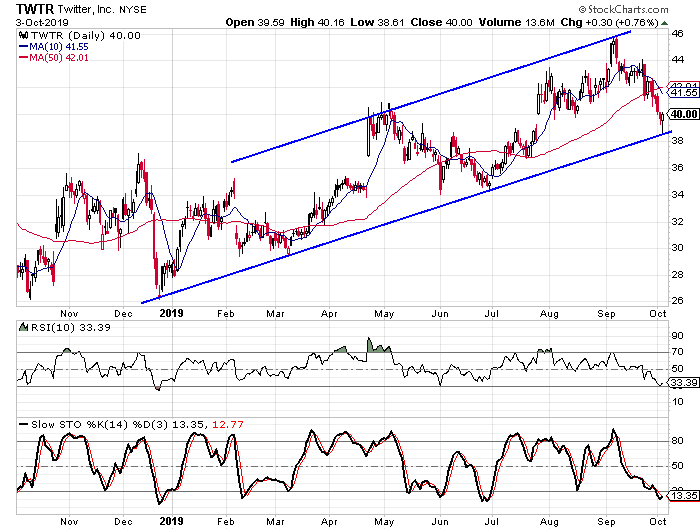 The daily stochastic readings are in oversold territory and the indicators just made a bullish crossover on October 3. Similar crossovers in the last ten months have been pretty good indicators for a move to the upside.
In addition to the stochastic crossover, the stock broke below its lower Bollinger band on October 1. According to the Tickeron technical analysis overview, in 26 of 39 cases where Twitter's price broke its lower Bollinger Band, its price rose further in the following month. The odds of a continued uptrend are 67%.
The Tickeron Trend Prediction Engine generated a bullish signal for Twitter on October 2 and the signal showed a confidence level of 87%. The signal calls for a gain of at least 4% within the next month. Previous signals for Twitter have been successful 64% of the time.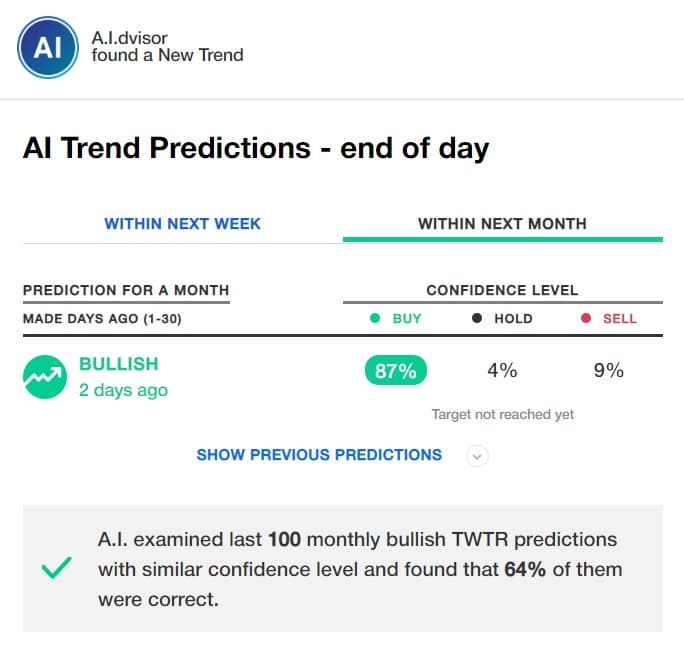 The Tickeron Price Growth Rating for Twitter is 5 and that indicates outstanding price growth. Twitter's price grows at a higher rate over the last 12 months as compared to S&P 500 index constituents. A rating of 1 points to highest price growth (largest percent return) while a rating of 100 points to lowest price growth (smallest percent return).
Looking at the fundamentals for Twitter, the company has seen great earnings growth over the last few years. The EPS have grown by 63% per year over the last three years and they were up an incredible 829% in the most recent quarterly report. Analysts expect earnings to grow by 187% for 2019 as a whole. With all of these stats taken in to account, Twitter gets a 99 on Investor's Business Daily's EPS rating system. That is the highest score a stock can get.
Sales have grown at a rate of 10% per year over the last three years and they grew by 18% in the second quarter. The company sports a return on equity of 11.2% and a profit margin of 28.7%. If you add all of these stats together, you get the SMR rating from Tickeron.
The Tickeron SMR rating for Twitter is 17, indicating very strong sales and a profitable business model. The SMR rating is based on comparative analysis of weighted Sales, Income Margin and Return on Equity values compared against S&P 500 index constituents.
Despite Twitter's fundamental and technical success, analysts are rather bearish on the stock. There are 43 analysts covering the stock at this time with 14 "buy" ratings, 24 "hold" ratings, and five "sell" ratings. This puts the buy percentage at a paltry 32.6%. That is well below the average buy percentage.
The short interest ratio for the stock is currently at 2.0 and that is a little lower than the average stock.
Twitter hasn't set its official earnings release date for third quarter results, but it should be around October 24 based on previous earnings dates. Investors will want to keep an eye on those results.