When Twitter (TWTR) announced third quarter earnings results on October 29, investors were disappointed. The company's EPS figure came up short of estimates and user growth was well below expectations. This sent the stock tumbling 21.1% on October 30 and it dropped another 4.6% on November 2—the next trading day.
After those two big declines, the stock bounced back a little and appears to have stabilized in the $42.50 to $45 range in the last few weeks. What I found interesting is where the low in the stock came on November 2. That low connects nicely with the lows from March and June.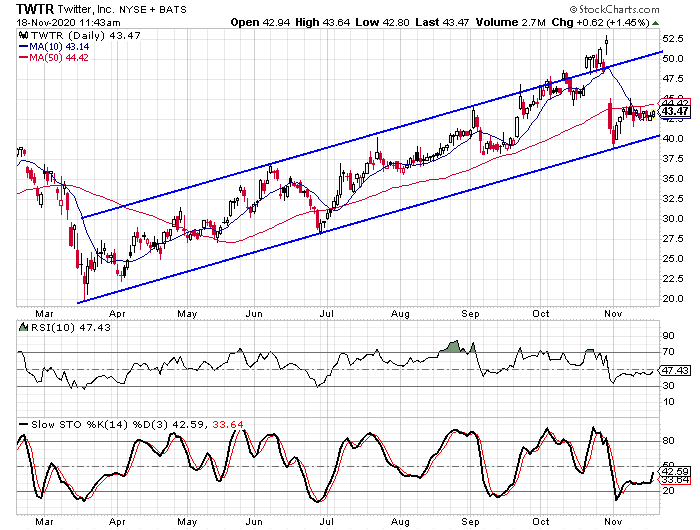 The chart shows how the trend line is part of a trend channel that has helped guide the stock higher over the last eight months. The stock is currently hovering just above the lower rail and just below the 50-day moving average.
From a fundamental perspective, Tickeron's fundamental analysis screener shows the stock has almost all neutral readings in seven different categories. It doesn't have any positive readings and it only has one negative reading—the outlook rating. A few areas where Twitter does rank above average are its return on equity, sales growth, and profit margin.
The ROE is at 24%, the company has seen sales grow by 14% per year over the last three years, and the profit margin is 25.7%. The combination of those indicators has the SMR Rating right on the brink of being in the positive range rather than a neutral reading.
The technical analysis screener looks much better for Twitter with four bullish signals over the last few weeks. The stochastic indicators generated a bullish signal on November 12. The Bollinger Bands generated a bullish signal on October 30. The Momentum Indicator generated a bullish signal on November 13 and the AROON Indicator generated a bullish signal on November 2.
In addition to the bullish signals from the various technical indicators, Tickeron's AI Prediction generated a monthly bullish signal on November 18. The signal puts the  probability of success at 90% for a move higher over the next month.
Looking at the sentiment for Twitter, analysts are pretty bearish on the stock. There are 37 analysts covering the stock with only 10 "buy" ratings. There are 24 "hold" ratings and three "sell" ratings. That gives us a buy percentage of 27% and that is well below the average buy percentage.