Tyson Foods finds support at its 50-day moving average and gets a bullish signal
Consumer staples company Tyson Foods (NYSE: TSN) has been on a nice run since the end of December. The stock briefly dipped below the $50 level back on December 26, but it rallied sharply in the last six months and hit a recent high of $84.30 on June 13. The stock has pulled back slightly in the last few weeks, but it appears to have found support at its 50-day moving average.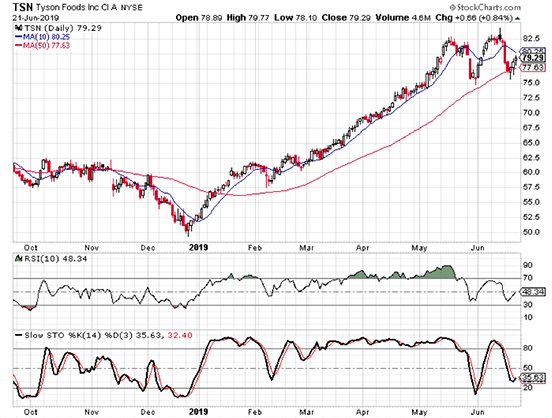 The 10-day RSI dipped down to the 35 area and that's the same area where the indicator dropped to back at the end of May. The indicator has turned higher in the last few days and the stochastic indicators made a bullish crossover on June 21.
Tickeron's Trend Prediction Engine generated a bullish signal for Tyson on June 20. The signal calls for a gain of at least 4% within the next month. It showed a confidence level of 89% and past predictions on the stock have been accurate 62% of the time.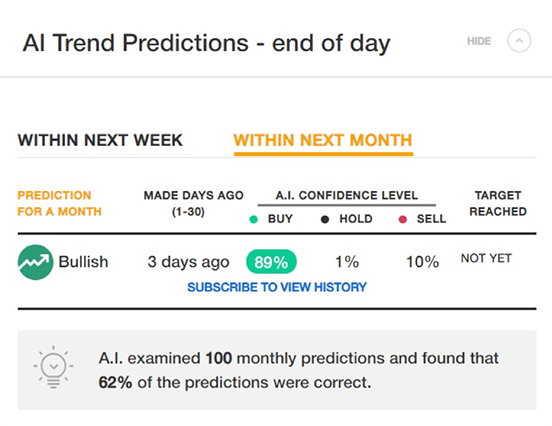 Tyson's fundamentals are somewhat mixed at this time. The company was able to grow earnings at a rate of 16% per year over the last three years, but earnings declined by 6% in the most recent quarterly report.
Even the management efficiency measurements are mixed with the return on equity above average at 19.5% while the profit margin is below average at 7.4%.