Unlock Hedge Fund-Level Trading Success: Meet The Top Robot of the Week, Beating the S&P 500 in 3 out of 4 Weeks!
We're pleased to introduce the Best Robot of the Week by Tickeron—a remarkable achievement in the realm of trading. This week, our robot has once again outperformed the S&P 500 index. Additionally, over the past month, it has outperformed the index for three out of four weeks. This pattern reinforces the dependability and stability of the signals, aligning perfectly with Tickeron's quant team objectives.
Swing Trader ($1.5K per position): Hedge Fund Style Trading (TA&FA)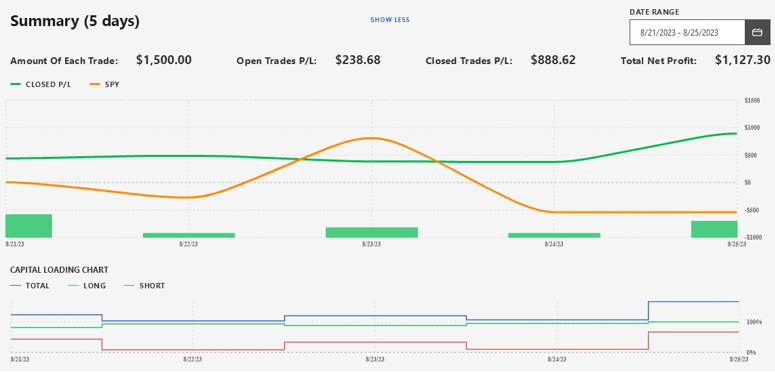 Click to view full description and closed trades for free!
Our state-of-the-art trading robot is specifically designed for traders aspiring to replicate the success of professional hedge fund traders. With a focus on managing a substantial number of trades simultaneously, our algorithm is built upon meticulous analysis of volatility and price dynamics within the American stock market. By diligently assessing both high-volatility and low-volatility stocks of companies with strong business indicators, we have achieved independence from the general market situation. Powered by advanced machine learning algorithms, our mathematical prowess consistently analyzes hundreds of the most popular stocks, seeking optimal entry points for trades on a daily basis.
Diversified Portfolio for Enhanced Stability:
In the fast-paced world of trading, diversification is a cornerstone of success. Our trading robot leverages a diverse pool of algorithms, each meticulously evaluated through a comprehensive system of multi-level backtests. This strategic approach enables our robot to form a diversified portfolio comprising numerous stocks daily, safeguarding our users from sudden price fluctuations arising from company-specific news. With stability as our prime concern, you can trade with the utmost confidence, knowing your investments are well-protected.
Seizing Profitable Signals at the Right Time:
One of the most common pitfalls traders face is waiting for excessive confirmation before entering a trade. As astute financial analysts, we understand the significance of identifying trends at their early stages. Our pool of algorithms is meticulously designed to pinpoint trends as they begin to form, allowing the robot to open trades precisely at the origin of an uptrend. By doing so, our robot empowers you to capture the most lucrative profit potential, avoiding missed opportunities and maximizing returns.
Maximizing Profits with Time-Tested Technical Indicators:
After initiating a trade, our robot employs a unique combination of time-tested technical indicators to optimize profits. Utilizing intelligent trailing stops, our system not only secures gains but also ensures you stay on the trend for as long as it remains profitable. This approach, honed by years of financial analysis expertise, allows you to extract the maximum profit from each trend.
We invite you to explore the possibilities that Tickeron's Best Robot of the Week presents. It's more than just data; it's a tool that reflects systematic excellence in action.
Let's redefine what's possible in the world of trading, together!
Here are the latest trades:


AMTX sees MACD Histogram just turned negative
AMTX saw its Moving Average Convergence Divergence Histogram (MACD) turn negative on September 21, 2023. This is a bearish signal that suggests the stock could decline going forward. Tickeron's A.I.dvisor looked at 44 instances where the indicator turned negative. In of the 44 cases the stock moved lower in the days that followed. This puts the odds of a downward move at .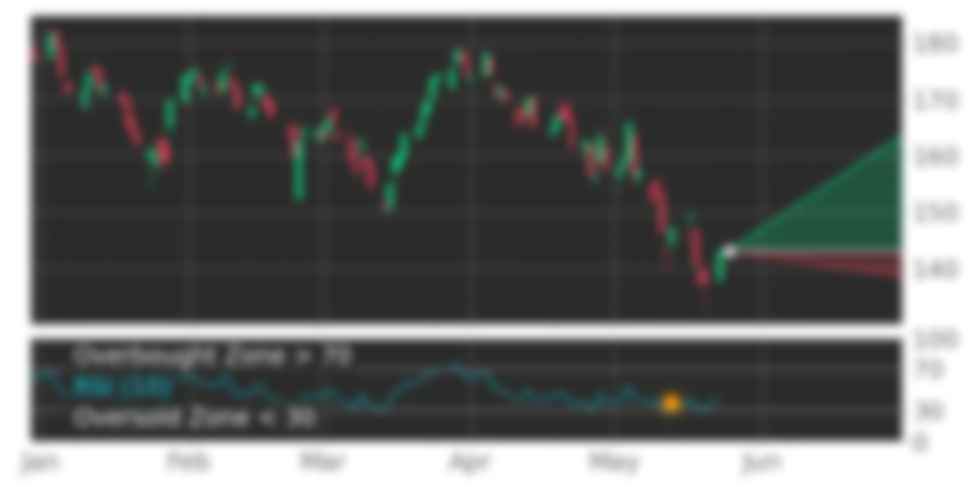 Technical Analysis (Indicators)
Bearish Trend Analysis
The Momentum Indicator moved below the 0 level on September 20, 2023. You may want to consider selling the stock, shorting the stock, or exploring put options on AMTX as a result. In of 97 cases where the Momentum Indicator fell below 0, the stock fell further within the subsequent month. The odds of a continued downward trend are .
Following a 3-day decline, the stock is projected to fall further. Considering past instances where AMTX declined for three days, the price rose further in of 62 cases within the following month. The odds of a continued downward trend are .
The Aroon Indicator for AMTX entered a downward trend on September 19, 2023. This could indicate a strong downward move is ahead for the stock. Traders may want to consider selling the stock or buying put options.
Bullish Trend Analysis
The RSI Oscillator points to a transition from a downward trend to an upward trend -- in cases where AMTX's RSI Oscillator exited the oversold zone, of 31 resulted in an increase in price. Tickeron's analysis proposes that the odds of a continued upward trend are .
The Stochastic Oscillator shows that the ticker has stayed in the oversold zone for 6 days. The price of this ticker is presumed to bounce back soon, since the longer the ticker stays in the oversold zone, the more promptly an upward trend is expected.
Following a +1 3-day Advance, the price is estimated to grow further. Considering data from situations where AMTX advanced for three days, in of 242 cases, the price rose further within the following month. The odds of a continued upward trend are .
AMTX may jump back above the lower band and head toward the middle band. Traders may consider buying the stock or exploring call options.
Fundamental Analysis (Ratings)
The Tickeron Price Growth Rating for this company is (best 1 - 100 worst), indicating steady price growth. AMTX's price grows at a higher rate over the last 12 months as compared to S&P 500 index constituents.
The Tickeron Seasonality Score of (best 1 - 100 worst) indicates that the company is fair valued in the industry. The Tickeron Seasonality score describes the variance of predictable price changes around the same period every calendar year. These changes can be tied to a specific month, quarter, holiday or vacation period, as well as a meteorological or growing season.
The Tickeron PE Growth Rating for this company is (best 1 - 100 worst), pointing to average earnings growth. The PE Growth rating is based on a comparative analysis of stock PE ratio increase over the last 12 months compared against S&P 500 index constituents.
The Tickeron Profit vs. Risk Rating rating for this company is (best 1 - 100 worst), indicating that the returns do not compensate for the risks. AMTX's unstable profits reported over time resulted in significant Drawdowns within these last five years. A stable profit reduces stock drawdown and volatility. The average Profit vs. Risk Rating rating for the industry is 77, placing this stock worse than average.
The Tickeron SMR rating for this company is (best 1 - 100 worst), indicating weak sales and an unprofitable business model. SMR (Sales, Margin, Return on Equity) rating is based on comparative analysis of weighted Sales, Income Margin and Return on Equity values compared against S&P 500 index constituents. The weighted SMR value is a proprietary formula developed by Tickeron and represents an overall profitability measure for a stock.
The Tickeron Valuation Rating of (best 1 - 100 worst) indicates that the company is significantly overvalued in the industry. This rating compares market capitalization estimated by our proprietary formula with the current market capitalization. This rating is based on the following metrics, as compared to industry averages: P/B Ratio (0.000) is normal, around the industry mean (7.021). P/E Ratio (0.000) is within average values for comparable stocks, (15.783). Projected Growth (PEG Ratio) (0.000) is also within normal values, averaging (2.925). Dividend Yield (0.000) settles around the average of (0.056) among similar stocks. P/S Ratio (0.864) is also within normal values, averaging (0.673).
Notable companies
The most notable companies in this group are MARATHON PETROLEUM Corp (NYSE:MPC), Phillips 66 (NYSE:PSX), Valero Energy Corp (NYSE:VLO).
Industry description
The Oil Refining/Marketing segment includes companies that refine crude oil into a number of petroleum products, including gasoline, jet fuel and diesel, and then sell the usable products to the end users. These companies are involved in what's called downstream operations in the oil business. They also engage in the marketing and distribution of crude oil and natural gas products. In other words, the downstream oil and gas business is focused on post-production processes of crude oil and natural gas. When oil prices slump, downstream businesses are hurt less or in some cases even benefit, since their purchase cost of crude oil goes down. Some of the biggest U.S. oil refining/marketing companies include Phillips 66, Marathon Petroleum Corporation and Valero Energy Corp.
Market Cap
The average market capitalization across the Oil Refining/Marketing Industry is 6.64B. The market cap for tickers in the group ranges from 107.69K to 61.66B. MPC holds the highest valuation in this group at 61.66B. The lowest valued company is AMCF at 107.69K.
High and low price notable news
The average weekly price growth across all stocks in the Oil Refining/Marketing Industry was -2%. For the same Industry, the average monthly price growth was 1%, and the average quarterly price growth was 3%. HEOL experienced the highest price growth at 17%, while BERI experienced the biggest fall at -20%.
Volume
The average weekly volume growth across all stocks in the Oil Refining/Marketing Industry was -11%. For the same stocks of the Industry, the average monthly volume growth was -14% and the average quarterly volume growth was 9%
Fundamental Analysis Ratings
The average fundamental analysis ratings, where 1 is best and 100 is worst, are as follows
Valuation Rating: 56
P/E Growth Rating: 61
Price Growth Rating: 49
SMR Rating: 49
Profit Risk Rating: 77
Seasonality Score: -15 (-100 ... +100)