Utilities ETF (XLU) hits lower rail of upwardly sloped channel and gets a bullish signal
The utilities sector is often viewed as a safety sector, offering less risk than the more cyclical sectors. With the overall market moving higher over the last three weeks, utilities have lagged the other sectors. The Utilities Select Sector SPDR (NYSE: XLU) has dropped 1.3% since July 8 and that is the worst performance among the 10 main sector SPDRs.
While the XLU has lagged in the last few weeks, the slight decline has allowed a couple of trend lines to catch up to the fund. The first one is the 50-day moving average and the ETF just hit it in the last few days. The second trend line is actually the lower rail of an upwardly sloped channel. We see that the line connects the lows from May and June while the upper rail connects the highs from April, May, and June.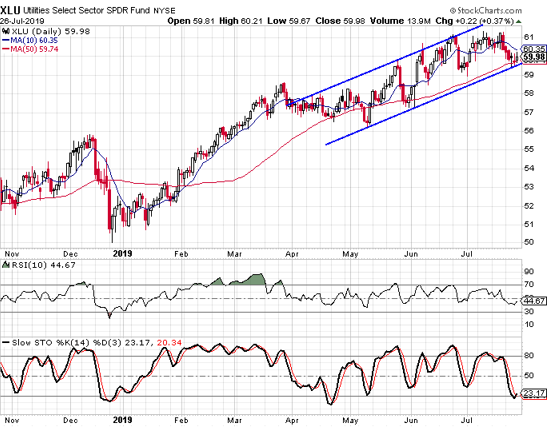 When the XLU dropped to its low on May 9 that formed the first point of the lower rail and the fund jumped over 6% in just over two weeks. The second point that helped form the lower rail was on June 4 and after hitting that low the fund jumped 5.87% in three trading days.
The Tickeron Trend Prediction Engine generated a bullish signal for the XLU on July 25 and the signal showed a confidence level of 84%. The signal calls for a gain of at least 4% within the next month. Past predictions on the XLU have been successful 90% of the time.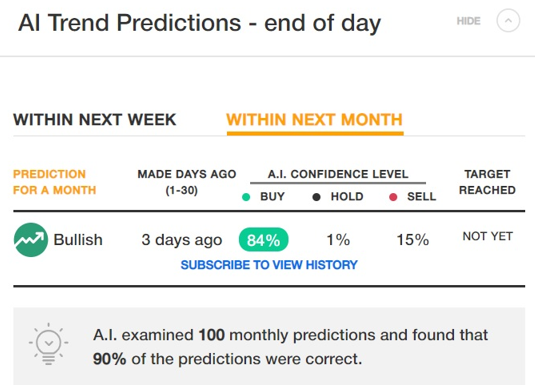 From a fundamental standpoint, utilities may become more attractive as it appears as if the Fed will cut rates at the July meeting. When the Fed cuts rates, utility stocks become more attractive for the yields the dividends provide.