Week in Review: Trader Robot Earns +5.54% with $GOOGL
AI-powered trading robots, accessible through platforms like "Day Trader: Medium Volatility Stocks for Active Trading (TA&FA)" are demonstrating their prowess as potent tools in the hands of traders. Recent developments have shown remarkable success, with these AI trading bots generating a noteworthy +5.54% gain while actively trading Alphabet Inc. (GOOGL) over the course of the previous week. This article delves into the indicators and earnings results that have contributed to these impressive gains.
Aroon Indicator Signals Bullish Potential for GOOGL
The Aroon Indicator, a powerful technical tool used to identify trends and potential reversals, has triggered a bullish signal for GOOGL on August 08, 2023. The Aroon Indicator, comprised of two lines - the AroonUp (green line) and AroonDown (red line), analyzes the time it takes for the highest and lowest prices to occur within a given period. When the AroonUp line surges above 70 and the AroonDown line remains below 30, it signals a potential bullish move in the stock.
Trickeron's A.I.dvisor, a sophisticated trading algorithm, identified this favorable condition in GOOGL's Aroon Indicator. A.I.dvisor's analysis of 334 similar instances revealed that in 217 cases, stocks moved higher in the days following a similar pattern. This historical precedent gives the current setup a 65% likelihood of leading to a positive price movement. Such insights provide traders with valuable information to consider as they make their trading decisions.
Earnings Performance and Market Capitalization
One of the key drivers of a stock's trajectory is its earnings performance. In GOOGL's case, its last earnings report on July 25 showcased an earnings per share (EPS) of $1.44, surpassing the estimated EPS of $1.34. With 19.20 million shares outstanding, the current market capitalization stands at an impressive $1.64 trillion. This substantial market capitalization speaks to the scale and influence that GOOGL commands within the market.
The convergence of AI technology and trading has yielded exciting results, as evidenced by the remarkable gains achieved by AI trading robots trading GOOGL. The bullish signal triggered by the Aroon Indicator adds weight to the potential for positive price movement. Moreover, the earnings outperformance and substantial market capitalization underline GOOGL's fundamental strength.
GOOGL sees MACD Histogram crosses below signal line
GOOGL saw its Moving Average Convergence Divergence Histogram (MACD) turn negative on September 20, 2023. This is a bearish signal that suggests the stock could decline going forward. Tickeron's A.I.dvisor looked at 50 instances where the indicator turned negative. In of the 50 cases the stock moved lower in the days that followed. This puts the odds of a downward move at .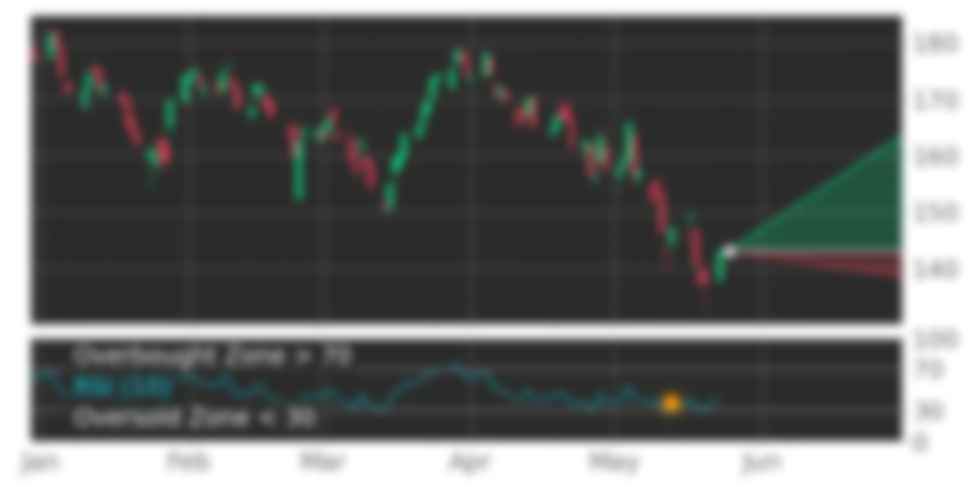 Technical Analysis (Indicators)
Bearish Trend Analysis
The Momentum Indicator moved below the 0 level on September 20, 2023. You may want to consider selling the stock, shorting the stock, or exploring put options on GOOGL as a result. In of 94 cases where the Momentum Indicator fell below 0, the stock fell further within the subsequent month. The odds of a continued downward trend are .
GOOGL moved below its 50-day moving average on September 26, 2023 date and that indicates a change from an upward trend to a downward trend.
Following a 3-day decline, the stock is projected to fall further. Considering past instances where GOOGL declined for three days, the price rose further in of 62 cases within the following month. The odds of a continued downward trend are .
Bullish Trend Analysis
The Stochastic Oscillator demonstrated that the ticker has stayed in the oversold zone for 2 days, which means it's wise to expect a price bounce in the near future.
Following a 3-day Advance, the price is estimated to grow further. Considering data from situations where GOOGL advanced for three days, in of 349 cases, the price rose further within the following month. The odds of a continued upward trend are .
GOOGL may jump back above the lower band and head toward the middle band. Traders may consider buying the stock or exploring call options.
The Aroon Indicator entered an Uptrend today. In of 335 cases where GOOGL Aroon's Indicator entered an Uptrend, the price rose further within the following month. The odds of a continued Uptrend are .
Fundamental Analysis (Ratings)
The Tickeron Price Growth Rating for this company is (best 1 - 100 worst), indicating outstanding price growth. GOOGL's price grows at a higher rate over the last 12 months as compared to S&P 500 index constituents.
The Tickeron PE Growth Rating for this company is (best 1 - 100 worst), pointing to outstanding earnings growth. The PE Growth rating is based on a comparative analysis of stock PE ratio increase over the last 12 months compared against S&P 500 index constituents.
The Tickeron Profit vs. Risk Rating rating for this company is (best 1 - 100 worst), indicating low risk on high returns. The average Profit vs. Risk Rating rating for the industry is 92, placing this stock better than average.
The Tickeron SMR rating for this company is (best 1 - 100 worst), indicating strong sales and a profitable business model. SMR (Sales, Margin, Return on Equity) rating is based on comparative analysis of weighted Sales, Income Margin and Return on Equity values compared against S&P 500 index constituents. The weighted SMR value is a proprietary formula developed by Tickeron and represents an overall profitability measure for a stock.
The Tickeron Valuation Rating of (best 1 - 100 worst) indicates that the company is slightly overvalued in the industry. This rating compares market capitalization estimated by our proprietary formula with the current market capitalization. This rating is based on the following metrics, as compared to industry averages: P/B Ratio (6.188) is normal, around the industry mean (17.316). P/E Ratio (27.701) is within average values for comparable stocks, (41.718). Projected Growth (PEG Ratio) (1.245) is also within normal values, averaging (3.545). Dividend Yield (0.000) settles around the average of (0.024) among similar stocks. P/S Ratio (5.845) is also within normal values, averaging (8.575).
Notable companies
The most notable companies in this group are Alphabet (NASDAQ:GOOG), Alphabet (NASDAQ:GOOGL), Meta Platforms (NASDAQ:META), Baidu (NASDAQ:BIDU), Spotify Technology SA (NYSE:SPOT), Pinterest (NYSE:PINS), Snap (NYSE:SNAP), Tencent Music Entertainment Group (NYSE:TME), Twilio (NYSE:TWLO), Zillow Group (NASDAQ:Z).
Industry description
Companies in this industry typically license software on a subscription basis and it is centrally hosted. Such products usually go by the names web-based software, on-demand software and hosted software. Cloud computing has emerged as a major force in this space, making it possible to save files to a remote database (without requiring them to be saved on local storage device); as long as a device has access to the web, it can access the data and the software programs to run it. This has in many cases facilitated cost efficiency, speed and security of data for businesses and consumers. Alphabet Inc., Facebook, Inc. and Yahoo! Inc. are some well-known names in the internet software/services industry.
Market Cap
The average market capitalization across the Internet Software/Services Industry is 49.09B. The market cap for tickers in the group ranges from 1.11K to 1.66T. GOOGL holds the highest valuation in this group at 1.66T. The lowest valued company is MSEZ at 1.11K.
High and low price notable news
The average weekly price growth across all stocks in the Internet Software/Services Industry was -2%. For the same Industry, the average monthly price growth was 3,957%, and the average quarterly price growth was 3,544%. QTTOY experienced the highest price growth at 82%, while FMHS experienced the biggest fall at -52%.
Volume
The average weekly volume growth across all stocks in the Internet Software/Services Industry was -5%. For the same stocks of the Industry, the average monthly volume growth was -4% and the average quarterly volume growth was -17%
Fundamental Analysis Ratings
The average fundamental analysis ratings, where 1 is best and 100 is worst, are as follows
Valuation Rating: 43
P/E Growth Rating: 74
Price Growth Rating: 66
SMR Rating: 80
Profit Risk Rating: 92
Seasonality Score: -17 (-100 ... +100)