If the stock market were Major League Baseball, hedge funds and institutional investors would be the pros on championship teams while everyday self-directed investors (SDIs) are the benchwarmers in the minors. Institutional investors are more experienced and have better, more refined tools and "tricks" they can use to play the game. It's how they get ahead, and it's why 90% of SDIs lose money trying to play (invest and trade) in the major leagues.
The 4 tricks we discuss below are rooted in one common theme: they all use Artificial Intelligence and algorithms to generate data and ideas. For years, hedge funds have had a leg-up because they have access to this advanced technology, which allows them to find and backtest trade ideas in seconds.
Read more: If Hedge Funds are Using A.I. to Invest, Why Shouldn't You?
But the world is changing, and technology is becoming more readily available to more people. The A.I. tools that hedge funds were traditionally using to get ahead are now available on the internet. This gives every day, self-directed investors a fighting chance to close the performance gap. In this article, we discuss 4 tricks hedge funds use to get ahead, but that SDIs can now use too with the technology now available online.
Trick #1: Hedge Funds backtest trade ideas and calculate the odds of success
Backtesting is the practice of analyzing troves of historical data on a security, to gather insight on how the security has behaved in the past. Doing so can help calculate odds of the security doing something similar in the future. Backtesting can be used to make several observations:
Has the security displayed this type of price movement before?

Is there historical evidence to suggest that the security moves predictably in this type of market environment?

Based on historical data available, what are the odds of success for this trade?
A typical SDI looks at a stock chart and tries to find either a pattern or an explanation for a stock behavior and then makes a prediction for the future movement without analysis of similar cases in the past. A typical SDI does not have time to look at all previous similar cases to calculate the odds of success for every trade they make.
SDIs have access to the same type of Artificial Intelligence technology that hedge funds are using to trade.
Here's how it works. Start here: Tickeron Technical Analysis
You'll see an image like the one displayed below, and the next step is to select #TechnicalAnalysis. Next, you'll be able to see a scrolling news feed of securities and trade ideas with odds of success that Tickeron's A.I. has identified (subscription required). In the example below, you can see a Bearish, 50-day moving average trade idea that Tickeron's A.I. has determined has 90% odds of success!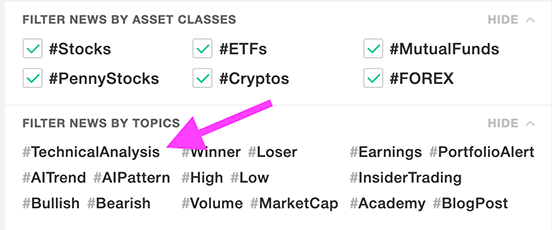 Trick #2: Hedge Funds monitor what the Insiders are doing
If you knew that executives at Facebook were all selling large amounts of stock at the same time, would you consider that a sign that maybe it's time to sell some of your own shares as well? Hedge funds probably would.
Hedge funds have tools to closely monitor volume on securities of interest, but they also watch to see how much of that volume is comprised of insiders at the company buying or selling shares.
SDIs can now monitor insider trading statistics, too.
You can click on #InsiderTrading and be presented with an A.I.-generated news feed of all securities where there were reported 'insider' trades. The images below show you exactly how the trade ideas and data will appear on the website, even detailing the name of the executive who bought or sold shares and how many shares were traded.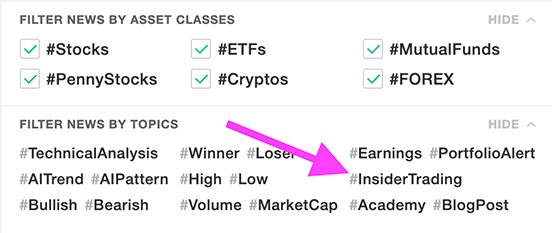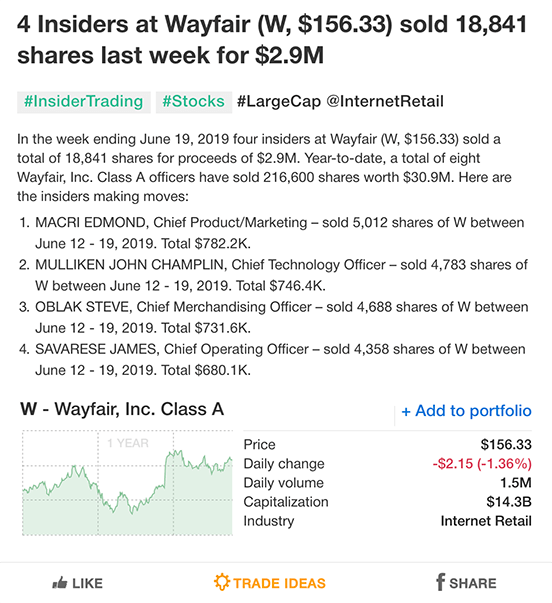 Trick #3: Hedge Funds analyze Intraday Patterns for each security
This is where hedge fund technology gets pretty sophisticated. Hedge Funds deploy algorithms and A.I. to monitor securities of interest, watching them to see if they enter or confirm any of a myriad of technical trading patterns.
If Google confirms a Cup-and-Handle pattern, hedge funds can quickly find it and determine a target price and statistical probabilities that Google will reach it. Using all of this data, the hedge fund can determine if the trade is worthwhile.
Not only do hedge funds have the technology and tools to monitor securities in patterns, but they can also perform these tasks on an intraday basis. The A.I. and algorithms are that fast.
Retail investors can now use A.I. to find intraday technical trading patterns, too.
SDIs can subscribe to find real-time, intraday trading signals generated by A.I.
Here's how it works. After going onto Tickeron's site, here, you can click on the Intraday Stocks & ETFs Pattern Feed as seen below. Once you do that, A.I. will present you with trade ideas on every security that has an active intraday pattern, so you can trade in real time as fast as hedge funds do! In the example below, Expedia Group's stock confirmed a Cup-and-Handle pattern, and the A.I. has 63% confidence the stock will reach its target price with a gain of +0.44%.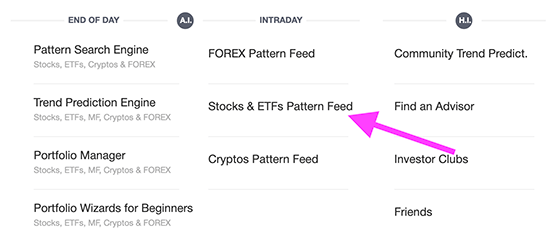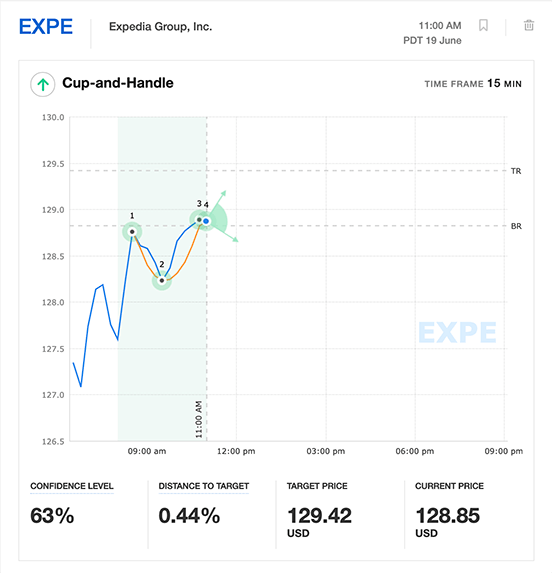 Trick #4: Hedge Funds scan the Broad Market for new Trade Ideas
Hedge funds keep a close eye on securities of interest and securities they hold in their managed portfolios. But they also keep their options open, scanning the entire market for unique trade opportunities and mispriced securities.
Hedge Funds use A.I. to scan the market for dozens of pattern types, looking for securities that have confirmed a technical trading pattern and may have a high probability of reaching a target price. Using back-tested data, a hedge fund can often find a security in a pattern and determine the probability that the security will reach its target price. Hedge Funds have an edge over retail investors in this sense, as they have access to a trove of data and A.I. to help them make these calculations.
SDIs can now scan the broad market in search of technical trading patterns, too.
With Tickeron's A.I.-powered Pattern Search Engine, traders can search for thousands of stocks, ETFs, and cryptocurrencies for technical trading patterns with just a few easy clicks.
Start here: Pattern Search Engine. Next, you'll see a screen like the one below, where you click on Pattern Search Engine to start your search.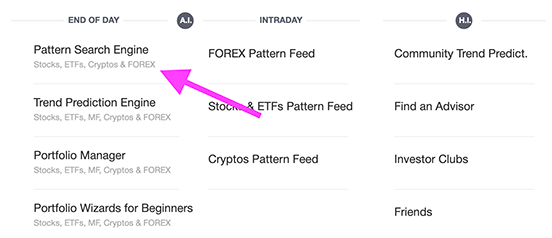 Next, you have a variety of filters to choose from: whether you want to look for certain types of securities, certain types of patterns, or only find patterns that have a certain A.I. confidence level, the possibilities are many. You can customize your search and tell the A.I. what you're looking for, whether that's casting a wide net across the markets or searching for only one particular type of pattern.

Here is an example of a pattern with the end of day price evaluation.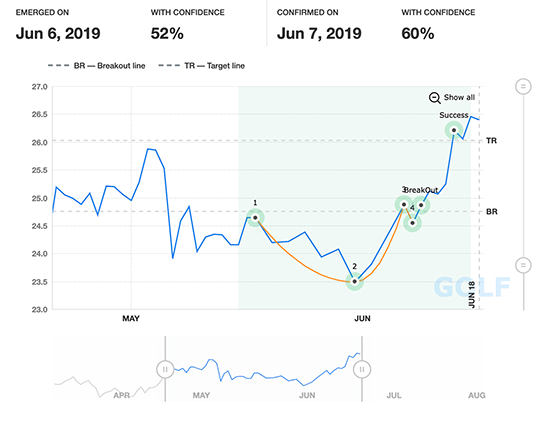 Start Trading Today Like Hedge Funds Do
Hedge funds and large institutional investors have been using Artificial Intelligence to analyze large data sets for investment opportunities, and they have also unleashed A.I. on charts to discover patterns and trends. Not only can the A.I. scan thousands of individual securities and cryptocurrencies for patterns and trends, and it generates trade ideas based on what it finds. Hedge funds have had a leg-up on the retail investor for some time now.
Not anymore. Tickeron has launched a new investment platform, and it is designed to give retail investors access to sophisticated AI for a multitude of functions:
· Finding stock patterns in the market
· Finding trends in the stock market
· Testing portfolios to see if they are well-diversified
· Back-testing statistics to see how different stock patterns generated trading results
· Making Predictions for price movements in the future, with "A.I. Rank" and level of confidence in the trade.
And much more. No longer is AI just confined to the biggest hedge funds in the world. It can now be accessed by everyday investors. Get started today: Tickeron Technical Analysis