Statistics for the Head-and-Shoulders Bottom Pattern
The days where only hedge funds used algorithms to trade stocks are officially over.
Now retail investors can use Artificial Intelligence (A.I.) to find patterns in the markets and to make trades based on ideas generated by algorithms. If the A.I. discovers a pattern and makes a prediction on where the price of a stock is headed, the investor could potentially capitalize (if the A.I. is correct).
Here's an example of the algorithm in action: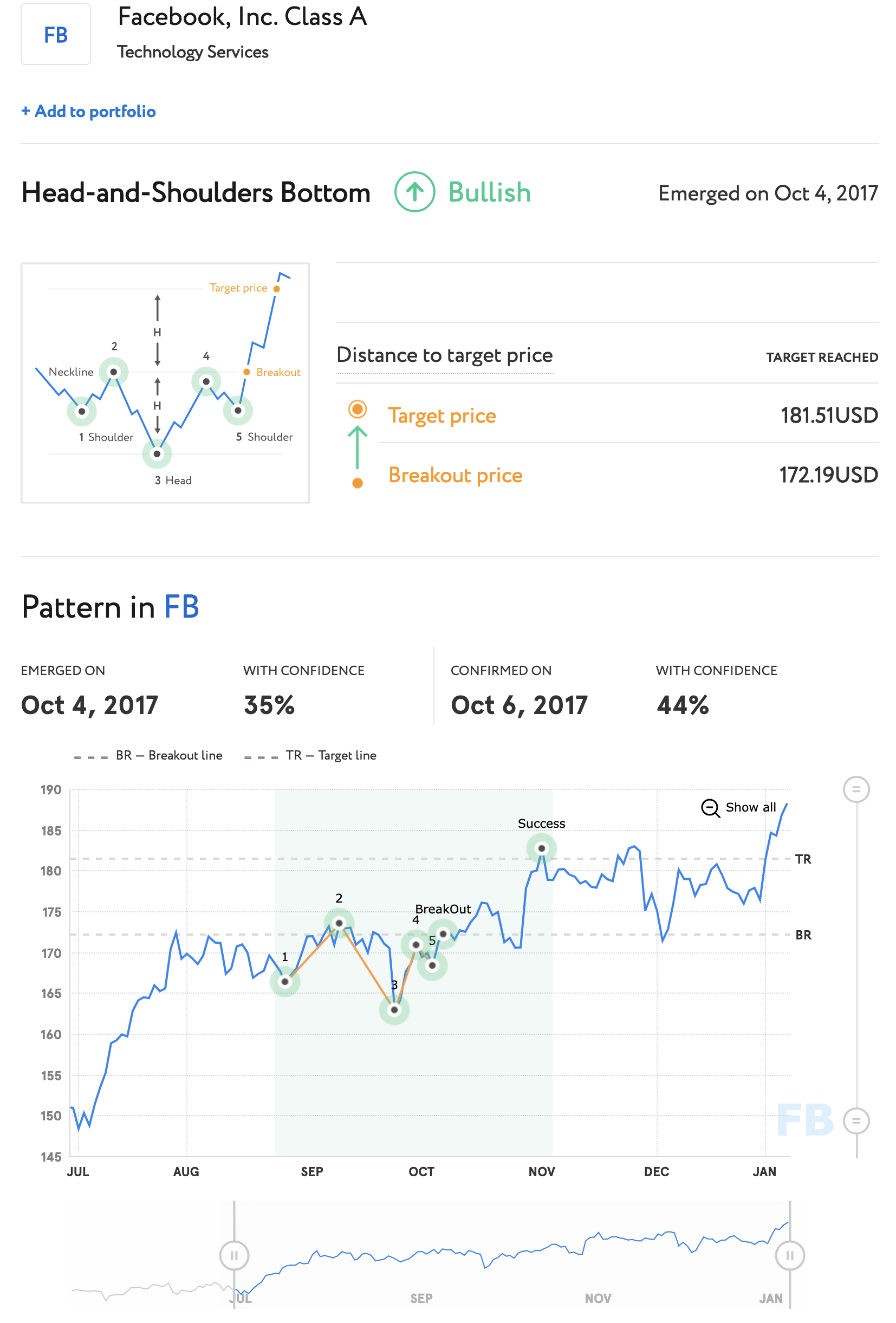 Late last year, Tickeron's A.I. discovered a Head-and-Shoulders Bottom Pattern for a stock that everyone knows: Facebook (FB). As you can see in the chart above, the algorithm scanned Facebook's price movements last summer and followed the price as it formed a Head-and-shoulders Bottom pattern from late August through October 7. The pattern is marked by points 1 through 5. Once FB hit the "Breakout" price of $172.19, Tickeron's A.I. predicted the price would hit $181.51. If you were a subscriber to this pattern on Tickeron.com, you would have received the A.I.'s prediction right in your inbox! Then it would have been up to you to make a trade based on the predicted target price.

A subscription to Tickeron's Pattern Search Engine would have also given you access to a Head-and-Shoulders Bottom Pattern for a blockbuster stock that many retail investors own already: Apple Inc. (AAPL). The A.I. would have told you that the breakout price for the stock was $161.02 and that it expected the stock to jump to $172.64.
In just a few days, Apple's stock did just that, marked by "Success" on the chart below: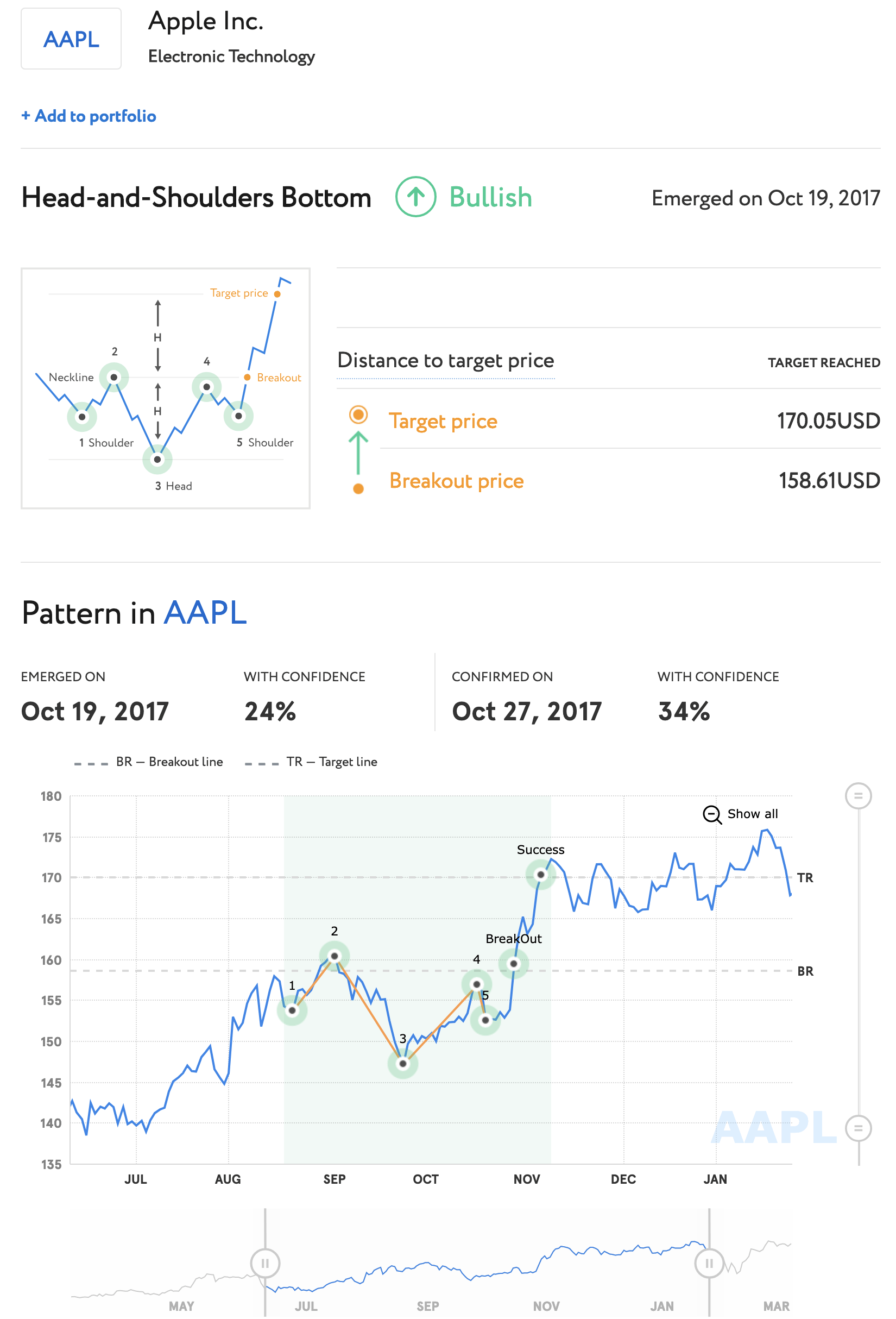 How Effective is Tickeron's A.I.?
Any reasonable investor or trader would say, "Ok, this looks great on paper. But how effective is Tickeron's A.I. at making these predictions? Where are the statistics?"
See below. In instances where the A.I. was more than 20% confident that the price of the stock would move at least 5% higher to its target price, the A.I. was right more than 58% of the time. That's a solid metric.

Another solid metric? When Tickeron's A.I. was right, the average return on the trade was +12.05%:
Statistics for the Head-and-Shoulder (Bullish) Pattern

Ready to Start Trading?
The Head-and-Shoulders (Bullish) pattern is formed when a stock price creates a trough (point 3) with two inverted "shoulders" (1, 5). The pattern is formed when a stock is testing new lows on a downtrend. After reaching the lowest low (the Head, 3) the next low is shallower and the trend reverses course to the upside.
This type of formation happens when investors create a minimum support level for a stock price, and ultimately trading consolidates into an uptrend.
To trade the pattern, an investor has to watch out for the Breakout Price, which Tickeron's A.I. will do for you. Once the stock price breaks out from the top pattern boundary (the neckline), day traders and swing traders might consider buying the stock or a call option — hopefully riding it up to the target price.

If pattern trading is new to you, perhaps a great way to get started is through a free trial of Tickeron's Pattern Search Engine. For 45 days, you can see how the algorithm works and how you can potentially use it to make smarter trades.
For experienced investors still not using algorithms to help you trade, what are you waiting for?! Get started today on tickeron.com.