After falling almost 15%, Apple gets a bullish signal
A post-earnings selloff for Apple (Nasdaq: AAPL) caused the stock to fall almost 15% from its high on May 1 to its low on May 13. That swing in the stock caused it to move from the upper rail of an upward sloping channel to the lower rail of the channel. The stock bounced back on May 14 and 15 and looks to resume its upward trend now.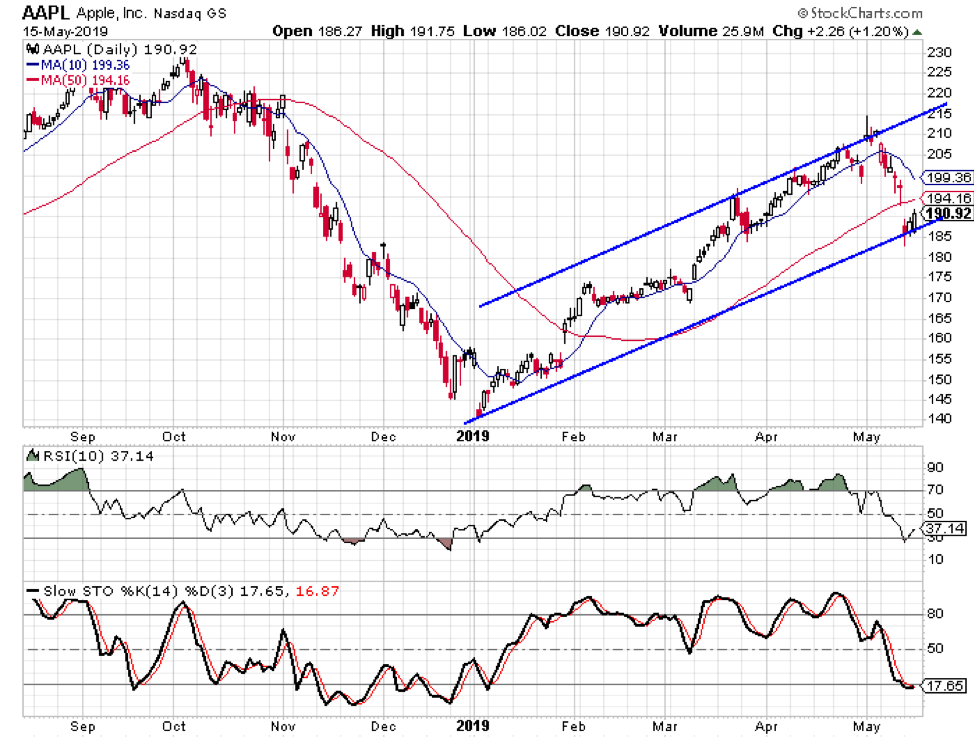 We see on the chart the move from $214.48 to $182.85. It caused the stock to move from overbought territory to oversold territory on both the RSI and the stochastic readings. The upward move in the last few days has lifted the oscillators and caused the stochastic readings to make a bullish crossover.

The Tickeron AI Trend Prediction Engine generated a bullish signal for Apple on May 13 with a confidence level of 61%. The signal calls for a 2.5% gain in the next week and previous predictions on Apple have been successful 63% of the time. There was also a monthly signal for Apple and that signal showed a confidence level of 87%.
Apple released earnings after the closing bell on April 30. The report showed earnings declined by 10% on a year over year basis while revenue was down 5% from the previous year. The company has been hit pretty hard by the ongoing trade war between the U.S. and China.