Alibaba Trying to Break Out of Downward Sloped Channel
Chinese internet firm Alibaba (Nasdaq: BABA) has been hit hard by the trade war and a slowing Chinese economy. The Stock fell over 38% from its high in June to the low in October. The stock bounced back in November, but fell again in December. The worst part is that the company has really strong fundamentals and hasn't been able to break the downward trend.
We see on the daily chart that the highs from June and December connect to form an upper rail to a downward sloped trend channel. The stock is hitting the upper rail of the channel at this time and the company is set to report earnings on January 30.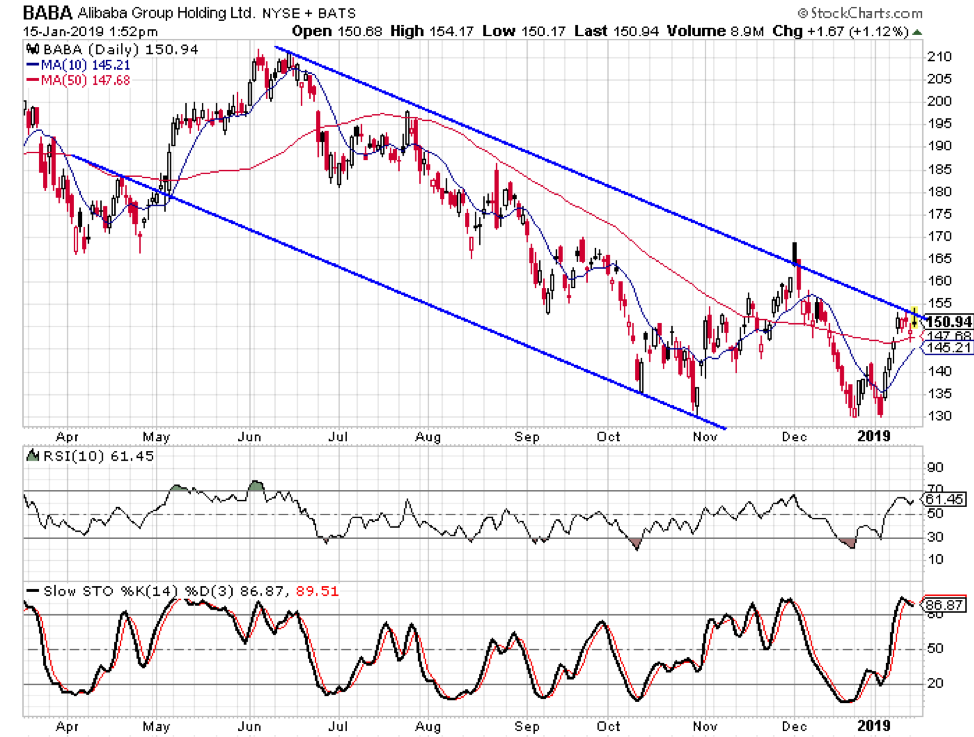 The $130 area has proven to be a strong support level for the stock as that area marked the low at the end of October and the stock formed a double-bottom there in December and early January.

Alibaba has seen earnings grow by 32% per year over the last three years while sales grew by 53% during that same period. The most recent quarterly report shows how the rate of growth has slowed for earnings, but the sales growth was still great. Earnings only grew by 9% while sales grew by 49%. The company boasts a return on equity of 26.3% and a profit margin of 44.9%.
Given the fundamental performance of the company, it is hard to explain the tremendous decline in the stock price. With the earnings report looming in a few weeks, investors will be looking for the stock to break the downward trend.