American Airlines (AAL) hits trend line again, gets another bearish signal
Back on May 8, I wrote a bearish article on American Airlines (NYSE: AAL). I cited a downward sloped trend line, a bearish crossover from the daily stochastic readings, and a bearish signal from the Tickeron Trend Prediction Engine as the reasons for the bearish posture.
The stock was trading just under $34 at the time of that blog entry and it would eventually fall to $27. The stock has since rallied back, but it is running into the same downward sloped trend line again.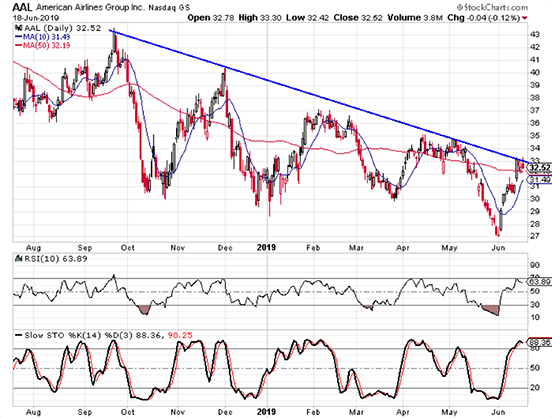 We see that the daily stochastic readings just made a bearish crossover, just as they did in early May. The Tickeron Trend Prediction Engine just generated another bearish signal as well. This signal came on June 17 and it showed a confidence level of 69%. Previous predictions on American Airlines have been successful 79% of the time. This signal calls for a decline of at least 4% over the next month.

American's fundamentals are part of the reason for the downward trend. The company's earnings have declined by 18% per year over the last three years. Earnings fell by 30% in the most recent quarter. Sales have barely increased at all, increasing by only 4% per year.
The company's return on equity is neutral right now and the profit margin is below average at 6.3%.