American Eagle Outfitters gets a bullish signal with earnings on the horizon
Casually clothing retailer American Eagle Outfitters (NYSE: AEO) is scheduled to release earnings results on June 5. Analysts expect the company to earn $0.21 per share for the first quarter and that is down slightly from the $0.23 the company earned last year. Revenues are expected to come in at $854.88 million and that estimate represents an increase of 3.9% from one year ago.
Looking at the weekly chart for American Eagle, the stock has pulled back in recent weeks, but it appears to have a couple of layers of support just below the current price. There is a trend line that connects the low from the third quarter of 2017 and the low from December. The stock is just above that trend line currently.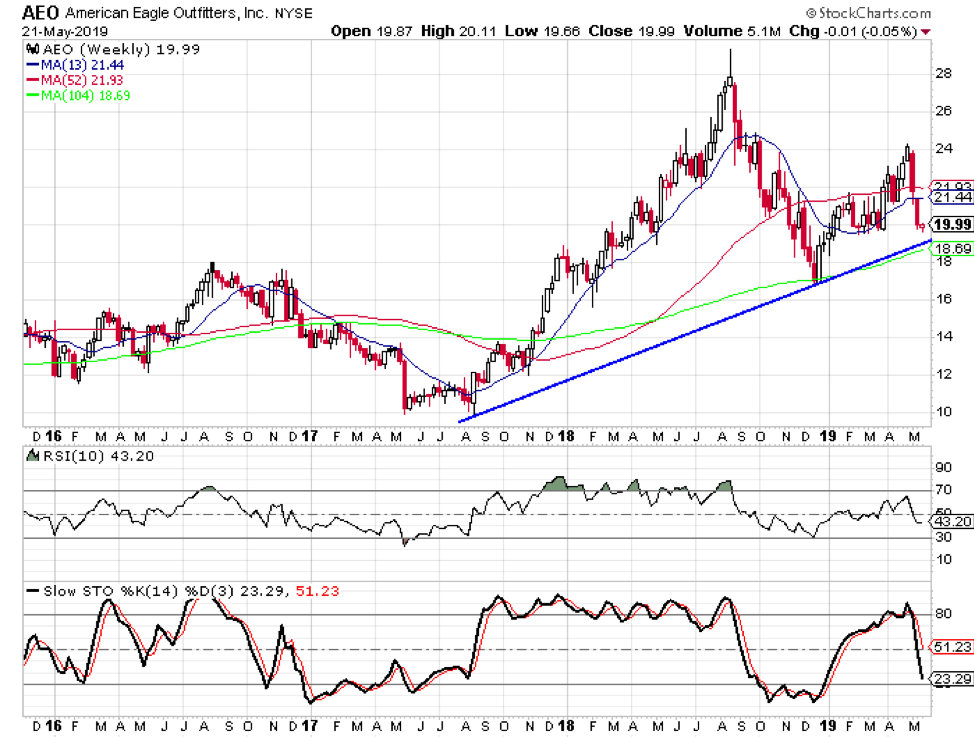 The 104-week moving average for the stock is just below the trend line and it could act as a secondary layer of support.
The Tickeron AI Trend Prediction Engine generated a bullish signal for American Eagle on May 20 and the signal showed a confidence level of 85%. The signal calls for a gain of at least 4% over the next month and 82% of previous predictions on the stock have been successful.
American Eagle has some mixed signals when it comes to fundamental indicators. Earnings have grown at a modest 10% per year over the last three years, but they fell 2% in the fourth quarter. Sales have grown at a rate of 5% per year over the last three years and they were up 1% in the fourth quarter.