Apple Could Find Support at a Long-Term Moving Average, but a Bounce Could Hit Trouble
Over the last decade or so, Apple (Nasdaq: AAPL) has become one of the biggest bellwether stocks for the overall market and especially for the tech sector. In the last two months, the stock has fallen over 25% from its October 1 high. This development is part of the reason investors are nervous about the stock, the tech sector, and the overall market.
There could be some good news for the stock from a technical perspective. For the first time in a couple of years, the stock's 104-week moving average is coming in to play. We saw a similar pattern develop in mid-2015 when the stock dropped down below the moving average, but didn't close a week below it.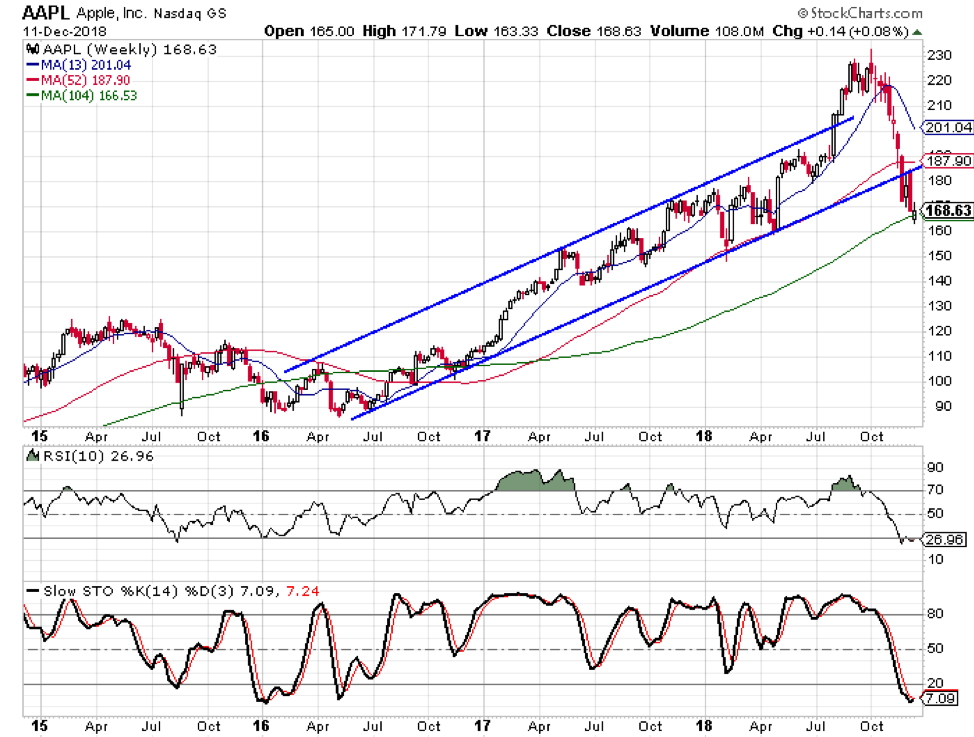 The unfortunate side of that development was that when the stock did bounce back, the 52-week moving average acted as resistance on its first attempt at a rebound. After hitting the 52-week, the stock dropped again from November '15 through February '16.
After that dip it made another attempt to rebound and once again the 52-week moving average stopped the rally in April '16.

Apple's fundamentals are still really good, but the earnings growth has slowed in recent years. The company's annual earnings have averaged 8% over the last three years while sales have grown at 4% per year over that same period.
The real strengths are in the profitability measurements with a return on equity of 49.4% and a profit margin of 27.4%.
Overall I see a mixed picture for Apple. The technical picture suggests we could see a short-lived bounce that gets halted by the 52-week moving average. The fundamentals are good, but the earnings and sales growth rates have slowed in recent years.