Astrazeneca's Stock is Outperforming the Company
Pharmaceutical company AstraZeneca (NYSE: AZN) is in a unique situation currently. The stock is performing much better than the company. What do I mean by that? The stock price is growing much faster than the company's earnings or sales.
If we look at the daily chart, you can see that the stock price has been trending higher over the last nine months. The upward trend actually goes back to the end of 2016, but I wanted to show you the trend channel that has formed on the stock over the last nine months.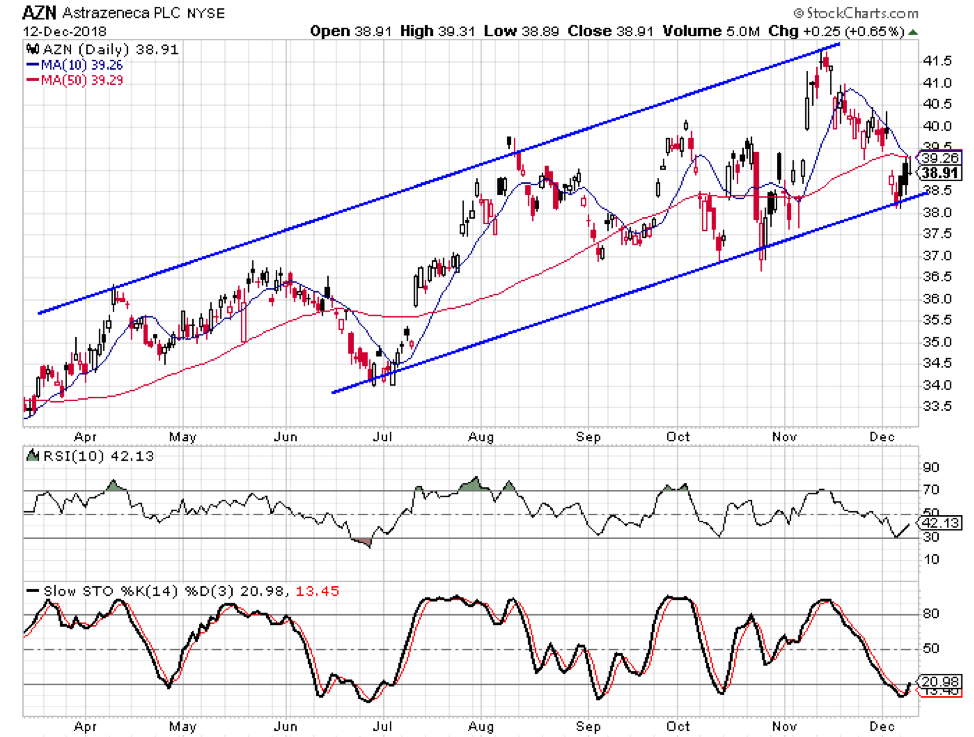 The stock has just bounced off of the lower rail of the channel and the stochastic readings have just made a bullish crossover and look to be moving out of oversold territory. The last time we saw this same scenario was in mid-October and the stock jumped from below $37 to over $41.50.
If you look back over the last two years, the stock has gained 57.3% while the S&P is up 17.5% over this same time period. If we look at Investor's Business Daily's relative strength rating, the stock scores a 90. This means that Astrazeneca's stock has appreciated better than 90% of all publicly traded stocks over the past year.

In the meantime, the company has seen earnings decline by an average of 5% per year over the last three years and sales have declined at a 5% rate over the same period. In the most recent quarterly report, earnings dropped by 37% and sales dropped by 14%.
This is a unique scenario and you wouldn't expect it to go on very long. Either the fundamentals will catch up with the stock price, or the stock price will start falling to catch up to the earnings and sales on the downside.