Boost Your Investments: AI Trading Bot Generates 9.78% Gains for ZBRA
Zebra Technologies Corporation (ZBRA), a leading provider of enterprise asset intelligence solutions, recently experienced a significant boost in its stock performance, thanks to the implementation of an AI trading bot. This innovative trading algorithm has proven its worth by generating gains of 9.78% for ZBRA, providing investors with a profitable outcome.
The AI trading bot's success can be attributed to its ability to leverage advanced algorithms and machine-learning techniques to analyze vast amounts of financial data. By processing historical price patterns, market trends, and relevant news, the bot identifies potential trading opportunities with a high degree of accuracy. This intelligent approach allows it to make informed decisions and execute trades swiftly, capitalizing on favorable market conditions.
In addition to the AI trading bot's impressive performance, ZBRA's Relative Strength Index (RSI) Oscillator has also shown positive signs. The RSI Oscillator is a technical indicator that measures the speed and change of price movements, providing insights into the stock's overbought or oversold conditions. With ZBRA's RSI Oscillator ascending out of the oversold territory, it indicates a potential shift in the stock's momentum toward an upward trajectory.
This positive development for ZBRA is an encouraging sign for investors and market participants. The AI trading bot's ability to generate substantial gains and the RSI Oscillator's upward movement suggest a favorable outlook for ZBRA's stock in the near future. However, it's important to note that past performance is not indicative of future results, and the stock market is inherently volatile and subject to various risks.
Investors should exercise caution and conduct thorough research before making any investment decisions. It's advisable to consider multiple factors, including fundamental analysis, market trends, and risk tolerance, to form a comprehensive investment strategy. Seeking guidance from financial advisors or professionals with expertise in finance analytics can also provide valuable insights and help navigate the complexities of the market.
ZBRA sees MACD Histogram crosses below signal line
ZBRA saw its Moving Average Convergence Divergence Histogram (MACD) turn negative on September 08, 2023. This is a bearish signal that suggests the stock could decline going forward. Tickeron's A.I.dvisor looked at 42 instances where the indicator turned negative. In of the 42 cases the stock moved lower in the days that followed. This puts the odds of a downward move at .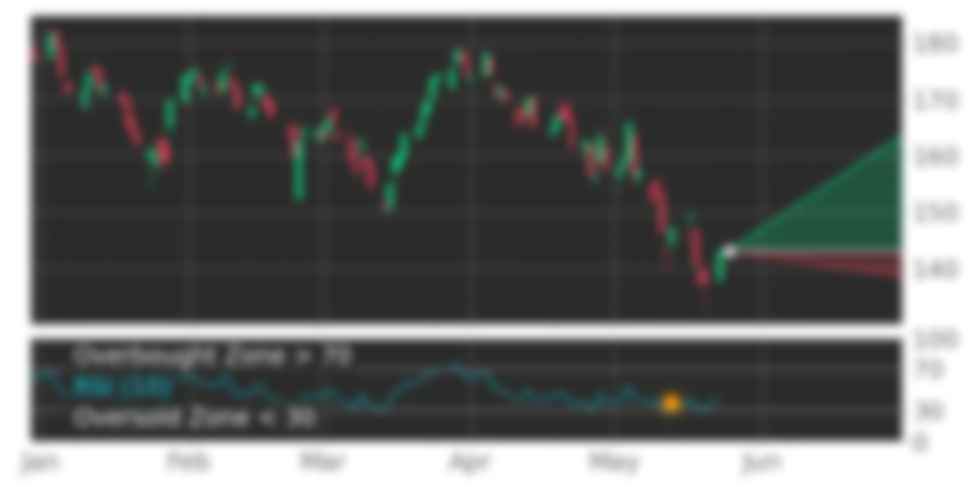 Technical Analysis (Indicators)
Bearish Trend Analysis
The Momentum Indicator moved below the 0 level on September 07, 2023. You may want to consider selling the stock, shorting the stock, or exploring put options on ZBRA as a result. In of 92 cases where the Momentum Indicator fell below 0, the stock fell further within the subsequent month. The odds of a continued downward trend are .
The 50-day moving average for ZBRA moved below the 200-day moving average on August 24, 2023. This could be a long-term bearish signal for the stock as the stock shifts to an downward trend.
Following a 3-day decline, the stock is projected to fall further. Considering past instances where ZBRA declined for three days, the price rose further in of 62 cases within the following month. The odds of a continued downward trend are .
Bullish Trend Analysis
The RSI Indicator entered the oversold zone -- be on the watch for ZBRA's price rising or consolidating in the future. That's also the time to consider buying the stock or exploring call options.
The Stochastic Oscillator shows that the ticker has stayed in the oversold zone for 8 days. The price of this ticker is presumed to bounce back soon, since the longer the ticker stays in the oversold zone, the more promptly an upward trend is expected.
Following a 3-day Advance, the price is estimated to grow further. Considering data from situations where ZBRA advanced for three days, in of 327 cases, the price rose further within the following month. The odds of a continued upward trend are .
ZBRA may jump back above the lower band and head toward the middle band. Traders may consider buying the stock or exploring call options.
The Aroon Indicator entered an Uptrend today. In of 254 cases where ZBRA Aroon's Indicator entered an Uptrend, the price rose further within the following month. The odds of a continued Uptrend are .
Fundamental Analysis (Ratings)
The Tickeron SMR rating for this company is (best 1 - 100 worst), indicating strong sales and a profitable business model. SMR (Sales, Margin, Return on Equity) rating is based on comparative analysis of weighted Sales, Income Margin and Return on Equity values compared against S&P 500 index constituents. The weighted SMR value is a proprietary formula developed by Tickeron and represents an overall profitability measure for a stock.
The Tickeron Price Growth Rating for this company is (best 1 - 100 worst), indicating fairly steady price growth. ZBRA's price grows at a lower rate over the last 12 months as compared to S&P 500 index constituents.
The Tickeron Profit vs. Risk Rating rating for this company is (best 1 - 100 worst), indicating that the returns do not compensate for the risks. ZBRA's unstable profits reported over time resulted in significant Drawdowns within these last five years. A stable profit reduces stock drawdown and volatility. The average Profit vs. Risk Rating rating for the industry is 88, placing this stock better than average.
The Tickeron Valuation Rating of (best 1 - 100 worst) indicates that the company is slightly overvalued in the industry. This rating compares market capitalization estimated by our proprietary formula with the current market capitalization. This rating is based on the following metrics, as compared to industry averages: P/B Ratio (4.327) is normal, around the industry mean (7.745). P/E Ratio (20.243) is within average values for comparable stocks, (43.936). ZBRA's Projected Growth (PEG Ratio) (4.958) is slightly higher than the industry average of (2.247). ZBRA has a moderately low Dividend Yield (0.000) as compared to the industry average of (0.042). P/S Ratio (2.380) is also within normal values, averaging (22.549).
The Tickeron PE Growth Rating for this company is (best 1 - 100 worst), pointing to worse than average earnings growth. The PE Growth rating is based on a comparative analysis of stock PE ratio increase over the last 12 months compared against S&P 500 index constituents.
Notable companies
The most notable companies in this group are Cisco Systems (NASDAQ:CSCO), Nokia Corp (NYSE:NOK), Hewlett Packard Enterprise Company (NYSE:HPE), Ericsson (NASDAQ:ERIC), Juniper Networks (NYSE:JNPR), Ciena Corp (NYSE:CIEN), Lumentum Holdings (NASDAQ:LITE), CommScope Holding Company (NASDAQ:COMM), Casa Systems (NASDAQ:CASA).
Industry description
The Telecommunications Equipment industry produces voice and data communications equipment, which includes fiber optic delivery products, digital signal processors, high-speed voice, data and video delivery. Additionally, satellite systems, global positioning systems, wireless data systems, personal communications equipment, telephone handsets and payload equipment for satellites also fall into this category. Apple Inc., QUALCOMM Incorporated and Nokia are major global players in this segment.
Market Cap
The average market capitalization across the Telecommunications Equipment Industry is 4.13B. The market cap for tickers in the group ranges from 1.59K to 225.04B. CSCO holds the highest valuation in this group at 225.04B. The lowest valued company is ABILF at 1.59K.
High and low price notable news
The average weekly price growth across all stocks in the Telecommunications Equipment Industry was -1%. For the same Industry, the average monthly price growth was -3%, and the average quarterly price growth was -6%. VMNT experienced the highest price growth at 75%, while CAMP experienced the biggest fall at -27%.
Volume
The average weekly volume growth across all stocks in the Telecommunications Equipment Industry was -29%. For the same stocks of the Industry, the average monthly volume growth was -15% and the average quarterly volume growth was -29%
Fundamental Analysis Ratings
The average fundamental analysis ratings, where 1 is best and 100 is worst, are as follows
Valuation Rating: 49
P/E Growth Rating: 68
Price Growth Rating: 57
SMR Rating: 76
Profit Risk Rating: 88
Seasonality Score: -14 (-100 ... +100)