Carter's (CRI) Dividend Announcement and Earnings Analysis
On the financial calendar for Carter's, Inc. (NYSE: CRI), a prominent date has been set: June 9, 2023. This is the record date for the company's next dividend payout, where Carter's is expected to pay a dividend of $0.75 per share. For shareholders, it's an occasion of note, and for prospective investors, it's a deadline to consider. This article analyzes Carter's recent earning results and the implications of its forthcoming dividend.
Dividend Details
The company declared a dividend of $0.75 per share with the ex-dividend date falling on May 26, 2023. This date is crucial for investors, as anyone purchasing Carter's stock on or after the ex-dividend date will not be entitled to receive this forthcoming dividend payment. Instead, the dividends would revert to the seller. Hence, interested buyers looking forward to securing the upcoming dividend must ensure their stocks are purchased before this ex-dividend date.
Comparatively, the last dividend payout by Carter's was also $0.75 per share, which took place on March 17, 2023. It is encouraging to see that the company is maintaining its dividend payout, which could indicate stability in its financial health.
Earnings Analysis
While dividends are often a sign of financial health, they aren't the whole story. To understand the full financial picture, it's essential to consider Carter's recent earnings results. As of my knowledge cutoff in September 2021, the specific earnings details are not available, however, investors should analyze the most recent earnings report, considering metrics such as revenue, net income, earnings per share (EPS), and guidance for future quarters.
Stability or growth in these areas could indicate that Carter's can comfortably afford its dividend payout without compromising its operations or growth investments. Conversely, if these metrics show signs of strain, the steady dividend might be a cause for concern, suggesting that the company is returning cash to shareholders instead of investing in potentially profitable areas.
The declaration of a consistent dividend by Carter's paints a picture of a company with stable financial footing, at least superficially. But, prospective investors should not use this information in isolation. Alongside this dividend analysis, investors should dig deeper into Carter's earnings reports to get a holistic understanding of the company's financial status.
While the dividend payout is an excellent return for current shareholders, potential investors should make their move before the ex-dividend date if they aim to enjoy this financial perk. Regardless, a thorough understanding of the company's overall financial health will serve as the best guide for investment decisions.
CRI saw its Stochastic Oscillator peaks and leaves the overbought zone
The Stochastic Oscillator for CRI moved out of overbought territory on September 25, 2023. This could be a bearish sign for the stock and investors may want to consider selling or taking a defensive position. A.I.dvisor looked at 63 similar instances where the indicator exited the overbought zone. In of the 63 cases the stock moved lower. This puts the odds of a downward move at .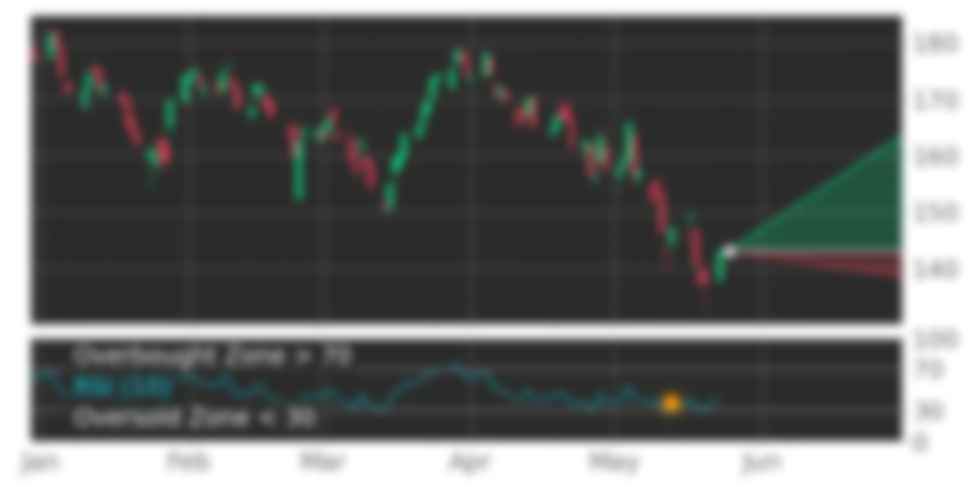 Technical Analysis (Indicators)
Bearish Trend Analysis
The Momentum Indicator moved below the 0 level on September 26, 2023. You may want to consider selling the stock, shorting the stock, or exploring put options on CRI as a result. In of 94 cases where the Momentum Indicator fell below 0, the stock fell further within the subsequent month. The odds of a continued downward trend are .
The 10-day moving average for CRI crossed bearishly below the 50-day moving average on August 22, 2023. This indicates that the trend has shifted lower and could be considered a sell signal. In of 18 past instances when the 10-day crossed below the 50-day, the stock continued to move higher over the following month. The odds of a continued downward trend are .
Following a 3-day decline, the stock is projected to fall further. Considering past instances where CRI declined for three days, the price rose further in of 62 cases within the following month. The odds of a continued downward trend are .
The Aroon Indicator for CRI entered a downward trend on September 21, 2023. This could indicate a strong downward move is ahead for the stock. Traders may want to consider selling the stock or buying put options.
Bullish Trend Analysis
The RSI Indicator points to a transition from a downward trend to an upward trend -- in cases where CRI's RSI Oscillator exited the oversold zone, of 23 resulted in an increase in price. Tickeron's analysis proposes that the odds of a continued upward trend are .
The Moving Average Convergence Divergence (MACD) for CRI just turned positive on September 14, 2023. Looking at past instances where CRI's MACD turned positive, the stock continued to rise in of 54 cases over the following month. The odds of a continued upward trend are .
Following a 3-day Advance, the price is estimated to grow further. Considering data from situations where CRI advanced for three days, in of 327 cases, the price rose further within the following month. The odds of a continued upward trend are .
Fundamental Analysis (Ratings)
The Tickeron Valuation Rating of (best 1 - 100 worst) indicates that the company is seriously undervalued in the industry. This rating compares market capitalization estimated by our proprietary formula with the current market capitalization. This rating is based on the following metrics, as compared to industry averages: P/B Ratio (3.287) is normal, around the industry mean (3.636). P/E Ratio (12.837) is within average values for comparable stocks, (96.028). CRI's Projected Growth (PEG Ratio) (0.000) is very low in comparison to the industry average of (1.345). Dividend Yield (0.044) settles around the average of (0.034) among similar stocks. P/S Ratio (0.845) is also within normal values, averaging (1.923).
The Tickeron PE Growth Rating for this company is (best 1 - 100 worst), pointing to consistent earnings growth. The PE Growth rating is based on a comparative analysis of stock PE ratio increase over the last 12 months compared against S&P 500 index constituents.
The Tickeron SMR rating for this company is (best 1 - 100 worst), indicating strong sales and a profitable business model. SMR (Sales, Margin, Return on Equity) rating is based on comparative analysis of weighted Sales, Income Margin and Return on Equity values compared against S&P 500 index constituents. The weighted SMR value is a proprietary formula developed by Tickeron and represents an overall profitability measure for a stock.
The Tickeron Seasonality Score of (best 1 - 100 worst) indicates that the company is fair valued in the industry. The Tickeron Seasonality score describes the variance of predictable price changes around the same period every calendar year. These changes can be tied to a specific month, quarter, holiday or vacation period, as well as a meteorological or growing season.
The Tickeron Price Growth Rating for this company is (best 1 - 100 worst), indicating steady price growth. CRI's price grows at a higher rate over the last 12 months as compared to S&P 500 index constituents.
The Tickeron Profit vs. Risk Rating rating for this company is (best 1 - 100 worst), indicating that the returns do not compensate for the risks. CRI's unstable profits reported over time resulted in significant Drawdowns within these last five years. A stable profit reduces stock drawdown and volatility. The average Profit vs. Risk Rating rating for the industry is 82, placing this stock worse than average.
Notable companies
The most notable companies in this group are TJX Companies (NYSE:TJX), lululemon athletica (NASDAQ:LULU), Gap (The) (NYSE:GPS), Abercrombie & Fitch Co (NYSE:ANF), Foot Locker (NYSE:FL), Guess (NYSE:GES), Stitch Fix (NASDAQ:SFIX).
Industry description
Companies in the apparel and/or footwear retail industry sell clothing, accessories and footwear, for different age groups and genders. The industry's product categories could range from basics, such as underwear, to luxury items. Some retailers source items from wholesalers or an apparel brand to sell in their stores; some others are licensed to make and market their own retail goods under particular brands. Several companies outsource production of clothing to developing/emerging economies where labor costs are relatively inexpensive. Apparel retail is often influenced by fashion trends, and many companies feel the need to adapt to what's "in vogue" to retain customers and attract new ones. A major disruption in this industry has been the burgeoning trend in digital shopping – to compete with rapidly growing e-commerce, even traditional retail players are upping the ante on their online platforms. Much of the products' performance in apparel/footwear retail is cyclical, i.e., economic boom times encourage consumer spending, while recessions induce thriftiness among people. Some large-cap U.S. apparel/footwear retail companies include TJX Companies Inc., Ross Stores, Inc., Lululemon Athletica Inc. and Burlington Stores, Inc.
Market Cap
The average market capitalization across the Apparel/Footwear Retail Industry is 11.18B. The market cap for tickers in the group ranges from 256K to 119.4B. IDEXY holds the highest valuation in this group at 119.4B. The lowest valued company is DESTQ at 256K.
High and low price notable news
The average weekly price growth across all stocks in the Apparel/Footwear Retail Industry was -1%. For the same Industry, the average monthly price growth was -6%, and the average quarterly price growth was -11%. CATO experienced the highest price growth at 9%, while ESPGY experienced the biggest fall at -23%.
Volume
The average weekly volume growth across all stocks in the Apparel/Footwear Retail Industry was -10%. For the same stocks of the Industry, the average monthly volume growth was -28% and the average quarterly volume growth was 5%
Fundamental Analysis Ratings
The average fundamental analysis ratings, where 1 is best and 100 is worst, are as follows
Valuation Rating: 52
P/E Growth Rating: 46
Price Growth Rating: 61
SMR Rating: 58
Profit Risk Rating: 81
Seasonality Score: -16 (-100 ... +100)